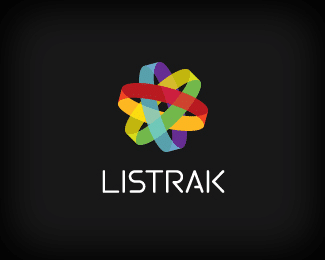 Listrak: Marketing Automation Tool Review
Introduction
"How do I automate my marketing?"
Marketing is essential, and by automating this sector, we're sure of the most excellent ROI. But, the exact question is how marketing efforts can be automated or how we should look for the ideal software to do so!
To get started, we'd like to inform you that this is what Listrak is all about. Listrak is here with all the features to become your marketing best friend. Before we introduce you to the Listrak in other sections, we'd like to take you through certain benefits of marketing automation.
Marketing Automation is a superpower utilizing which you can magnify an action 10x better. Automation can also reduce the cost per lead by nearly 17% to 20%. Moreover, you can observe around a 400% increase in qualified leads. And that's insane!
So, let's learn how this marketing automation can be done via Listrak by understanding its processes, key features, pros, and user reviews below.
What is Listrak?
As Listrak says, we can do it all; it's a marketing hero with all-inclusive features for automation. You can call it a digital marketing platform for automation that drives engagements, maximizes revenue, increases conversions, and offers higher lifetime value to businesses.
This software tool mainly works on artificial intelligence, machine learning, and predictive analysis to help businesses engage with customers in a better way that is a win-win situation for both. Hence, it is known as both for one integrated platform and the software that offers best-of-breed results.
With Listrak, you can deliver customized cross-channel interactions and send messages across different channels at the right time. It further helps maximize customer engagement and their lifetime value. The platform focuses more on delivering strategies and solutions that generate desirable outcomes year-over-year for eCommerce retailers around the globe.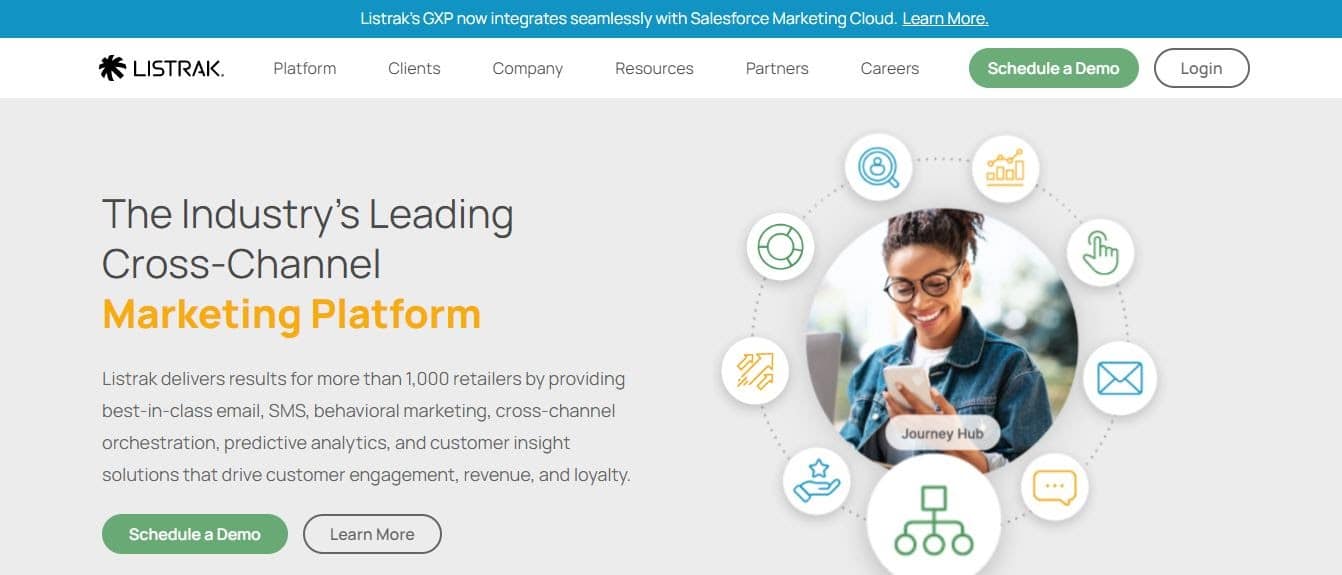 Key Features of Listrak
As you've understood 'What is Listrak' by now, let's go through some of the tops features of Listrak in the given below section!
It has the potential to leverage all your channels, namely the SMS/MMS, Email, push, social, web, and even direct mails. Thus, it offers a 360-degree marketing view of customers with the following features.
1 – Journey Hub
As the name suggests, it simplifies the design of the customer's journey across different channels. In addition, the Journey Hub in Listrak is dedicated to integrating data from anywhere. Thus, it helps retailers leverage customer data, a core element in any marketing decision.
2 – Email Automation
With the email automation engine of Listrak, you can send billions of targeted emails. This engine uses sophisticated tools such as retail segmentation, predictive analysis, predictive product recommendations, dynamic content, etc., to help magnify the revenues.
3 – Text Message Marketing
This feature is phenomenal for engaging with your customers via MMS or SMS texts over their mobile devices. Text message marketing generates 30X+ ROI and is a great feature for new customer acquisition.
4 – Growth Xcelerator Platform (GXP)
Its Growth Xcelerator Platform claims to grow your revenue like never before. GXP helps improve your list growth, online conversions, and triggered revenue with the guarantee of high-quality performance.
5 – AI Recommendations
Everything gets at ease with the automated AI recommendations of Listrak. The Predictive Product Recommendations of Listrak quickly responds to millions of individual customer signals and helps easily create layered custom algorithms.
6 – Behavioral Triggers
You can personally engage with each subscriber with behavioral triggers in email campaigns. The behavioral triggers in Listrak consist of elements such as Cart Recovery, Browse Recovery, and Welcome Series to help grow your online business off the charts.
7 – Customer Insights
You can observe the complete customer journey through their Customer Insights feature. Listrak insists on making these insights actionable through automation, segmentation, and orchestration. You can also easily transition from insight to action with a single click that empowers marketers to filter, target, and trigger campaigns based on real-time customer behaviors.
8 – Predictive Analysis
The Predictive Analytics of Listrak uses statistical modeling, machine learning, and artificial intelligence to predict future conditions. It will further help reach more customers through relevant offers. It can predict the probability of elements such as future spend, likelihood to purchase, likelihood to click, discount affinity, predictive life cycle stage, likelihood to open, likelihood to unsubscribe, coupon affinity, etc.
9 – Unified Customer Data
Listrak provides a unified customer profile with a 360-degree view. It collects, observes, and synthesizes data from different sources and at each touchpoint during customer journeys. This CRM platform of Listrak helps further provide actionable and powerful analysis via visualization and deep exploration tools.
Pros of Listrak
An improved customer service team
A platform highly open to suggestions
A highly collaborative platform
Various options for dedicated email campaigns
Inbuilt integrations for multiple platforms
User Reviews on Listrak
"In the world of self-service models for ESPs, Listrak provides a hybrid solution. They offer an inexpensive self-serve model that comes with an account rep for services and support."
"Great platform with many features and functions that is in a constant state of evolution and improvement."
"What good is an investment if you're not getting a solid return? Listrak has everything we need (plus some) to be successful. Their team is highly knowledgeable too, and if one person doesn't know something, they'll find the answer for you. They are always accommodating!"
Final Words
So, we've finally concluded that Listrak provides us with all that we're looking for in a marketing mechanism. Various modules provided by Listrak contain every element, from analyzing the customer's journey to prediction to launching dedicated email campaigns with some of the sophisticated tools mentioned above.