TapClicks: Details, Pro & In-depth Review
What is TapClicks?
TapClicks is a superior private company holding Marketing Technology and nailing marketing automation workflows, performance analytics, reporting of clients and data. It was founded in 2009 and its headquarters are located in San Jose, California.
TapClicks is also a cloud-based tool that provides several features. Marketers who need functionalities like management, reporting, analytics, and data aggregation use this tool for their multiple clients. Planning and exporting of reports to pdf, word, excel, email and PowerPoint can be automated by this tool.
TapClicks integrates with more than 250 data sources like Google Analytics, Microsoft advertising, CallRail, ApexChat, Simpli.fi, iContact, and many more which provides potential to marketers to examine data through the most known and approved marketing automation tool.
The foremost advantage of TapClicks includes their abundant data sources and many alternatives for data visualization which can be done efficiently with the help of Data Science and AI. It makes business mode more scalable resulting in better and faster growth.
The major service which this company offers is Marketing Operations. Many benefits are included in TapClicks marketing operations platform like virtual agencies, media organizations, franchise brands, and universal brands.
Through TapClicks, people can create dashboards and reports with the help of collective charts and graphs which are already prepared for client use. TapClicks also provides characteristics of reporting which controls and follows uploading to Google Drive, Dropbox, or FTP automatically.
It is useful for marketers in their daily marketing operations and has become a must for them. They robotize examination of innumerable data and the work which is linked with that data. It is specially designed for making complex and difficult operations easy and user-friendly.
TapClicks is a single place with Business Intelligence(BI) specialist tool where you can get indefinite customization. It saves time and manpower by giving features of analytics. Pie charts, Bar graphs, Interactive timelines, Geo-mapping, widgets make this tool more graphical and effortless to understand.
TapClicks Pricing
Offers many personalized packages according to your needs. People can opt for month-to-month plans as well as yearly plans depending on their capacity. Moreover, they provide a combined subscription plan including orders, workflows, analytics, and many more.
The starting price of TapClicks is $79.00 per month. You can choose a free trial for 14 days and then you can go for their subscription plans on a monthly or yearly basis.
TapClicks – TapReports Elite, TapClicks – TapReports Standard, and TapClicks TapReports pro are a few subscription plans offered by TapClicks and also popular among their users.
Features
TapClicks provides numerous features like: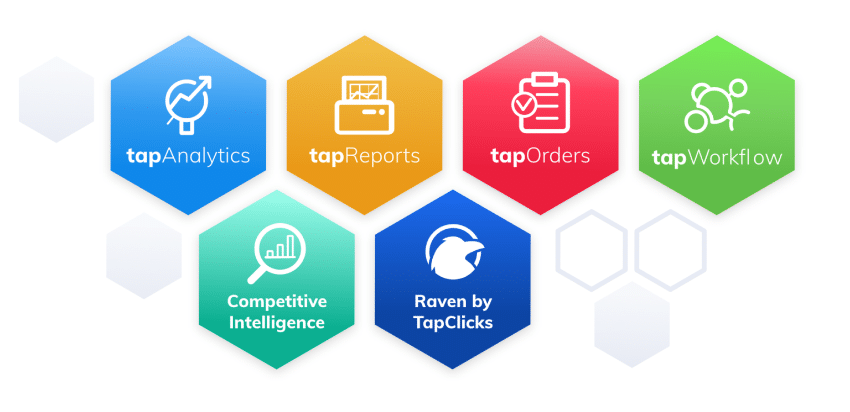 TapAnalytics
Data can be diverged and classified based on specific parameters like location or dates which enables analysis more expertly. The chances of human errors decrease if data is already classified and filters are applied.
TapReports
Reports can be generated by studying data. You can forecast your data in reports and then can share the same on dashboards and reports. Dashboards are also a key feature most used by marketers.
TapOrders
Flexible and personalized forms or lists developed to lead to constructing a product catalog that is suitable and appropriate for our business needs. When a client is attracted to all these advantages, provide them payment and self-booking options.
TapWorkflow
TapWorkflow automatically creates and allocates work to the specified person. It acts as the name suggests. Automatically routes the work from one person to another. It results in a decrease in miscommunication.
Competitive Intelligence
TapClicks have many competitors. Tableau is its main competitor. Competitive Intelligence gives full access to competitors' search engine marketing. You can pinpoint the weakness of your competitor through this and can always be in front of huge competition.