FMG Suite: Features, Price, Pros & Reviews
FMG Suite is seen as the industry's leading automated marketing tool available for financial professionals. They provide an all-in-one integrated suite of tools in marketing that is built to help you succeed. By using one streamlined platform, they help you to drive new business, nourish client relationships, and build your online presence.
It is a marketing tool that helps financial advisors to stay connected, build relationships, and grow their business with websites and automated marketing tools. It helps to grow market share, acquire customers, and enhance customer relationships.
Helps to be connected to the customers through emails, social media, websites, print brochures, and promoted events. FMG Suite features include automatically delivering relevant, timely information to the right contacts, using the right channels, simple event promotions, smart analytics tools, etc.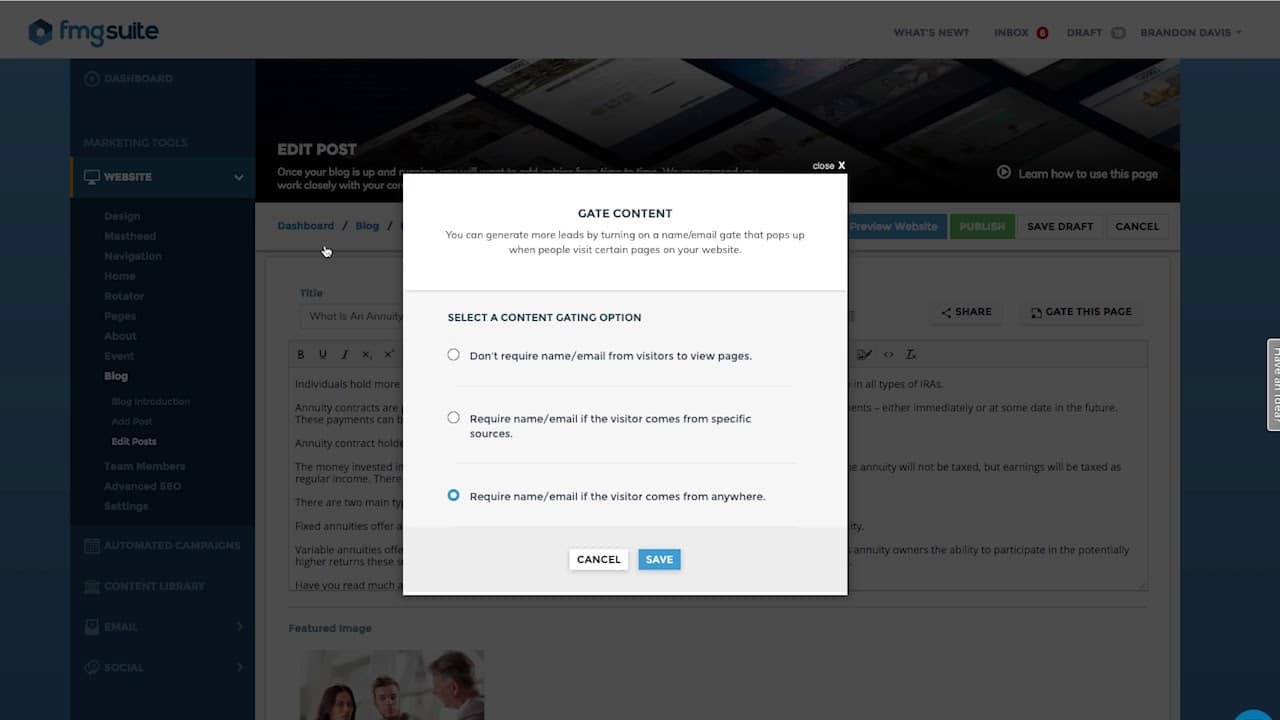 What is FMG Suite?
It helps to provide an integrated marketing suite that includes websites, email marketing, social media, content marketing, and gated content.
It is referred to as the leading automated marketing tool that is made available for financial professionals by providing an all-in-one integrated suite of marketing tools for social media, websites, content, email, and automated campaigns.
FMG Suite also offers tools that can help financial professionals to leverage customer testimonials in their digital marketing which include; a google reviews button, a homepage carousel, and testimonial page templates.
The FMG Suite also includes an end-to-end lead generation solution that enables financial advisors to generate ongoing inbound leads with branded website components which include; landing pages, unique page sections, pop-ups and forms that help to capture pertinent lead contact information, valuable, engaging content, including e-books and quizzes, social sequences and display ads to increase online visibility, event marketing tools in the creation and promotion of in-person and virtual events, and automated referral campaigns that empower customers to become brand ambassadors.
Features
Allows you to stay connected via social media, emails, websites, events, and prints
Provides automation features for email and social, event promotions, and smart analytics tools
The key component of this marketing automation tool is that the mobile app for iOS and Android devices allows financial professionals to easily discover and share timely, relevant content from the FMG Suite Content Library with their prospects and clients from anywhere via their mobile phone.
FMG Suite Reviews
According to Cuspera, 56 buyers and buying teams have used Cuspera to assess how well FMG Suite solved their marketing automation needs.
Also, Cuspera uses 644 insights from these buyers along with peer reviews, customer case studies, testimonials, expert blogs, and vendor-provided installation data to help you assess how to fit FMG Suite is for your specific marketing automation needs.
Therefore, Cuspera rate FMG Suite for the following;
Use Cases: Engaging And Following Up, Content Management, Campaign Management channel
Medium: E-Mail, Social Media, Website capabilities
Features: SEO, Personalization goal
Business Priorities: Acquire Customers, Enhance Customer Relationships, Improve Digital And Social Presence
FMG Suite Pricing
FMG Suite offers a free trial version and the following plan and benefits alongside some exclusive discounts on the website;
Standout by getting a beautiful website preloaded with award-winning content and some tools to drive traffic back to your marketing hub – Plan available for $159 per month
Connect with your audience with the addition of a great website, add marketing campaigns that turn your clients into raving fans – Plan available for $219 per month.
Attract new clients and take your website and campaigns a step further with lead generation tools that draw in new prospects and grow your business – Plan available for $299 per month.