What is Snoopreport?
Snoopreport is an online tool, also known as an Instagram monitoring app, that helps you track every activity of your favorite person, celebrity, influencer, business competitor, or anyone else on Instagram. It provides detailed insight into an account you want, keeping your identity anonymous.
Another good thing is you don't even need to follow the account whose information you are looking for. Best for people who do not want to get caught red-handedly.
Curious about this tool? Well, anyone can!
Just like you, I also got curious and finally tried this tool to see whether it works.
What is the usage of Snoopreport?
This analytic app works amazingly if you use it properly. Well, its usage varies depending on what your profession is or for what reason you want to use this tool.
Professional Use
If you are running an online brand or have a blog or you are a marketer, it becomes crucial for you to keep an eye on your niche competitors.
Being a brand owner, you are always in search of influencers to promote your products or services.
Snoopreport makes it easy for you to find niche influencers who have done similar brand deals in the past. If you are a blogger, you must be aware of what similar niche bloggers are writing or sharing on Instagram.
Moreover, you must be aware of your followers' activities, what content they like regularly, or other activities. It helps you serve them with the best content that will eventually help you grow your audience.
Personal Use
With this Instagram tracker, you can monitor your kids' activities on Instagram. Further, you can spy on your partner, celebrity, or any other person.
Sometimes we want to be aware of what other people are doing just out of curiosity, or we are just concerned about our people. Every individual has different priorities. So you can use it as per your need without feeling guilty.
Why do we need Snoopreport?

You must keep an eye on your competitors if you want to stay ahead in this competitive world. If you don't do this you are more likely to lose your game before starting your journey.
Talking about this internet era, every individual has some kind of online presence. Some are solopreneurs, entrepreneurs, influencers, bloggers, vloggers, or anyone could be.
If they don't know what their competitors are doing, they are probably missing out on the most important things.
In recent years, Instagram has become the most popular social media platform. However, with its tricky yet frequently changing algorithms, it becomes difficult for people to stand among the crowd.
While you are running an online business, you can not afford to overlook this factor. You have to spy on your competitors if you want to stay ahead of them. However, snooping can not be done by you as you can not stay online all the time. So this is where you can take the help of Snoopreport and snoop on your competitors legally.
Features
#. Know people better
Knowing your people could improve your bonding with them. Know their hobbies or interests using this online tool as it helps you know what photos they like on Instagram. By knowing their interests, you can surprise them with their favorite gift.
#. Legal 
This website is completely legal. It shows you the details that are publicly accessible without crossing its limits that you can not see on Instagram Insights.
Instagram insights show every single detail that is related to your account growth but does not show what your followers like or what's their online status and activity status. So if you want to know about any user's online status, activity status, and photos they like, you'll be unable to know with Instagram Insights. In this case, Snoopreport can help.
However, this tool does not provide access to any user's private messages.
#. No installation
The best part is you do not have to add or install any kind of app or extension to your phone or laptop or the person to whom you want to track.
#. No Instagram account required
Yes. You read it right. If you don't have an Instagram account, you can still track the information of the person you are interested in. A valid email address is the only requirement. Open the Snoopreport website, sign up with your email ID, and mention the Instagram handle of the person on whom you want to snoop. That's it; this Instagram tracker will handle the rest.
Pros
Extremely easy to setup and use
Useful in versatile use cases
Keep your identity anonyms
Gives you a quick tracking report
Provides followed account updates weekly
Offers reliable and detailed information
No need to install an app or log into your account
Legal and ethical
Cons
Able to provide insights into only public handles
Only provides publically available data such as likes and follows
You can't get access to their private messages
Snoopreport Pricing
The plans are divided into three categories;
– Personal 
It allows you to track a maximum of two accounts at a monthly cost of $4.99. This plan is best for individuals.
– Small Business
It allows you to track a maximum of ten accounts at a monthly cost of $14.99. Save $9.96 with this plan.
– Professional
It allows you to track a maximum of hundred accounts at the monthly cost of $44.99. This plan can save you up to $204.51.
Is Snoopreport legit?
This Instagram analytics app is 100% legal because many software review sites give it 4 stars out of 5.
How to use Snoopreport?
If you want to use this monitoring tool, you must know the steps to use it. The first step is to clarify your purpose. It will help you make use of this tool accurately.
This tool is extremely simple to use; you'll be able to do it in minutes.
Follow the below steps for ease;
1. Sign up
Signing up on this website is free. On the website, you'll find a sign-up option in the top right corner and click it. You only need to enter your email address, set a password, and accept their terms and conditions.

2. Choose your plan
As you set up an account, it's time to choose your plan per your goal. As I mentioned earlier, this monitoring tool provides three plans. It is up to you to decide what you want to purchase.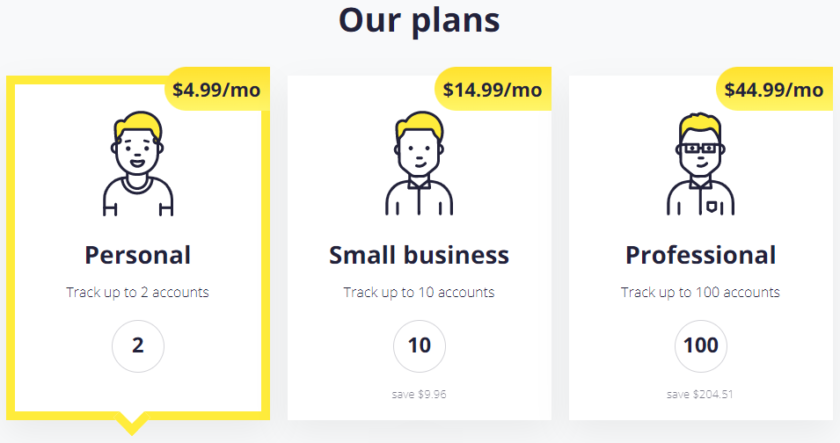 3. Add Instagram users you want to snoop on
After choosing your plan, the important step is to add the Instagram handles of the people on whom you want to snoop.
Below are the steps you have to follow to add Instagram handles;
Click on the "Add Account" option from your dashboard
Write the username or Instagram handle name of the person you want to keep track of
Now, click on Add, and you are done
Keep repeating the steps for every new user you want to keep track of.
4. Get Weekly Reports
Snoopreport sends a weekly report that includes data of the users you added to get track of.
It shows you what posts the user liked, the most liked posts of the accounts, when and what new account the user followed, top hashtags liked by the user, the most common topics the person is interested in and liked, etc.
By getting deeper, you can understand the activity and behavior of that user. This helps you create your marketing strategy if you are using it for a marketing purpose.
Best 5 Snoopreport Alternatives
1#. Mention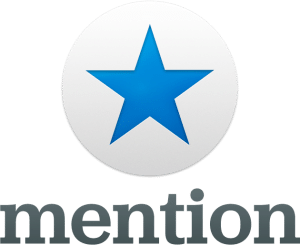 This tool has been in the market since 2012, helping brands and agencies increase brand awareness across social media platforms. With the help of Mention, one can keep an eye on online conversations and create content that people would love to watch.
Features
– Alerts
With the help of Alerts, you can monitor the phrases, keywords, competitors, or topics and keep getting alerts related to this. There are three types of Alerts: 1) Basic Alert, 2) Standard Alert, and 3) Advanced Alert. As per your business or brand needs, you can choose any one of them.
With Standard and Advanced Alert, you get Boolean operators through which you can completely customize your monitoring.
– Monitor 
If you have an online brand, you can not miss a single update on what people are talking about your brand online. With Mention's monitoring feature, you will always be updated with what people are talking about your brand and monitor every activity.
– Listen
If you want to improve your brand strategy, the first thing you have to do is gather as much data as possible. With this listen to feature, you can get insights through which you can filter and analyze posts. Further, you can use this data to improve your brand strategy.
– Publish
Create relevant content based on the data you get and schedule it within a platform. No need to switch between tools. Mention allows you to keep track of your scheduled calendar and collaborate with your team members.
Pros
Easy to use
Great customer support
Provides top-notch search results
More comprehensive than other tools
Cons
Preview's loading speed is slow.
Mention Pricing
Here, they have four plans. Here I covered monthly pricing. If you select their yearly plans, you get 2 months free. So make your selection wisely.
Solo: It offers you two basic alerts at the cost of $49/month.
Pro: It offers you five basic alerts at the cost of $99/month.
ProPlus: It offers you seven alerts at the cost of $179/month.
2#. Sendible

Managing social media is a hectic job, but not with Sendible. It provides everything at your fingertip, from scheduling, engagement, reporting, or whatever your brands' needs are. Sendible makes managing social media like a cakewalk; as a result, now they have gained the trust of 30,000 marketers.
Features
– Scheduling
You can plan your content, schedule the time and date you want, and free yourself. It saves you a lot of time, which you can use for other urgent tasks.
– Collaboration
No need to purchase other software or tools to collaborate with your clients. You can create a separate dashboard and manage all your clients and brands within a single roof.
– Drafts
When not sure about your content ideas, you can create drafts and add them to your calendar. It helps you see all your ideas visually, giving you better clarity.
– Post previews
Before publishing your content on social media handles, you want to be assured that everything is perfect; you can use this preview feature and make all the changes you want.
– Create reports
Every client demands the work report, and Sendible makes this super convenient for you with its predesigned templates. However, if you want to add your signature elements to it or want to create custom reports, you are free to do so.
– Engagement
Quick response is mandatory when you are running an online business. However, being online on every platform all the time is not possible. But with Sandible, it's possible. You can respond to every social media platform's customers and clients under a single dashboard, making it super convenient for you.
– White Label
With this feature, you can customize everything according to your brand colors, theme, system-generated email notifications, etc., giving a personal feel to your clients.
Pros
Offers 14-day free trial, no card required
Access to Pro Canva
Circulate the content throughout the social media channels through RSS feeds
Provides trendy content suggestions
Has a built-in image editor
Create content in bulk and import it into a CSV file
Allows several media integrations
Cons
You may receive a slow response from customer support
Sendible Pricing
The plans are mainly divided into three; however, they do offer one custom plan. Let's see them one by one;
Creator: It is best for freelancers, allowing 1 user and 6 social profiles at the cost of $29/month.
Traction: It is best for startup agencies and brands, allowing 4 users and 24 social profiles at the cost of $89/month
Scale: It is best for growing agencies and brands, allowing 7 users and 49 social profiles at the cost of $199/month
Custom: For a custom plan, you have to contact their team and customize it according to your needs. It is normally chosen by large teams and agencies.
Note – If you take yearly plans, you can save up to 15%.
3#. Socialpilot

A tool that offers everything from robust publishing features and insightful analytics to smooth collaboration, and that too at an affordable cost. You may want to consider Socialpilot if you want something easy to use.
Features
– Bulk scheduling 
If you manage more than one brand, you want to schedule your content in advance. And SocialPilot makes it super convenient for you.
– Social Inbox
Respond to all messages promptly by using the social inbox features. It improves brand-customer relations, making your customers feel special.
– Collaboration
Collaborate with all team members under a single roof, making it easier for everyone to connect and discuss their ideas and queries.
– Calendar
This social media calendar helps you see your content in a calendar-like view; you can see your content visually and fill in the gaps if needed.
– Content suggestion
There are always new trends on social media. If you do not want to look outdated, you have to keep watch on trending topics. This feature helps you do the same.
– Built-in analytics
It helps you know your audiences better as you can keep track of their engagement, likes, follow, etc. You can also check the type of content your audience likes and make your next strategy accordingly.
Here you can get social media analytics access without using SocialPilot. It helps you preview data in an app.
– White label solution
With this feature, you can customize web addresses, give a complete spotlight on your brand, set up your mail, and do lots of other things.
Pros
Provides great value for money
Extremely easy-to-navigate interface
Supports many browser extensions
Availability of tons of useful tools
Android and iOS apps are available
Cons
No chatbot creation
Slow response from customer support
Lack of email automation
Socialpilot Pricing
SocialPilot provides you with four plans mainly on a monthly and yearly basis. However, if you choose yearly pricing, you get a 30% discount.
– White label
At $200 a month, you can access 50 social media accounts with unlimited users.
– Agency
It gives you access to 30 social media accounts with 6 users and unlimited clients at the cost of $100/month.
– Small team
For $50/month, you can access 20 social media accounts with 3 users and unlimited clients.
– Professional
It gives you access to 10 social media accounts with 1 user only at the cost of $30/month.
Rather than these four plans, if you are looking for enterprise or other while label plans, feel free to contact their team. They will reach out to you during their working hours.
4#. Agorapulse

Stand out your brand among your competitors with a perfectly designed social media management tool keeping all essentials in mind. When it comes to perfection, nothing can beat Agorapulse.
Features
– Easy interface
With its extremely easy-to-use dashboard, you can do everything within a few clicks without wasting your time searching here and there. It has placed everything systematically, giving you the feeling that you have already used this dashboard.
– Composing 
Its compose functionality makes it easier for you to publish your content within no time on multiple platforms. You'll see the create post option; you can start creating your posts. Here, you'll find individual tabs per social media account. You can make changes social-media-wise and schedule or publish as soon as you are ready.
– Scheduling
After you finish composing, you can schedule it at the time you want. Interestingly, you'll get four options here; publish immediately, add to queue, schedule, and assign. Well, you can assign it to anyone, including yourself, and save it as a draft.
– Publishing calendar
It is also known as a social media calendar through which you can see your scheduled posts. If you want to add a new post or change the dates of scheduled posts, you can do this easily with its drag-and-drop option.
– Social Media Inbox
Managing social media inboxes has never been this easy. You can answer and reply to questions, comments, and reviews from this inbox. If you want, you can assign these messages to team members and let them work on your behalf.
– Social listening
There is one section assigned specifically for Instagram and Twitter called Listening. It gives freedom to analyze any hashtag, keyword, or website.
Pros
Easy-to-use UI
Inbox assistant makes work easier
Monitor everything seamlessly
Offers free account
Cons
It does not allow you to write notes on scheduled posts on the calendar.
Agorapulse Pricing
They have mainly four plans, and you have to contact their customer support team for the custom plan to get the best deal.
Free: It allows you to add 3 social profiles, giving you access to 1 user at zero cost.
Standard: It allows you to add 10 social profiles at the cost of $59 per month.
Professional: It allows you to add 15 social profiles at the cost of $99 per month.
Advanced: It allows you to add 20 social profiles at the cost of $149 per month.
5#. Keyhole

Social media monitoring has become more crucial than ever, and for this, one needs a powerful monitoring tool to handle everything from the campaign, brand, event monitoring, influencer marketing, and brand research.
If you look at individual tools for your every need, it will become challenging for you to manage all those tools. Most people prefer an all-in-one tool to avoid such a scenario, and nothing could be better than Keyhole.
Due to its amazing features, it has been used by top brands worldwide, including Google, Amazon, etc.
Let's find out more about it below;
Features
– Influencer tracking and analytics
In recent years, influencer marketing has become extremely popular. But finding genuine influencers is a challenging task; however, with Keyhole, everything is easy. Keyhole helps you find the best influencers, compare influencers' metrics, measure campaign ROI, etc. The most time-saving thing you can do here is automated influencer tracking.
– Social profile analytics
Timely you have to improve social media marketing performance, but without getting insights into past performance, one can't do this. This social media monitoring tool provides profile analytics for Instagram, Facebook, Twitter, TikTok, LinkedIn pages, and YouTube.
Through this feature, you can measure all your social media profiles, grow engagements, get competitive reports, see followers' insights, and many other things.
– Hashtag tracking
Using this feature, you can create impressive reports and share them with your clients and show them jaw-dropping results. It helps you easily track hashtags and keywords, find trending yet relevant hashtags for your brand, etc.
– Schedule and publish
With Keyhole's seamless scheduling, publishing, and optimizing option, you can save up a lot of your time. Here you can manage multiple social media accounts at one go and measure each post's performance. Further, you can add your team members to a platform and work together with no back and forth.
Pros
Provides flexibility in tracking and capturing
Offers comprehensive metrics
Generate analytics reports in no time
Has user-friendly dashboard
Prompt customer support service
Cons
Setup may take time for some people
Keyhole Pricing
Depending on your preferences, you can choose a plan. They have divided their pricing based on the service they offer. However, here I've included the starting price of each service.
Social listening and campaigns start from $79 per month
Profile analytics starts from $39/month
Moreover, if you want to know about their influencer tracking and enterprise suite plan, you must contact customer support.
Conclusion
Does this read sound like a dream for you? It's not a dream; it's reality. With advanced techniques and new research, everything becomes possible. Keep track of your favorite people, competitors, kids, and significant others with this handy tool.
Depending on your needs, you can use it for personal and professional purposes. Most importantly, this Instagram tracker works anonymously, giving you big ease.
So you can use this Snoopreport monitoring tool without hesitation as it provides more insights than Instagram insights of non-private accounts. We have covered everything about this tool that we found out. For your convenience, we also shared the top 5 alternatives with you.
I hope this review guide will help you!
FAQs
Q) Does Snoopreport provide accurate data?
Ans: As per reviews and their official website, the website offers 100% accurate data.
Q) Will the user get to know I'm following him/her?
Ans: Big no. There is no chance that the user will get to know you. Additionally, you can delete his or her account from your dashboard once you are done monitoring that person's account.
Q) Do I need to stay logged in to the platform all the time?
Ans: Obviously not. You just add the accounts you want to monitor, and the rest will be assured by Snoopreport.
Q) Does Snoopreport offer free trials?
Ans: Not now. But the best thing is that their plans are affordable compared to their competitors, giving you the freedom to cancel at any time at no extra charge.
Q) What payment method can I use here?
Ans: You can use credit and debit cards to proceed with the payments. Plus, all the payments are safe and secure as we use Stripe – The most secure payment processing service.
Q) Who can use Snoopreport for free?
Ans: Snoopreport offers free access to data science students and other researchers as they want to help and support the data science community. For more information, you can reach out to them if you work in this area.