Salesforce Marketing Cloud Review: Features & Alternatives
What is Salesforce Marketing Cloud?
Salesforce Marketing Cloud is a SaaS platform that has the potential to assist various areas of marketing, including multi-channel campaign execution, pre, and post-campaign analytics, dynamic customer journeys, audience segmentation, building, social media advertising, engagement, and a data handling platform.
Marketing has evolved via digital transformation with marketing automation features available to assist marketers in capturing leads and essentially accelerating their marketing efforts.
According to Forbes, 68% of businesses count on marketing automation to reach their objectives. Each company around the globe has gained significantly from such digital marketing automation tools, but for B2C companies, which essentially market products and services to customers directly, they are a definite must-have.
Though we've already introduced Salesforce Marketing Cloud, let's now discuss this SaaS in detail.
Salesforce Marketing Cloud is a comprehensive platform with potential across the marketing domain. This includes the following:
Marketing Analytics
Digital Marketing
B2B Demand Generation
Digital Advertising
Note: Starting with the Spring '22 release, Marketing Cloud plans a new release cycle. In 2022, you can expect new Marketing Cloud features available in your org during the Spring '22 (Feb 5-18), Summer '22 (June 4-17), and Winter '23 (Oct 8-21) releases. This plan gives you a more consistent Salesforce experience because it aligns Marketing Cloud releases with the release schedule of other Salesforce products.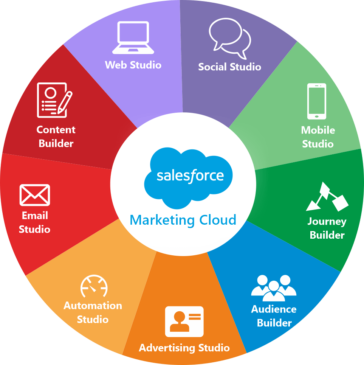 Features of Salesforce Marketing Cloud
Salesforce Marketing Cloud consists of a powerful Journey Builder and an integrated suite of marketing Studios, but its steep learning curve and expensive pricing angle may deter small businesses.
Salesforce Marketing Cloud is an enterprise-level automation solution designed for businesses that need the very best.
It works with a range of apps—including social media marketing, email marketing, digital advertising, and SMS marketing tools—to help you create personalized customer journeys and engage prospects across every channel.
SFMC does this through components they call "Builders" and "Studios":
"Studios" can easily engage and manage channels of communication. In SFMC, this includes Email Studio, Social Studio, and Mobile Studio.
"Builders" manage the Salesforce Marketing Cloud platform's data, content, and customer journeys. The Studios often use them but don't have to be (e.g., Analytics Builder).
First, let's review the list of studios the Salesforce Marketing Cloud is built upon! These studios enable marketers to build personalized, omnichannel customer experiences.
1. Email Studio
Creating emails and adding them to customer journeys via the inbuilt email studio is effortless with the tap of a button. This enterprise-level email marketing platform further helps users build email messages via the drag-and-drop editor and pre-built templates, which they customize and personalize for different audience segments, set up triggered automation, etc.
2. Journey Builder
The Journey Builder is the heart of the Salesforce Marketing Cloud. It helps customers on customized journeys by visualizing them in a flow chart. Its user interface is a blank canvas onto which you add controls, events, and actions and connect them to create automation sequences.
3. Social Studio
As the name suggests, this Social Studio connects marketers with their customers across social channels like Twitter, Facebook, and Instagram. It is used to set a brand tonality and uncover insights, listen in (and respond) to what social users are engaging upon, create and publish social content, and even launch social advertising campaigns.
4. Mobile Studio
With the Mobile Studio, one can easily connect with customers via SMS, push notifications, and messaging. It offers pre-made templates for various types of mobile messages, like appointment confirmations, SMS opt-ins, and mobile surveys. It can also be used to set up geofenced offers.
5. Advertising Studio
The Advertising Studio syncs advertising campaigns with your CRM and marketing data to launch customized customer journeys. You can advertise on Facebook, Google, and YouTube directly through Salesforce.
6. Tracking
The potential to use and track data is one of the essential features of any email marketing software. Email Studio helped us to view elements such as clicks, email opens, undeliverable messages, new subscribers, and those who unsubscribed. You could then make reports based on this data.
7. AI Einstein
This is Salesforce Marketing Cloud's unique feature and could be a game-changer for various companies. AI Einstein assists you to transform your data into insights and find and prioritize leads for your sales team. We found that AI Einstein could help users optimize all the Email Studio tools fully.
8. A/B Testing
With A/B testing, you can send out two different versions of an email campaign to two check your audiences. It can easily determine which version got the highest click-through rate and open rate, which would help a business to go for more informed decisions about its email campaigns.
9. Content Creation
Since content creation is the universal tool of any email marketing program, Salesforce's inbuilt Email Studio provides you the capability to design content blocks that include HTML, text, buttons, images, and more dynamic content.
What's New in The Salesforce Marketing Cloud?
It is constantly evolving. This year, the company acquired the workplace communication tool Slack to design Slack-first Customer 360—a single platform for syncing partners, employees, and potential consumers.
It also regularly updates the Salesforce Marketing Cloud, bringing new features and improvements.
Salesforce Marketing Cloud implemented various enhancements in its latest release, including upgrading its mobile marketing toolkit. Users can now orchestrate customer journeys and create custom app events depending upon app usage and connect the mobile app SDK with the Journey Builder.
Other upgrades in the recent release consist of extensibility enhancements, personalization insights, and advanced data intelligence for the Journey Builder Activity and Interaction Studio App.
The latter helps users share actions, identities, and attributes between the Journey Builder and Interaction Studio and create segments and triggers across channels.
Salesforce Marketing Cloud Pricing
It offers pricing plans according to the following categories:
1. Email, Mobile, and Web Marketing
Basic – Personalized promotional email marketing – Starting at € 400
Pro – Personalized marketing automation with email solutions – Starting at € 1,250
Corporate – Personalized cross-channel strategic marketing solutions – Starting at € 3,750
Enterprise – Sophisticated journeys across channels, brands, and geographies – Request a quote
2. Digital Advertising
Basic – Power audiences across digital advertising with CRM – Starting at € 2,000
Enterprise – Power audiences plus manage and optimize lead advertising at scale
3. B2B marketing automation
Growth – Fuel growth with marketing automation – € 1,250
Plus – Dive deeper with marketing automation and analytics – € 2,500
Advanced – Power innovation with advanced marketing automation and analytics – € 4,000
Pros
Powerful automation tools (Journey Builder)
Sophisticated email marketing
A seamlessly interconnected ecosystem of apps
Cons
Steep learning curve
High price point
Final Words
Thus, Salesforce Marketing Cloud is undoubtedly the most sophisticated marketing platform available in 2022. It offers you all the tools and elements you need to craft customized, incredible customer experiences and sync with your customers across various marketing channels.
However, Salesforce Marketing Cloud is designed for big brands with a high price tag and a deep learning curve. We've also mentioned some of the top alternatives of Salesforce Marketing Cloud in the last section worth checking.
Related FAQs
1 – Is Salesforce Marketing Cloud hard to use?
It depends on how familiar you are with such marketing automation tools. Salesforce Marketing Cloud is generally designed for high-budget companies and requires a deep learning curve concerning its modules.
Since it's software, you will have to learn its process to operate it smoothly. There are tutorials and certifications available for the Salesforce Marketing Cloud.
2 – What is A/B testing in the marketing cloud?
As the name suggests, it is a testing method used by automation tools to track and analyze the performance of one version over another. It is done by sending the two different versions of the Marketing Cloud Email Studio within the Salesforce Marketing Cloud.
And after determining the highest click-through or highest open rate of any version, it is then sent to all the subscribers.
3 – What is a Path Optimizer?
The Path Optimizer is an aspect or an element in the Journey Builder of Salesforce Marketing Cloud. This feature helps you test up to 10 variations of a journey path to check which path performs best in your journey.
You can modify the frequency of sends, content, and the kinds of messaging channels and let the Journey Builder automatically choose the winner based on email metrics such as clicks, opens, or the list of unsubscribers.
4 – Does the Salesforce Marketing Cloud have a future?
The answer is definitely 'yes' as the cloud is the future. And, marketing along with automation is going nowhere! Thus, it's not only a case of Salesforce Marketing Cloud, but any of the reliable marketing automation tools out there has the potential to serve the present as well as future requirements.
5 – Can Salesforce send automated emails?
Yes, Salesforce can send automated emails. You can specify the type of person to receive these email alerts, like an internal User or Contact, and specify the email template you want to use in this alert.
6 – What are the four types of email templates created in Salesforce?
In Salesforce Classic, you can create four different types of email templates: text, HTML with Classic Letterhead, custom, and Visualforce. These email templates can include text, merge fields, and attached files.
7 – What is the escalation rule in Salesforce?
Escalation actions specify when the case escalates and what happens when the case escalates. An escalation rule can reassign the case to another support agent (user) or support queue (queue). An escalation rule can also send notification emails to the new assignee, the current case owner, and other recipients.