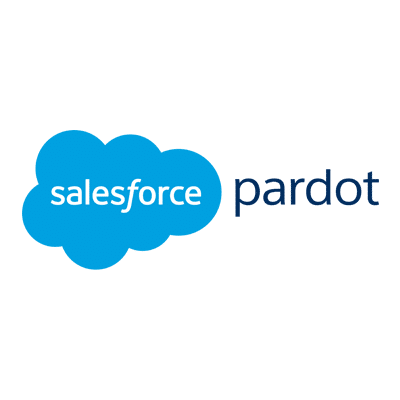 44 Best
Pardot

Marketing Automation Software Alternatives
The booming of businesses and the invention of great marketing tools characterize today's world. Unlike many years ago, entrepreneurs now have a voice and this has opened new doors for them. The rise of entrepreneurship has led to the growth of the global economy and humanity can explore greater heights of success.
Need to create better tools for conducting business has led to the development of other key software, such as Pardot. This blog focuses on the Pardot, its prices, pros and cons, and simply anything that surrounds this amazing tool. So, let's begin!
What is Pardot?
Pardot is a B2B Marketing Automation Tool that operates under artificial intelligence to create business automation. Pardot was an invention by two entrepreneurs: David Cummings and Adam Blitzer and was launched in 2007. It is a rapidly growing company with offices in Atlanta, San Francisco, Dublin, London, Sydney, and Tokyo.
Since its development, it has done well in the market and business experts have termed it the best in the world because of its excellence in customer relationship management (CRM). The primary aim of Pardot is to link business people and their customers through the generation of marketing leads.
This tool empowers marketers to maximize profits by creating more markets for them. One unique feature about Pardot is the fact that it enables you to track all your business activities on one page.
Developers integrate this B2B automation software with other features such as email marketing, lead scoring, and profits reports generation to enable you to run the business smoothly and with accuracy.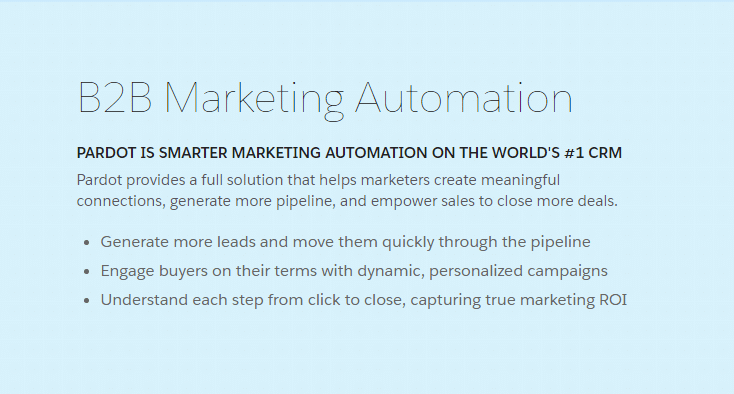 Salesforce Pardot
Pardot has secured a very great sales force in the market as of 2022. According to Pardot's official website, the platform claims it has increased customer revenues by 34% and marketing effectiveness by 37%. This is possible because Pardot uses the latest technology to fuel marketing innovations.
Also, the platform has been on the frontline in helping businesses rebrand themselves, and this shows how promising results can be once entrepreneurs have adopted the tool fully. Also, Salesforce Pardot focuses on campaigns that boot customer income through the provision of marketing curated content.
It offers customers an array of services under this bracket, i.e., campaigns, reports, alerts, and the ability to monitor your campaign from your mobile phone, in any part of the world.
Pardot Pricing
Pricing is based on the plan you are looking to adopt. The platform has distinct plans which also vary in terms of services and prices. The packages are:
Growth
This offers businesses growth and marketing automation. The total cost is $1,250/year, with up to 10,000 contacts billed annually.
Plus
This offers deep marketing and business analytics. The total cost is $2,500/year, with up to 10,000 contacts billed annually.
Advanced
This plan offers analytics and other services that are AI-powered. The cost is $4,000/year with up to 10,000 contacts billed annually.
Premium
This plan offers users 24/7 support and more enterprise-ready tools. The cost is $15,000 with up to 75,000 contacts billed annually.
Pardot Support
Just like any other business-oriented platform, Pardot offers conscious support to its customers. The platform offers product training, implementation help, recommendation of growth tips, etc. Pardot has Customer Hub, a channel that links the company directly to its customers. It provides various channels of communication, such as email, live chats, live and free webinars, local user groups across cities, and voting for the best product.
Conclusion
Pardot is a B2B market Salesforce intending to help enterprises maximize their profits. It has integration APIs with the breadth of partner's applications to create a personalized experience for its clients. The G2 Product R&G Team reviews and verifies that Pardot is a genuine and safe company to buy services from.
Also, the provision of web analytics, ROI analytics, SEO/keyword analytics, and revenue analytics gives customers four major services under one package, which other companies cannot offer, and this makes Pardot outstanding.