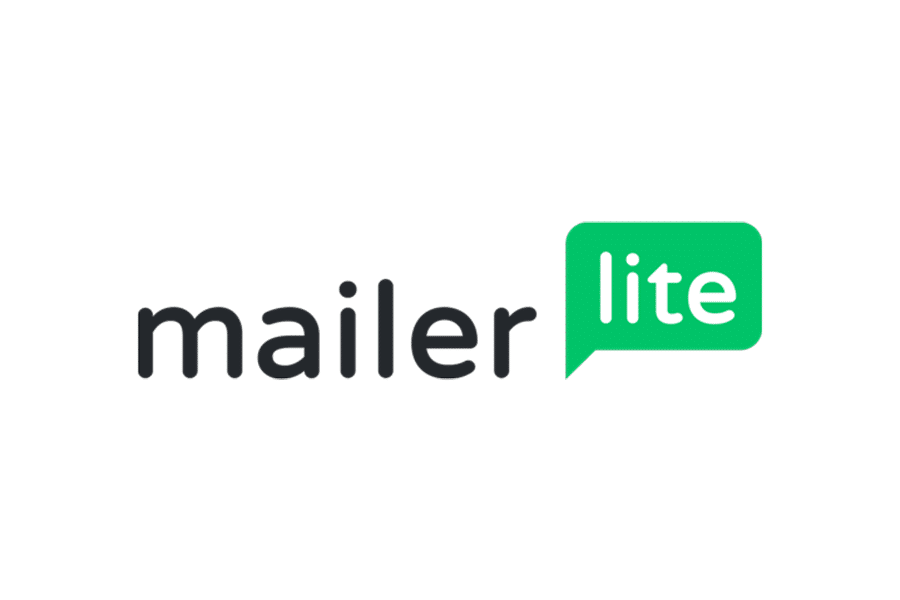 MailerLite Review: Features, Price, & Alternatives
What is MailerLite?
MailerLite is the email marketing tool that permits generating and sending newsletters and reports on the subscriber's activity and the comprehensive usefulness of email marketing. It was established in 2010.
MailerLite is an Advanced email automation tool and website for small as well as large businesses. The main idea behind it is its simplicity. It is a user-friendly tool as modifications can be done just by drag and drop.
MailerLite allows you to draw customized newsletters with the help of drag & drop, rich text, or HTML features. People who visit this site get so attracted to its website and interactive forms that they turn into their subscribers.
MailerLite integrates with multiple connections like MailerLite Shopify integration, Woocommerce, and MailerLite WordPress Plugin. Due to these integrations, a lot of time is saved. It provides many functionalities to these external third-party tools too.
Workflows based on campaign actions can be created through the marketing automation feature of MailerLite. It has a logical and clear collaboration. Moreover, the form templates used here are customizable and well designed. Forms include features like subscribe, pop-up, embed, and unsubscribe buttons.
MailerLite also shines in its deliverability. It is also awarded as "Best of 5 Email Deliverability" in October 2021.
MailerLite Features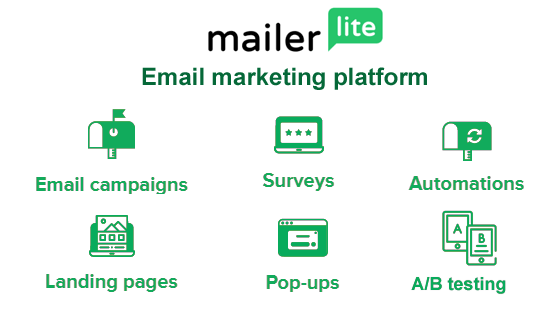 MailerLite is the most useful tool for marketers. It provides several important features as listed above.
Email Campaigns
You do not require any specific skill for creating campaigns. It can be simply done by the drag and drop option. You can add links, images, and bullet points with the help of Rich text email editor which will result in the enhancement of messages.
Surveys
You can keep watch on email campaigns and can get to know what is best for your business. You can also collect information through surveys. Start your email survey including fun polls and collect data through it.
Automation
To reach the right recipient at the right time, you can set marketing automation workflows. For example, you can send a welcome mail to all new subscribers by triggering automatic mails.
Landing Pages
Landing pages can be built for free and can be easily customized. It is a great source of attraction for new visitors.
Pop Ups
Dynamic email pop-up options can be visible at the center of the page. They are so seductive that they can convert a visitor of a website to a subscriber just by clicking on it.
A/B Testing
Email A/B testing lets you know which modification of an email is more effective. It enables you to know your audience which type of email they are engaged with so you can offer more emails of that type which leads to an increase in revenue.
MailerLite Review
MailerLite has been very popular and its cheap prices attracted you to it. But there are a few remarkable review factors to take into consideration.
Pricing
It is one of the best advantages which gives a free plan with 12,000 emails per month and 1,000 subscribers. And if you choose a paid plan, you can also send unlimited emails. Hence, it ranks at the top among its competitors.
Creating a Newsletter
Simplicity and accuracy can be seen in the dashboard Which makes navigation easy. You can create campaigns easily by clicking on the right top button. Templates are interactive and modern-looking. Once the catalog is created you can check its mobile and desktop view.
Campaigns can be sent immediately or can be scheduled at any prescribed time. You can also send according to your subscriber's time zone.
Additional Features
Another big advantage of using MilerLite is that a variety of web forms are available. It is also available on a free plan.
Automation
It is easy to use but it lacks a few functionalities. Advanced features and trigger options are missing.
However, if you have a small business or you are a blogger then MailerLite is the best option for you. But if your business is giant and you need pro features then it is less suitable.
MailerLite Pricing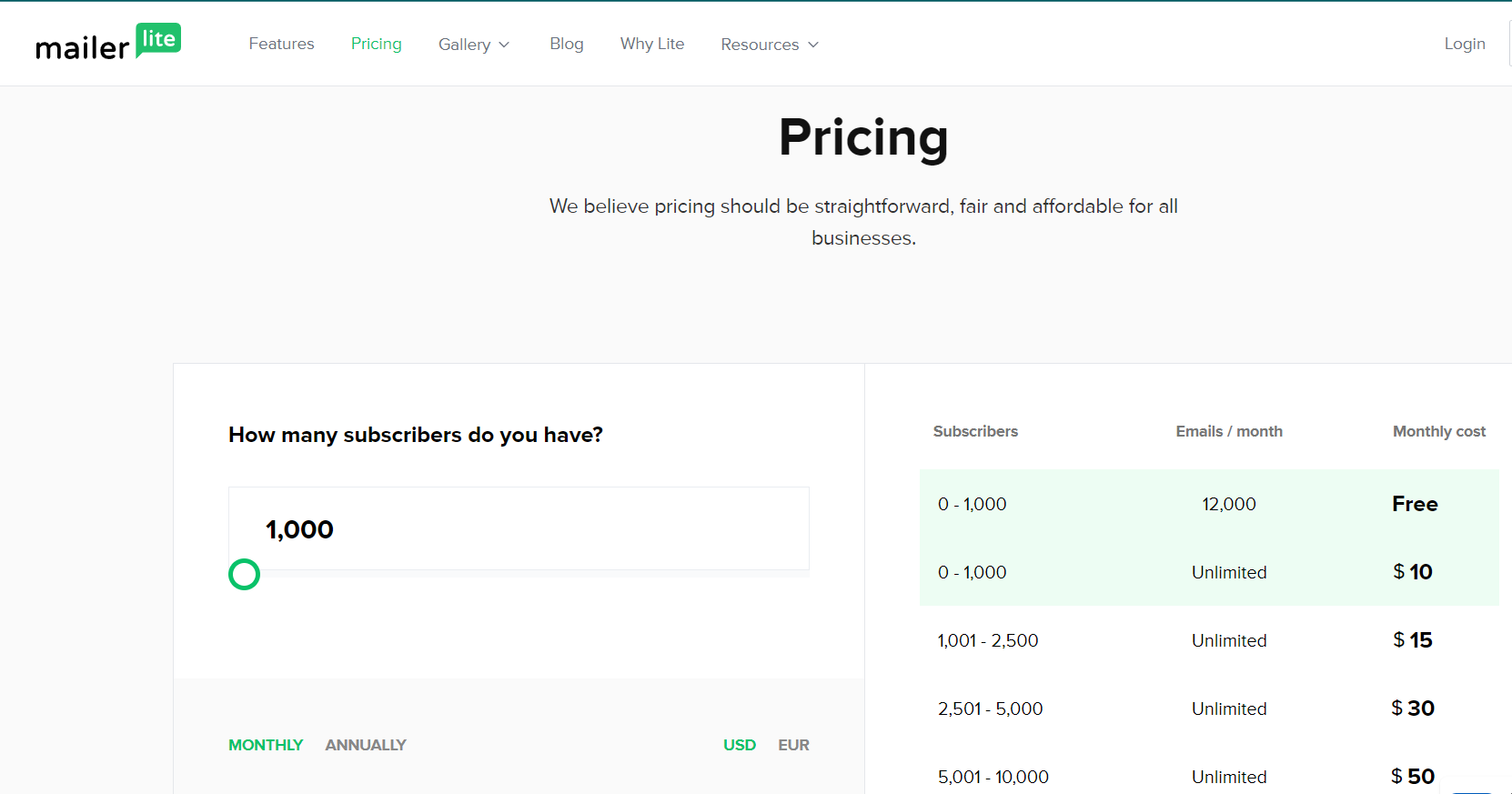 MailerLite Pricing depends on platform functions, subscribers and emails to be sent per month. If you are not sure which plan will suit you better, you can start with a free trial of 14 days.
MailerLite is favorable and affordable for all businesses. Both annual and monthly plans are available. Moreover, those who chose the Annual plan get a 30% discount on the cost price.
The free plan of MailerLite is limited to up to 1,000 subscriptions and 12,000 emails per month. It mostly includes all the features provided in paid plans but can be used for a specified number of days.
To check out a full list of pricing visit MailerLite.