10 Best
Accelo

Business Management Software Alternatives
Accelo is an all-in-one solution for project management software and business operations that can be used by a plethora of different types of businesses. The businesses include digital marketing agencies, management, and consulting firms, and web development companies, accounting and bookkeeping businesses, as well as communication specialists and engineering teams.
It is a cloud-based automation software and packs plenty of powerful tools to flexibly respond to the needs of different firms and companies. Initially, it was developed with a focus on sales and billing management, later it included customer relationship management, project management, and client services.
Accelo is a cloud-based ServOps software tailored specifically for professional services. It smoothly leverages enterprise-level business automation, i.e., sales, project management, client billing, and tracking time for business service. Your team can accomplish more in bounded time by easy team collaboration and powerful reporting.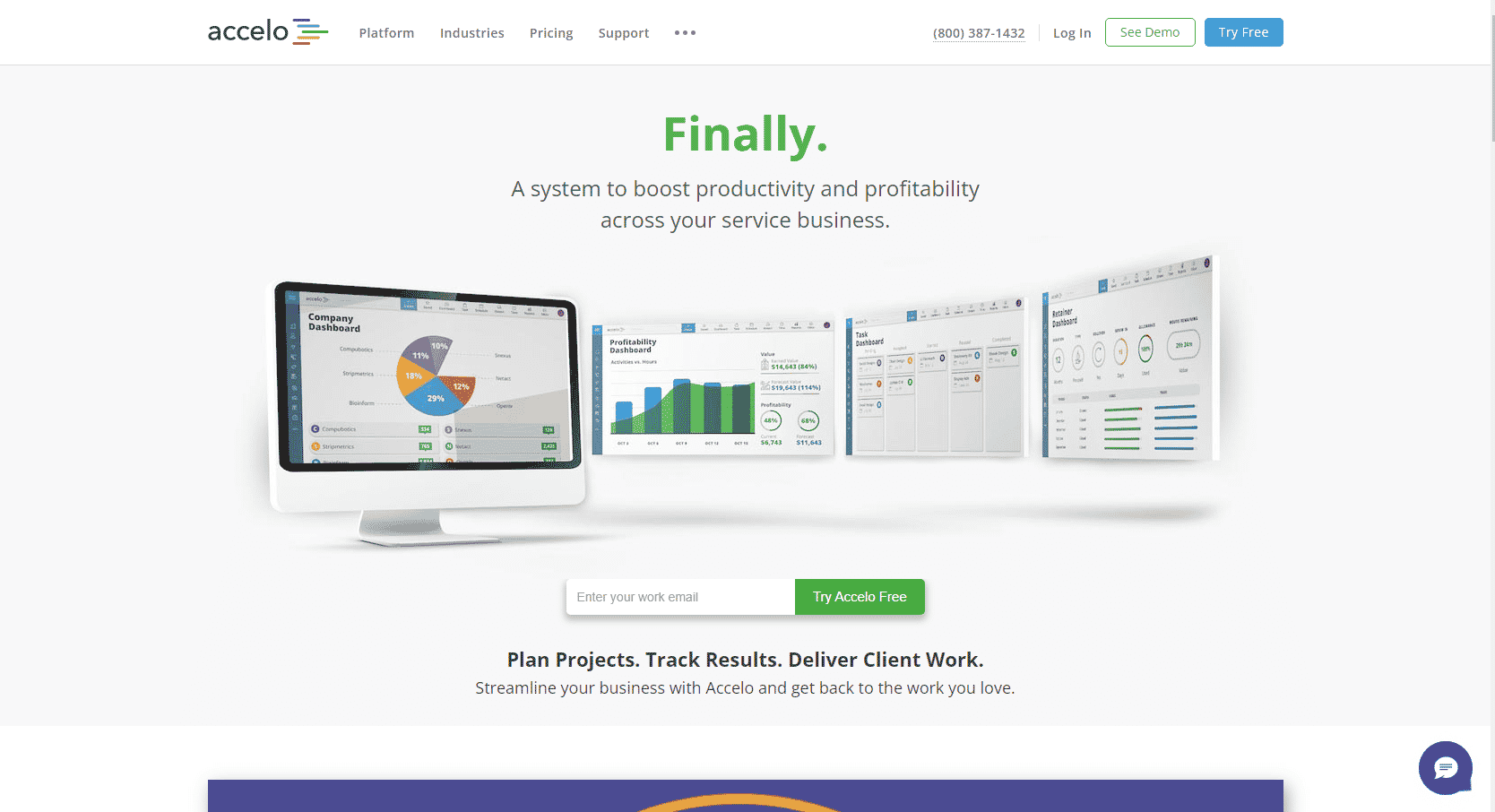 Features:
1. Sales
The sales section in the Accelo consists of a sales dashboard, that displays a complete pipeline forecast and visualized sales funnel, and a sales stream that shows you all your sales activities.
The sales pipeline does not support classic views and looks complex, it may intimidate inexperienced users. Instead, it shows a complex deal list that makes it hard to overview the entire process.
Accelo helps you to manage new and active clients with the help of a sales module and even helps you to track your sales efforts that include emails, meetings, documents, and tracks the time taken to close the deal.
It allows you to schedule the meetings that become visible in the Sale Stream. You can track the time from the first mail to the close of the deal with the help of Timer. A team can log their sales and work with Activities.
Quoting Tool optimizes the whole process of efficiency, which allows you and your team to quote using templates and automated step-by-step processes. You can transform quotes that are approved by clients into projects in a single click, with a budget, times, and tasks automatically built into the new project.
2. Projects
Once you create the projects, Accelo takes you to a Project Module that incorporates Gantt charts with drag and drop, which allows you to schedule and outline project structure. This module allows you to manage the project plans, create budgets, and assign tasks.
A project plan consists of milestones, tasks, timelines, and dependencies. The project expenses and progress can be tracked in real-time. It allows you to combine the project with the rest of the work you might be doing for the other client, such as accessing service tickets and retainer tracking.
3. Retainers and Contracts
Retainers and Contracts is an Ace module of Accelo, this feature allows you to streamline plenty of administrative work with your team and exciting clients, such as payroll and bookkeeping for various digital marketing, web hosting, IT, and support services.
Accelo Retainer makes it easy for professionals to provide ongoing service to their existing best clients. With auto-populate contracts, recurring tasks and materials, billable rates, and allowances for periods based on your billing cycle. Will track the time and work with each period. A summary shows you the metrics divided by tasks, tickers, and projects.
Client Portal works as a cherry on the cake as it keeps your clients up-to-date with the process of the project. It proves to be one of the best customer portal software.
4. Reporting
Reporting tool not only allows you to track single projects or specific reporting periods but also allows you to make informed decisions based on your team's performance and data.
It allows you to review the profitability of your team's work, scale time, budget, type of work, specific client or team member, and status of your projects and tickets. Helps you to create practical and efficient quotes in the future.
The reporting feature helps you to analyze the most valuable Clients for your business, based on the type of sales, status, date, and salesperson.
Pros:
End-to-end project management software

Plans job, budget, and time allocations

Integration to G-Suite for calendar and email sync and visibility

Connects clients to companies and projects and keeps a sightline of the border relationship

Easy to manage the task and to schedule the same

Unlimited customization options for preferences, notifications, groups, permissions, and much more
Cons:
Stored data is difficult to find and to export it is more difficult sometimes

Some tasks like reallocating meetings or time entries are cumbersome

Reporting can be improve

Can not assign the task to multiple members
Pricing:
Accelo offers 14 days free trial with limited features so you can hold your eyes on it if it fulfills your demands. Let's have a look at the plan offered by Accelo.
It offers 4 plans at the same rate of $39 per month with a minimum of 3 users, with their respective features as follows.
The advanced plan of Accelo is mentioned below.
ServOps:
This plan offers you all the features of the above-mentioned plans at the rate of $79 per month with a minimum of 3 users.
All the plans can be billed monthly as per convenience.
Conclusion:
Accelo is the best software for project management, by now you would be quite sure if it caters to your needs or not. You can take the 14-day free trial and make yourself sure about the software. Plenty of Accelo Alternatives are available for Business Management Software on Alternatives Magazine.