Zoho Meeting: Features, Pros, Pricing and Best Similar Apps
Zoho Meeting is a basic web conferencing solution built for businesses to find better ways to collaborate and work remotely with more efficiency. It is completely browser-based so no need to download any application for any of the devices. It is compatible with macOS, Microsoft Windows, Google Android, and iOS.
It is an affordable way of online communication, especially for the companies that have made investments in Zoho's extensive business software. Zoho is limited to 10 participants with a basic plan, most of the companies will have to upgrade their plans for the higher number of participants and other exclusive features.
Zoho Meeting makes sure to make your connection secure to provide you privacy for the data shared like desktop screen share, audio, video, applications, and presentations during the online meeting. It offers functions like lock meeting to avoid disruption during the meeting. Notifies during entering/exit of the attendee and allows to organize the video settings.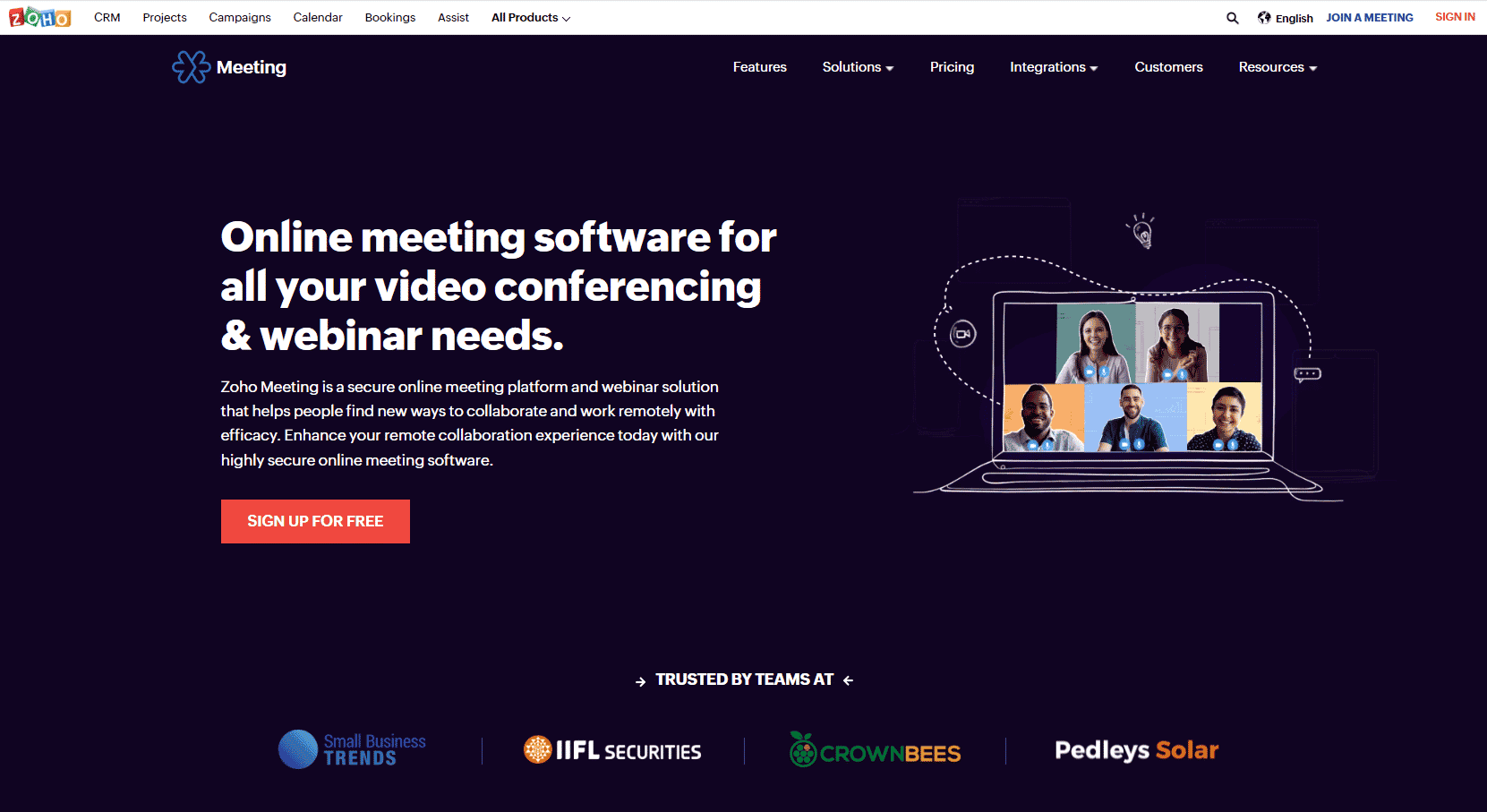 Features of Zoho Meeting:
Easy to scale and simple to use

Reliable support

Standard industrial security

Everyone can experience Enterprise-level features

The meeting tools are interactive

The affordable and transparent pricing structure

Strong integration with Zoho's ecosystem

Other third-party services
Merits:
No downloads
It does not require you to download any application to join the meeting. With some clicks, one can easily join the meeting.
Audio, video, and screen sharing
Zoho helps you to connect and collaborate with your attendees face to face by building trust through video and audio conferences. Explain your point better by sharing the screen, application, or a presentation and other demos.
Secure sessions
Keep your online conferences safe with features like Lock Meetings and password protection. Zoho provides meeting security with the industry-standard security practice, SSL/128-bit AES encryption protocol.
Phone audio
During poor internet flow, you can join the session by dialing through your phone, locally 100+ contact numbers you can use, and 55+ toll-free contacts to join from different countries.
Recording
If any of the attendees could not make it to attend the meeting or for revision pr as proof, you can have the recording of the particular session. You can share the link or can download it from your own record.
Sync meetings to your calendar
Be on time and share the advanced time of the meeting with your teammates by scheduling the meeting and sharing the same on the Google calendar. This will notify your attendees of the Webinar or the online session.
Webinar Benefits:
Broadcast video webinars
Host live webinars and share multiple feeds like screen, video, window application with your audience. You can share any of the participant's screens to support your presentation.
Customize emails and forms
Zoho allows you to customize registration forms, webinar emails, and the attendees too. You can even persuade attendees to take particular action as you direct them to any web page you want them after the webinar.
Interact with your audience
Make your audience interested by involving them by audience polls, Q&A, or by simply allowing them by raising their hand or making them Presenter.
View webinar data and download reports
You can document the meeting by having the report of webinar registration, attendees, engagement, pools, and Q&As in XLS and CSV formats.
Disadvantages:
HD quality video is not supported

Buggy on macOS

The free version is limited

Internet connection needs to be more stabilized

Requires good bandwidth to use without interruption
Costing:
Zoho is available for free with limited features without downloading the application and even 14 days free trial to see whether it caters to your needs or not. Below mentioned are the plans you can choose as per your requirements and budget.
Online meetings
Online meeting plans vary by the number of attendees but features remain the same.
10 Participants with all the features $3/month/host

25 Participants with all the features $6/month/host

50 Participants with all the features $9/month/host

100 Participants with all the features $12/month/host
Webinar
Webinar starts with basic plan $19/month/organizer for 25 attendees
25 Attendees – $19/month/organizer

50 Attendees – $29/month/organizer

100 Attendees – $39/month/organizer

250 Attendees – $79/month/organizer

500Attendees – $125/month/organizer

1000Attendees – $200/month/organizer
Zoho Meetings even provides customized plans as per your need.
Bottom line:
Zoho Meeting is a basic but reliable video conferencing tool for modern businesses for sharing the screen and web presentations. It provides privacy during sharing the content online with attendees. If it fulfills your requirements then you can hold your eyes on this software or you can check out its alternatives.