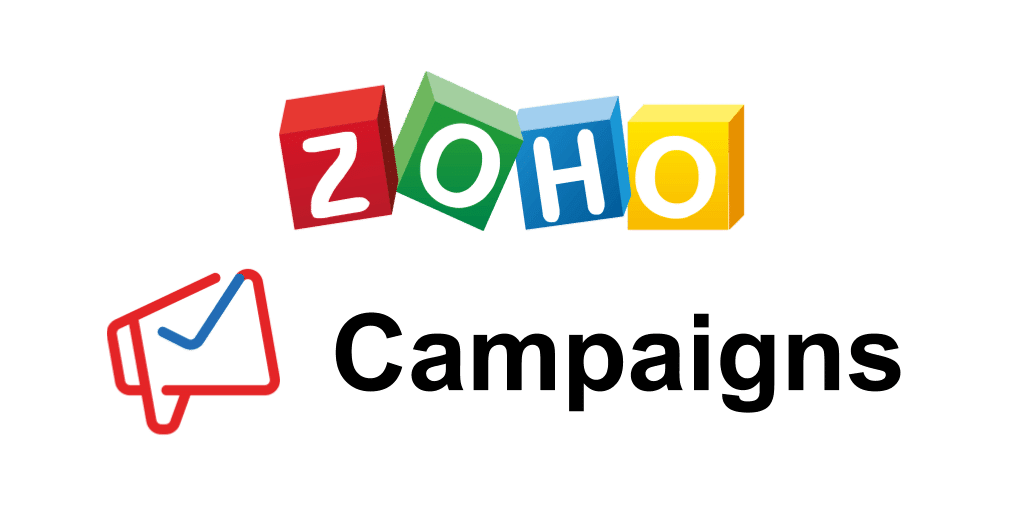 What is Zoho Campaigns?
Zoho Campaigns is an email marketing software used for social campaigns and helps in developing social media growth and development to the next level. With the help of social campaigns, you will be able to contact potential customers.
After getting to know about the Zoho Campaigns, I used it for promotions and other important bulk mailings. Email marketing strategy is very important for the growth of an organization and productivity. Using Zoho Campaigns gave excellent execution to all the good strategies.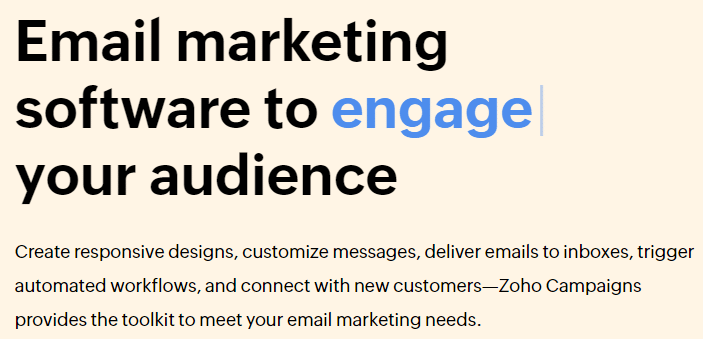 Features
Zoho Campaigns is a popular email marketing tool. Along with this basic feature, Zoho Campaigns does provide some elite features and services. Some of them are mentioned below.
1. Wide Language Supported
It supports English, it supports German, Danish, Spanish, Hindi, Hungarian, Italian, Japanese, Korean, Portuguese, Dutch, Turkish, Chinese, and much more.
2. Excellent Email Editor
The email builder of Zoho Campaigns ranges from basic templates to highly customized email templates. And one thing I like most about this feature is that if you don't like any of the templates available, you can build your own from HTML builder.
With the help of a drag-and-drop email editor along with adding tables, images, buttons, text, and videos, you can customize the design fully plus can enhance it by adding attachments, calendar invites, and polls.
3. Test Your Created Email
After creating the email and adding all the required and necessary details, if you are not sure about technical correctness, you can try the test version feature. You can send a test version of your first five emails thus earning a score.
4. Contact Form Has Unlimited Fields
if you want to add as many fields as you want with contact details, then this feature might impress you. While adding a contact to the Zoho Campaigns you can choose multiple fields as per your requirement. The customer relationship management system of Zoho Campaigns will give you an overview of the history of your interaction.
5. Campaign Report
Zoho Campaigns gives you an insight into your work history. It provides you with a detailed analysis of your data and campaign performance.
6. Next Level A/B Email View Testing
This feature helps you test the different versions before using them. So if you can't decide between two versions which is best, then you can use this feature to find out which is most effective.
7. Pre Designed Templates
For every occasion, from a festival to holidays, official to non-official, every template is available at Zoho Campaigns. You just need to select the appropriate one for your task and thus you can create a desirable email in a fraction of a second.
8. Dynamic Content
You can edit and create your content dynamically which will improve the quality of your emails.
9. Work Analysis
With this feature, you can easily keep track of your progress and performance which also includes the stats of shares, unsubscribes, clicks, bounces, etc. With the report analysis, you can check where you are lagging in terms of productivity.
10. Autoresponder
creating emails and forwarding them to multiple people is a task of a fraction of a second with this feature. It will automatically send the series of emails created by you to the right receivers.
Zoho Campaigns Pricing
After signing up for the Zoho Campaigns you are automatically eligible for the free plan. Under this plan, you can send 12000 emails per month to around 2000 subscribers.
– Forever Free
to get your email marketing started perfectly this is a good choice in which you can send 6000 emails per month(up to 2000 contacts). It provides basic email templates with sign-up and pop-up forms.
– Email Based Plan
This version allows you to use the version with some limited features. Users can send 500 emails for the price of $3 per month (up to 250 contacts). With unlimited email, you get a/b testing and advanced segmentation with dynamic content.
– Subscriber Based Plans
Mail unlimited emails to up to 500 subscribers – $5 per month
Send unlimited emails to up to 501-1000 subscribers- $10 per month
Unlimited emails up to 1001-2500 subscribers – $ 25 per month
Send unlimited emails to up to 2501 – 5000 subscribers – $ 45 per month
Send unlimited emails to up to 5001- 10000 subscribers – $ 60.50 per month
Unlimited emails up to 10001-50000 subscribers – $ 172.5 per month
Pros
A simple but customizable layout helps in building an email campaign quickly and easily. Pre-designed templates for different occasions are available which makes working easy and effective for users.
You can easily manage the subscribers' information manually. Zoho Campaigns increases email campaign effectiveness by helping users to reach their audience forms, segments, and smartphones.
You can upgrade the level of your business by avoiding many tasks manually and proceeding with automation. You will enjoy the benefits of making personalized engagement with your subscribers and help you in keeping connected with your subscribers.
So whenever you get a new member at subscription or any new purchase is being made, the new member will automatically get the welcome message.
Cons
There is an issue with spacing while using the email template editor.
Automation builders are a bit difficult to work with. It is not easy to build a good workflow with drag-and-drop features.
If you want to use pre-made campaign layouts, you will be able to use a limited number of layouts due to the lack of variety.
One of the most common disadvantages faced by me and other users is even after subscribing to my mail they face difficulty in receiving the email as they might fall into spam.
How To Use Zoho Campaigns?
For me getting started with the Zoho Campaigns was quite easy. Follow the below-mentioned steps to avoid any kind of resistance while getting started:-
Visit Zoho Campaigns
Create your Zoho account
If you already have an account, sign in to your account
Go to the homepage
To discover the new feature and specialties, you can go through a demo
Go to settings and add personal and professional data like name, website address, email, brand, company name, and logo
Update your profile by adding your name, profile picture, email, phone number, and other personal details
Create your first email campaign
Note:- You can upgrade to any of the available plans in the option if you want to.
My Personal Opinion On Zoho Campaigns
Ease of Use:- 8.4/10

Quality of Support:- 8.3/10

Ease of Setup:- 8.4/10

Value of Money: 9/10

Features: 9.5/10

Customer Support: 10/10
Conclusion
I have been using this tool for the past 1 year. Not Zoho Campaigns does help me to create and manage email but also boosts the growth of my business.
The above mentioned is a brief and detailed analysis of Zoho Campaigns' features, pricing, pros, and cons according to my point of view. I would recommend this email marketing solution to every productivity and growth seeker.
In this modern technological advancement era, Zoho Campaigns will let you quickly and easily create simple to medium to complex campaigns along with special features including robust reports.
FAQs
1. Zoho Campaigns supported devices?
It is available on iPhone, Android, iPad, and Apple TV.
2. What is the maximum contact limit you can have in the Zoho Campaigns?
The maximum number of contacts you can have in the Zoho Campaigns is 20. If you want more than 20 contacts, you can use the import contact option.
3. How do I send an email from the Zoho Campaigns?
Here are the steps for sending an email:
Select the Navigation toolbar, then click Campaigns and select Regular Campaigns.
Then select Create Campaign on the top-right Side.
After that edit the campaign name and add a subject for the campaign and add the sender's address
Then add recipients, add content and send campaigns for review.
After reviewing, click send now.
4. Who are the users of Zoho Campaigns?
Zoho Campaigns is used by; large enterprises, business owners, non-profits, public administration, midsize and small-size business owners, and freelancers.
5. Does Zoho Campaigns support API?
Yes, it supports API(application programming interface). For more about API support, you can visit the developer support section.
6. Can I get sign-up and pop-up form templates in the Zoho Campaigns?
Yes, you can get sign-up and pop-up form templates in Zoho Campaigns. Just after login, select the mailing list and then click on create a signup form. Select the template you want to use.
7. What is dynamic content in Zoho Campaigns?
Displaying relevant content to the team which matches the criteria of the task is referred to as dynamic content. It changes according to the interest and preferences of the user.