10 Best
UR Browser

Browser Software Alternatives
UR Browser allows you to personalize it as per your needs, can surf the net safely, and enjoy tons of exclusive features offered by it. As developed in Europe it's safe with an inbuilt VPN and ad-blocker.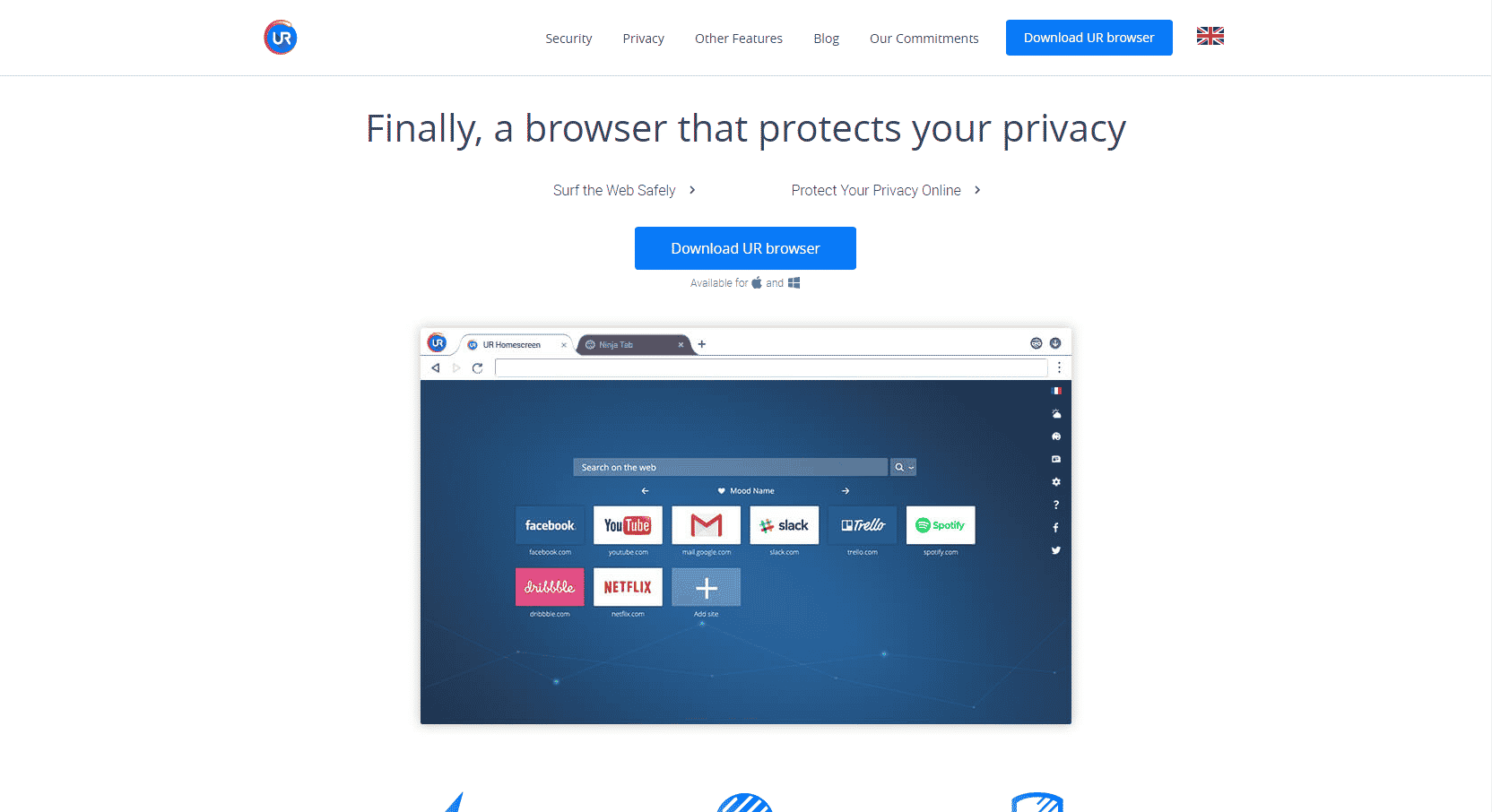 Features:
Scan all the files for Viruses:
Files downloaded on UR Browser will be automatically checked for viruses and malware.
Immediate alert for Suspicious sites:
Suspicious websites for phishing, malware, or rumors sites will automatically be alerted before you click on the site.
No Alternative facts:
News updates on the Homescreen strictly undergo according to the guidelines for quality content. Only reputable news agencies like BBC, Reuters, Agence France Presse, and more are taken into consideration.
Double Encryption:
The RSA key size has been doubled up to 2048 bits, it is important for the site as you transfer your security data to it. Even when you discuss personal or business details on video chats, it's necessary to have security.
Websites are forced to be secure:
UR Browser demands websites to use HTTPS wherever it is possible. This encryption communication between browser and website takes security to the next level.
All third party cookies are blocked:
UR blocks those pesky trackers who chase you over the web.
Built-in VPN helps you stay anonymous
Creates an encrypted network between your device and the website so you can keep your access anonymous and browse the net without any privacy issues.
Advanced Private Browsing
More than a private mode, websites that you visit often in the private window can be added to the whitelist in your tab so that next time when you visit, your tab will automatically reload the private tab. More than a Private browsing window.
Nothing is reported back to Google
Google's Open Source code allows users to create another browser as per their convenience and skills. So as UR is also built upon Chromium pen code. Any feature that rep[orts back to Google has been disabled in UR.
"We're Made in Europe"
UR is based upon European Union, which states that the user's privacy is highly protected in comparison with other countries especially the United States. This raises most of the privacy concerns as most of the tech companies are American.
No one's looking at your searches
As Qwant an alternative search engine does not collect or save any of your personal information while browsing on the internet. Qwant acts as a default search engine by UR, but you can always customize your preference regarding search engines.
Light Browser:
As it automatically blocks the ads and other malware it becomes the light weighted browser to rely on. Fast and secure to use by netizens.
Conclusion:
UR Browser serves you the most secure and fast browsing without any interruption of the annoying pop-ups. Its in-built ad blocking makes it popular among users. The only disadvantage is, it may crash sometimes but it does not take time to recover.
If you are tired of using typical browser alternatives such as chrome, firefox, or any other browser with their interrupting ad pop-ups and slow speed, then you must give a shot to UR. it won't let down your expectations.