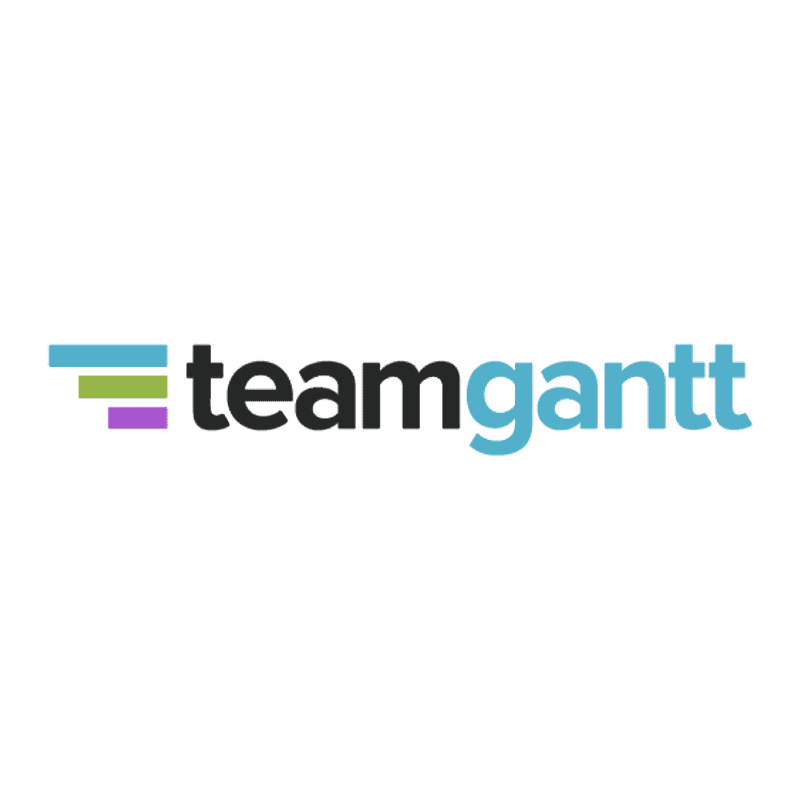 TeamGantt Features, Pros & Best Alternatives
Introduction
"What is the ideal tool to create Gantt charts?"

TeamGantt would be our preferable choice with regard to the question mentioned above. And we'd also like to say that making Gannt charts specifically would never be easier without the help of the software TeamGantt.
However, this software is not only designed for managing projects via Gantt charts, but it also offers other impeccable features, which we'll indeed describe below. And, the best part about the software is that it offers a free forever pricing plan!
Before everything else, TeamGantt is a project management solution that can also beautifully integrate with other tools like Trello, Dropbox, Slack, Zapier, etc.
This project management software enables you to effectively track the time spent on specific tasks, task assignees, task assigners, the status of the tasks scheduled, and the duration in which a particular job is set to be done.
They may seem effortless, but they consume lots of time, especially when you try to do them manually. In that case, software like TeamGantt is all you need to organize your tasks and be more productive with your crucial jobs.
With that, let's take you forward with a detailed introduction of TeamGantt as follows!
What is TeamGantt?
TeamGantt is a project planning software that uses a modern-day approach. With the use of this software, anyone can easily plan, schedule, and handle complex projects online.
Moreover, it offers the best functions for documentation, resource management, time tracking, communication, etc. Therefore, the software is mainly designed considering the technicalities involved in other software and their respective features.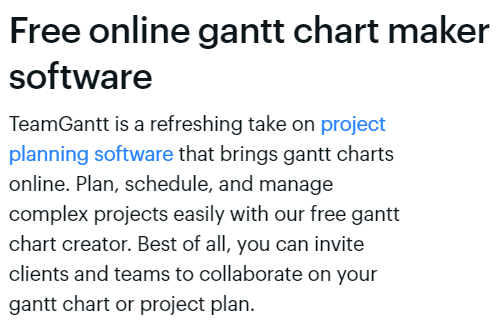 Firstly, the user experience is taken into account. Even though the software doesn't provide many modern features other than creating seamless Gantt charts, it strives to improve user experience by not bombarding them with a list of features.
This software further appeals to the users in terms of its learning scope and experience levels. In addition, TeamGantt's free Gantt chart software helps keep all your documents, tasks, and conversations in a central hub.
Keeping essential information together in your Gantt chart tool means you and your team can always find your project's latest chats, files, and updates.
Apart from free features, one of the exclusive features of TeamGantt is reporting. To access this feature, you can begin with their 30-day free trial of the advanced plan.
All in all, you will get everything easy going with TeamGantt, including creating dependencies between tasks, organizing multiple projects and their handling, in-app conversations, time tracking, and more related to making your Gantt chart creation effortless.
Key Features of TeamGantt
If we describe TeamGantt on a ballpark level, then it's a modern Gantt charts maker, which is exclusively highlighted as free online Gantt chart maker software on its official website.
We believe that understanding Gantt charts in detail is essential to knowing this TeamGantt software.
In the early 20th century, Henry Gantt launched or discovered project management using Gantt charts.
With the onset of computers in the 1980s, Gantt charts became increasingly elaborate and complex. Nowadays, Gantt charts are still one of the most commonly available project management tools.
Today, Gantt chart tools are called roadmap tools. Now, understand the specialized uses of Gantt charts! Among the many benefits, project managers opt for Gantt charts for three main reasons:
Building and managing a comprehensive project
Determining task dependencies and logistics
Effectively monitoring the progress of a project
And using TeamGantt software will be a plus, especially if you're using agile or waterfall project planning methods. Mostly, organizations follow the waterfall planning method, and it was found that only 11% of organizations follow the agile approach in a study conducted by Project Management Institute.
In brief, a waterfall planning method is a linear approach that is followed process by process, whereas there are different iterations known as 'sprints' in the agile planning method. In the agile methodology, planning is followed sprint to sprint instead.
Keeping in mind all the essential factors behind the Gantt charts, TeamGantt came into existence. It's time to look at the key factors of TeamGantt after reading the real reason behind the creation of Gantt charts by project managers.
Alongside this, we'll look at how TeamGantt is a comprehensive project planning software comprising other best features.
1 – Offers an Effortless Approach to Creating Gantt Charts
As already mentioned, making the Gantt chart creation seamless is the priority of TeamGantt. And, it's well-executed as well, we must say! Firstly, you must note that you can easily get started with their free pricing plan.
The free plan is best for small and personal projects where up to 3 users are allowed with a further limit of 1 project and 60 tasks. It's super quick and efficient to make Gantt charts with the drag-and-drop editor of TeamGantt.
Not even a bit of training is required here for beginners. You can simply jump in and add Gantt charts to the Gantt chart program. It's easy to modify beginning and ending dates, timeline adjustments, task re-ordering, and more just via a single tap in TeamGantt.
Moreover, you can see all your projects in one place. So, it's easy to spot conflicts between projects and plan more easily by choosing to see all your tasks in a central Gantt chart maker. And, you can easily edit like anything from the Gantt chart view.
There's a feature called 'Shake' to fix the violations between dependent tasks. For example, let's say you want some task to be on topmost priority but it's out of schedule or order from the list of dependencies. With the help of the 'Shake' feature, you can jiggle the cursor over the task so that the tasks will be placed according to the desired schedule.
2 – Time Tracking and Reporting
TeamGantt offers two ways to track hours spent on tasks and projects. Even though the feature is available in the Advanced pricing plan, it's worth it! Among the two provided ways of time tracking, the first one is an in-app timer.
This timer runs only after the set schedule and stops accordingly. Of course, it doesn't run before or after the set schedule but it works as per the process already mentioned on the Gantt charts. Another way is the manual entry for which you can manually enter the time spent on tasks or projects when you're working on them out of the set schedule or way too early.
Then, reporting is another premium feature of TeamGantt available at its higher premium pricing plans. However, the reporting feature of TeamGantt is not at all unique and can easily be compared with its alternative solid LiquidPlanner.
TeamGantt's reporting feature mainly works across three variables: project, people, and time. The custom report of Project Health is specifically designed for project managers to check the status of each project. Here, three status symbols indicate the tasks: OK, Behind, and Overdue.
OK refers to the tasks that are on track to meet the deadlines. Behind are the tasks behind the schedule, and Overdue are the tasks already missed by the deadlines.
Then, the custom report for people tells how much a particular individual has worked within the set schedule. Paid accounts also have baseline reports/views, which show when your team is off the schedule as compared to where you thought you expected to be.
And the last one is the 'Workloads' report which is the resource management tool to determine how many tasks are assigned to a certain resource or person, like a department or team. And this report is highlighted on the calendar view with a certain color-coded pattern to check if any department or person is overloaded.
3 – Free Event Planning Templates
If you're an event planner, you juggle every tiny detail—from planning and organizing all the logistics to ensuring everything goes smoothly on the event day. That's a lot of responsibility!
To help you with the metrics of responsibility, you can get started with the free event planning templates of TeamGantt. Whether you're running a massive conference or hosting a small company gathering doesn't matter.
To begin right away with your project planning, TeamGantt offers free event planning templates. You can easily share these templates with your team and clients as well and track the progress of tasks set along the way.
Perfect your process, and use it repeatedly to make your event planning more efficient. With TeamGantt, you can save your project templates and use our drag-and-drop functionality to customize your event plan in minutes. It's much faster than reworking an old Excel doc for the thousandth time!
TeamGantt offers ready-made templates for project management, marketing, software development, design & creativity, and construction management.
4 – Strong Collaboration Tools
TeamGantt has various collaboration tools, but not all, and some work better than others. With TeamGantt, you can easily communicate like a pro!
It's a fact: Any project will not execute accordingly without a decent way of communication. Being clear, concise, and honest when coordinating projects is key. To direct comment on any particular team member, the use of @ symbols is present within the software without any other custom notifications or message-sending facilities.
So, there aren't any features of audio messaging or other kinds within TeamGantt. Furthermore, there isn't a central place to have team-level communications or discussions effectively with the whole company. To check the messages sent, you have to scroll all the way up or down to know the relation of discussion with a particular task.
However, TeamGantt offers integration with Slack and Trello, but not other apps.
TeamGantt also offers collaboration features to upload documents as well within the discussion panels. However, you cannot mark comments within the software and you can't also comment actively because any documents that you would receive will be opened in a new tab.
TeamGantt Pricing
TeamGantt is aiming to make its software less expensive compared to other software.
In 2022, TeamGantt offers three pricing plans as follows:
– Free ($0/mo)
3 users + 0 guests, 1 project, 60 task limit.
– Standard Plan ($19.90/mo)
1 user + unlimited guests, unlimited projects, unlimited tasks, collaboration & planning features.
– Advanced Plan ($24.45/mo)
1 user + unlimited guests, unlimited projects, unlimited tasks, collaboration & planning features, advanced reporting, and track workloads by hours
Pros
Allows tasks and timelines to be assigned.
Easy to administer and manage in terms of creating users and assigning them to projects.
Very easy to learn and use
Great visual appeal both for learners and non-learners
The icons and menus are well-labeled, and users can easily locate them.
Cons
There is no way to clear card information or prevent auto-paying, so if you pay even once, you will pay every month.
Final Words
So, that was all about TeamGantt, a project management software specially designed by keeping in mind the ease of creation of complex Gantt charts. We've tried highlighting each feature of TeamGantt where you can easily switch between the Gantt chart, calendar view, or kanban board.
Frequently Asked Questions
1 – How do you use TeamGantt?
TeamGantt is quite straightforward to use. For this purpose, you have to visit TeamGantt's website, select your pricing plan and begin creating your drag-and-drop Gantt chart. Moreover, you can also try the advanced plans for free with a 30-day free trial.
2 – Is TeamGantt safe?
Yes. All of your data is encrypted via state-of-the-art encryption technology, and fully secure within the software of TeamGantt itself. For evidence, TeamGantt is used by companies like Amazon and Netflix. And they comply with their privacy policies.
3 – Can I cancel my subscription plan anytime I wish?
Yes, you can cancel at any time and get a complete refund if you cancel within 30 days.
4 – Which integrations are currently available for TeamGantt?
TeamGantt has integrations for Trello, Slack, Basecamp 2, Zapier, and Dropbox —and more are on the way!
5 – Are there any system requirements for my team to use TeamGantt?
No system requirements are required. TeamGantt is a cloud-based Gantt chart tool. TeamGantt on a PC or Mac with zero problems if you have an internet connection.
6 – Does TeamGantt track modifications?
TeamGantt automatically keeps a history of every change and updates your Gantt chart. With only a single click, you can view your Gantt chart's history, and easily undo changes if needed.
7 – Can I create custom templates with TeamGantt?
Yes, you can easily create your own Gantt chart templates, and share them with your team. This helps normalize your project plans and saves time by eliminating the requirement to create Gantt charts from scratch.