Scoro: Features, Pros, and Best Alternatives
What is Scoro?
Scoro! – Inclusive Business Management Solution for everyone.
I feel that many national and multinational organizations are facing issues with handling multiple projects at one time. So, they are on the hunt for software that helps them deal with many daily routine experiences. At the same time, they are on the hunt for software that is a complete management solution for creative and professional services.
Isn't that correct?
Yes, it is! You are also reading this blog to find software to ease your workflows. Right?
Well, to help you here, I have a complete project management software: Scoro!
Whether you are a project manager, account manager, HR, CEO, or any specialist, Scoro is just the perfect choice for your work.
So, before you go through this article on Scoro, you should know the essential basics first.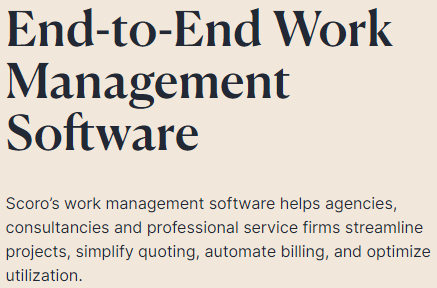 You won't believe it, but the fact is that no other comprehensive project management software is available like Scoro.
Scoro project management software was launched in 2013 and earned huge popularity among many agencies and consultancies from around the world.
Behind the scenes creating this fantastic software is that it provides a smarter way of getting work done in moments. And that's what Scoro is famous for.
It offers everything from CRM and reporting to billing and management that helps you do your jobs with just one click. It will enhance your working capacity, save time, and work smoothly and efficiently for your tasks.
There are many tools that fail in front of the efficiency, smartness, and ease of use of Scoro, project management software. Also, it rocks like a superstar when it comes to managing multiple projects, time tracking, and profitability.
With that, now let's move to the main part of the article.
What is The Use Of Scoro? 
Scoro is one of the best management software you can try in every business organization. It not only helps to manage your billings but also helps you to make project-based decisions.
Scoro has the objective of changing and providing the comfort of teamwork by combining certain tasks and tools. In addition to that, it will show you the results of where your team is spending their time. And you can see whether your team actually needed this time the most.
Besides that, it offers a fantastic CRM tool that provides overall information about what's going on then and there. You can get every single detail from the linked files and quotes to histories, contact details, and invoices with just a few clicks. And that's how it saves your time. Isn't that really exciting?
Well, let's get more familiar with Scoro with the help of the following features and decide.
Powerful Features Of Scoro
With this tour of the main features of Scoro, your many doubts will be cleared. Also, you will understand the importance of Scoro. So, let's get going!
1. Time Management
Scoro understands time and money play a crucial role in every organization. Therefore, it provides shared calendars, timesheets, and time trackers for your smooth workflows.
The cherry on the top of the cake is that it helps optimize your operational team utilization. Also, it allows you to examine the ability of an individual.
2. Project Management
The projects should be monitored from time to time. Therefore, with Scoro, you can easily track your projects, events, tasks, dependencies, etc., with all the updates.
It will help you out of the project too. You can track how much the work has been done as planned and how much is remaining. In addition, you can trace the profitability in real time.
3. CRM & Sales Tools
Never miss the boat! It will help you get a 360-degree view of contact details, invoices, quotes, projects, communication histories, etc.
It simplifies your quote with the help of standard quotes, client profiles, rate cards, and predetermined services. Scoro has customizable dashboards that help trace your team's sales goals or an individual.
4. Finance Management 
Scoro works internationally! Therefore, there is no doubt that it supports the international finances of multiple currencies. It helps trace every purchase bill, cost, and order and compares budgets.
Also, you can easily automate your billing and make your futuristic decision smoothly with all the schedules.
5. Reporting & Dashboards 
When it comes to this portion of the main features, I can assure you that you will like it. Further, the Scoro will help you with a complete overview of real-time results.
It keeps track of your performance and KPIs until you get the opportunities and plan for further improvements.
6. Integrations
This is the last and most important feature of the entire project management software. The Scoro will integrate with your existing software like Xero and QuickBooks. Also, you can continue your activities by synchronizing Scoro with Zapier.
And that's not enough yet! It offers integrating opportunities with full-featured APIs with any software you use.
Along with that, it connects with your existing calendar application, marketing automation solutions, accounting software, etc.
All in all, you will get powerful integrating options if you use Scoro.
So, you may have decided how exciting it will be if you start using it for your organization. And it will be great to see the following pros and cons, which you eagerly await.
Pros 
All-inclusive dynamic solution for SMBs
Easy-to-use interface
Excellent recurring payment options
Real-time business and financial reports
A cloud-based product development
A full-featured 14 days trial.
Better user experience
Excellent customer service
Responsive to android, iOS, desktops, and mobiles
Cons 
It may take time to understand the software for beginners.
It has limited custom PDF templates for your customizable tasks.
Scoro Pricing
You will get excellent features from essential to advanced with every plan you choose. However, remember that every plan needs five users. Now, the plans are as per below.
– Essential Plan 
It is available at only $26 per month per user. It offers various features like projects, task lists & task boards, invoices & receipts, dashboards, quotes, etc.
– Standard Plan 
It is available at only $37 per month per user.  It offers everything from Essential Plan and involves the features like Gantt chart & dependencies, time tracker, project templates, recurring tasks, etc.
– Pro Plan 
It is available at only $63 per month per user.  It offers everything from Standard Plan and various features like the planner, timesheet & time locking, margin and markup, labor cost, pipeline reports, utilization reports, etc.
– Ultimate Plan 
The prices are not given on the official website; however, you can contact them for the exact prices. It offers everything from the Pro Plan and involves single sign-on, budgets & forecasts, customer portal, WIP report, FTP integration, supplier report, etc.
Besides that, you can try Scoro for free of cost by using a trial of fourteen days. Also, note that the prices can be changed. So, check them once before going to use them.
How to Use Scoro? 
Scoro can help with many features, as we have seen above. But, the stand-out part of Scoro is hidden in its uses. You can easily install and activate Scoro on your Androids, iOS, and Desktop and start using it. Here, we will discuss the six steps you will need to trace your sales deals.
First and foremost, you need to list your leads like contacts and separate them.
After that, you need to trace the client communication by tasks and events enhancement.
Now, you put up the follow-up activities.
Get detailed reporting after that using activity types.
The next step is to send quotes and official proposals.
Lastly, you must set sections in the pipeline.
And finally, you can trace your sales deals. Note again that this is the only short step I have mentioned here. So, be ready to explore the entire world of this project management software with different uses.
Conclusion 
That's done for now!
Scoro is one of the best software you can use for your managerial or operational tasks in the organization. With many features like time and project management, CRM & quoting, financial management, reporting & dashboard, etc., it has become the choice of many national and multinational organizations worldwide.
Additionally, the fantabulous integrating options make it a more appealing and unique project management software.
Lastly, I will say that this is the best software for every organization that needs useful tools to manage organizational activities smoothly.
So, I hope this article is helpful to you, also you can comment down for queries. Now, it's time to sign off but one more thing if you have any doubts, you should try it for a 14-day trial.
FAQs
Q. Why should I choose Scoro?
A. With Scoro, you can expect better growth, enhanced working efficiency, and seamless data flow. That's not enough yet! All features like time management, billing, reporting, etc., make this software a preferred choice of every organization.
Q. Who can use Scoro?
A. Project managers, marketing agencies, all sizes of business organizations, professionals, and HRs.
Q. Which language does Scoro support? 
A. French, German, English, Spanish, Latvian, and Lithuanian.
Q. How does Scoro work? 
A. Scoro is one of the best software you can use for the operational tasks of your organization. The excellent features Scoro planner will arrange your tasks and provide a report of activities for everyone. Also, it can monitor everything from deadlines to available slots, meeting scheduling, shared calendars, etc. They all work to smooth your operational tasks.
Q. Is Scoro helpful for any organization? 
A. Undoubtedly, Scoro is a cloud-based platform that helps every organization and creative service agency. You can ease your operations and professional service delivery using the unified platform. It helps to provide customer satisfaction, improves your financial activities, and proves an asset for your organization.
Q. Is Scoro beneficial for the Salespeople? 
A. Scoro works for everyone related to the operational tasks. Therefore, whether you are a whole organization or salespeople, it will benefit you for sure. They can use Scoro to prioritize your leads, schedule follow-up activities, monitor each contact, have fewer catch-up activities, and much more. As a result, it's the cherry on the top for salespeople.
Q. Which plan should is best for you? 
A. Scoro offers various features with every plan. However, it is worth nothing if you choose a plan randomly and do not get a feature you wanted to choose Scoro. So, it's better to check the features, plan comparison tables, and other factors before selecting the plan. However, you will get the consultants at scoro to help if you are stuck in some confusion.