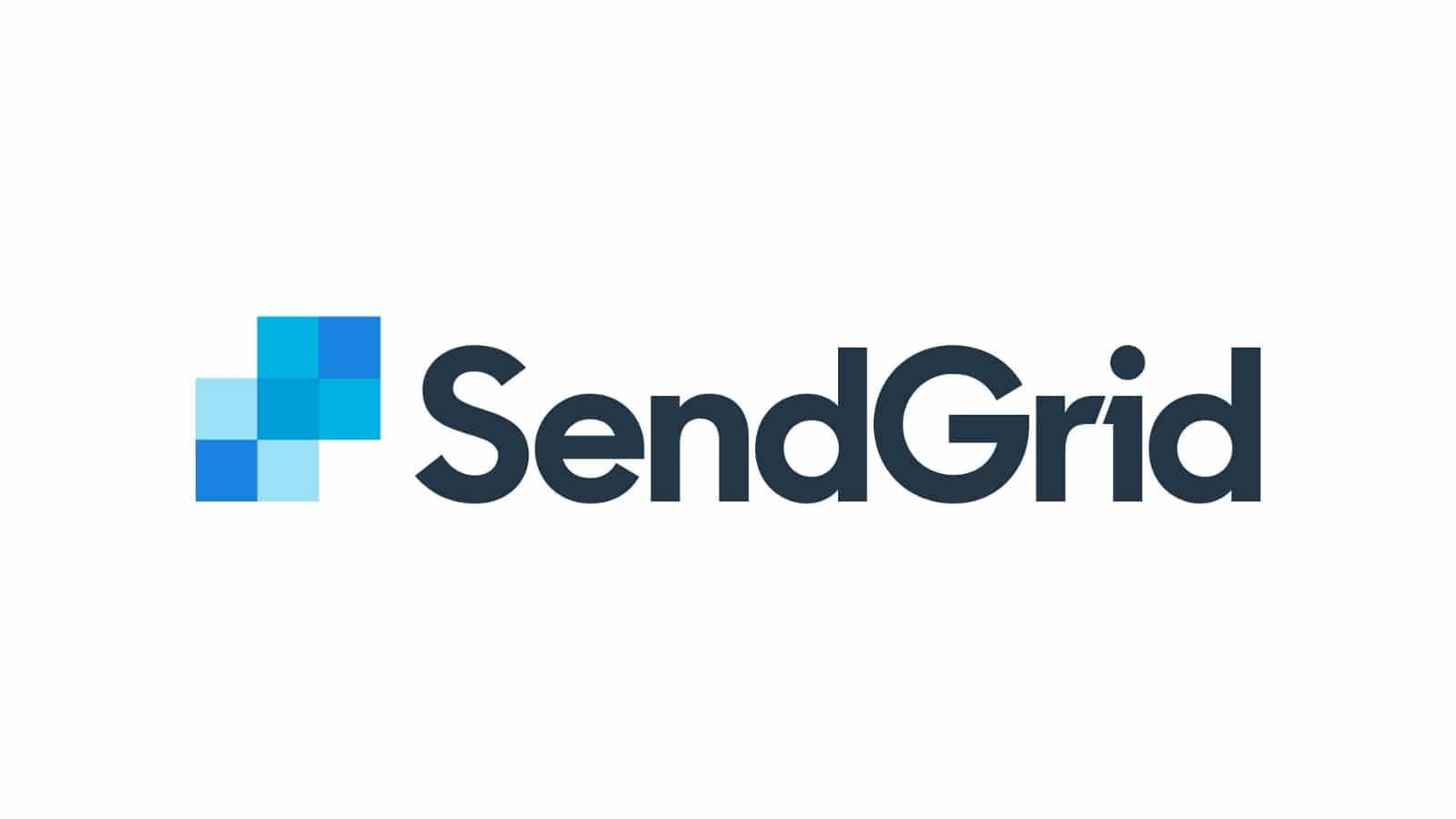 SendGrid: Features, Pros, Pricing, & Alternatives
What is SendGrid?
SendGrid is a cloud based service which was founded in 2009 by Isaac Saldana, Jose Lopez and Tim Jenkins whose headquarter is situated in the US. It supports business with email delivery including features like  shipping notifications, confirmations on sign ups, newsletters and many more.
SendGrid manages marketing and commercial emails. Hence, it is popular among marketers. It is a Simple Mail Transfer Protocol (SMTP) provider which permits you to send email without struggling to support your own email servers as it itself acts as an email delivery engine.
Through SendGrid's API, the real process of sending mails is being done. You need to create an API key before starting with the API. When you send one message to one recipient, it will be counted as a message sent though the message is not sent properly or is moved to the Spam folder.
Twilio SendGrid
SendGrid was previously called Twilio SendGrid. Twilio SendGrid is a master in communications between consumers. It is a secure and reliable email delivery platform through which messages can be broadcasted confidentially.
Twilio SendGrid benefits each and every person from individual to organization level authorities. Anyone who wants to send email securely from their application can use Twilio SendGrid.
Twilio SendGrid's architecture is ready to balance and meet the requirements at any moment.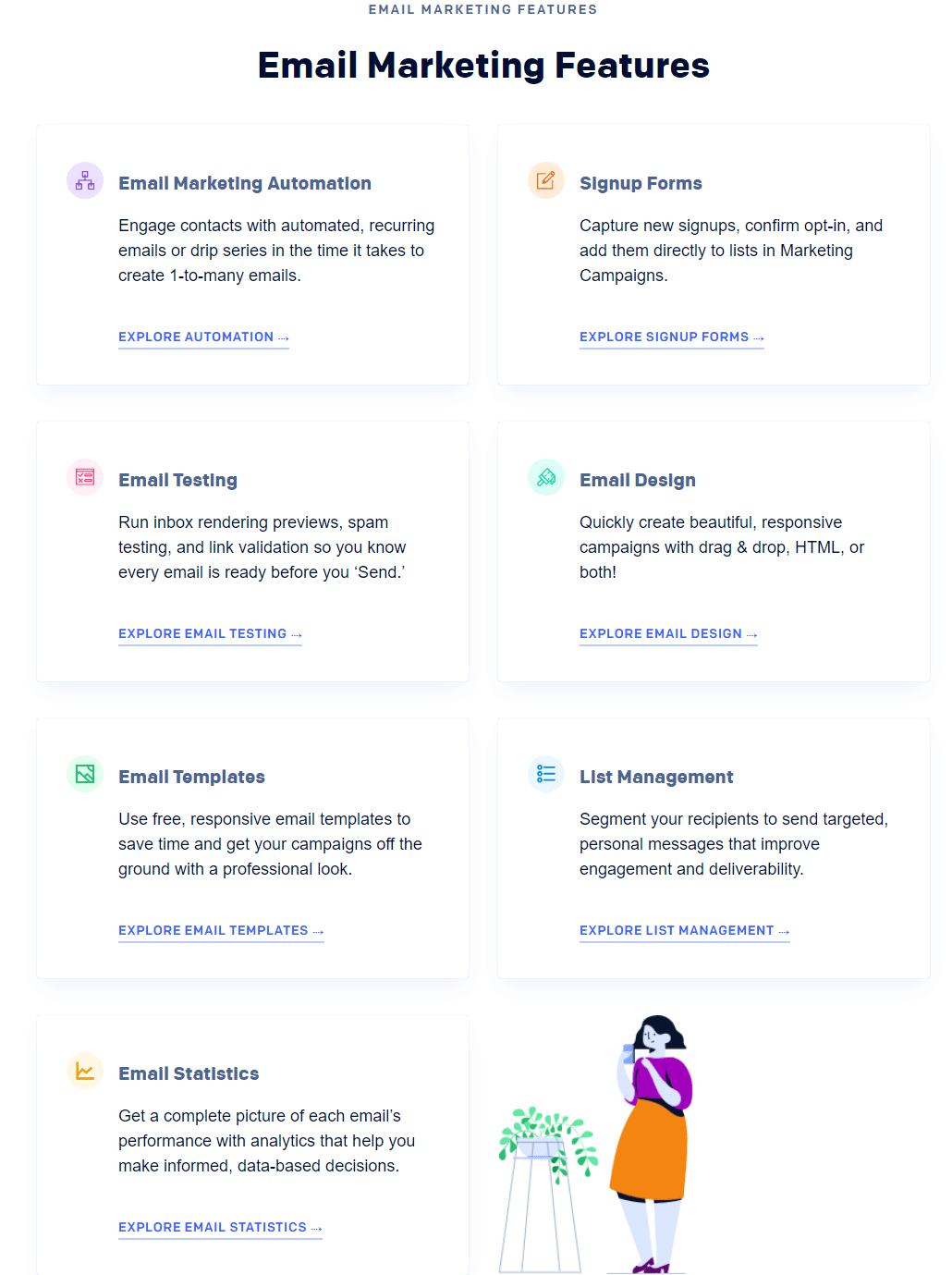 SendGrid Alternative
There are few cons of SendGrid like their support team is not not available. Hence, the problem faced remains unsolved. So people look for other options and Email Marketing Alternatives.
GetResponse and Kickbox Email verification are proven best competitors  and provide all the features which SendGrid provides. Also they are termed superior in ratings and affordable in pricing. Users have also informed that other alternatives like Gmail and Mailchimp are more flexible to use.
turboSMTP has been determined as the top substitute to SendGrid. It provides everything and even more than what Sendgrid provides. It is a 100% reliable and secure product having support service available 24/7. They ensure that all the mails should reach the recipient's inboxes and not in the spam folder.
SendGrid Pricing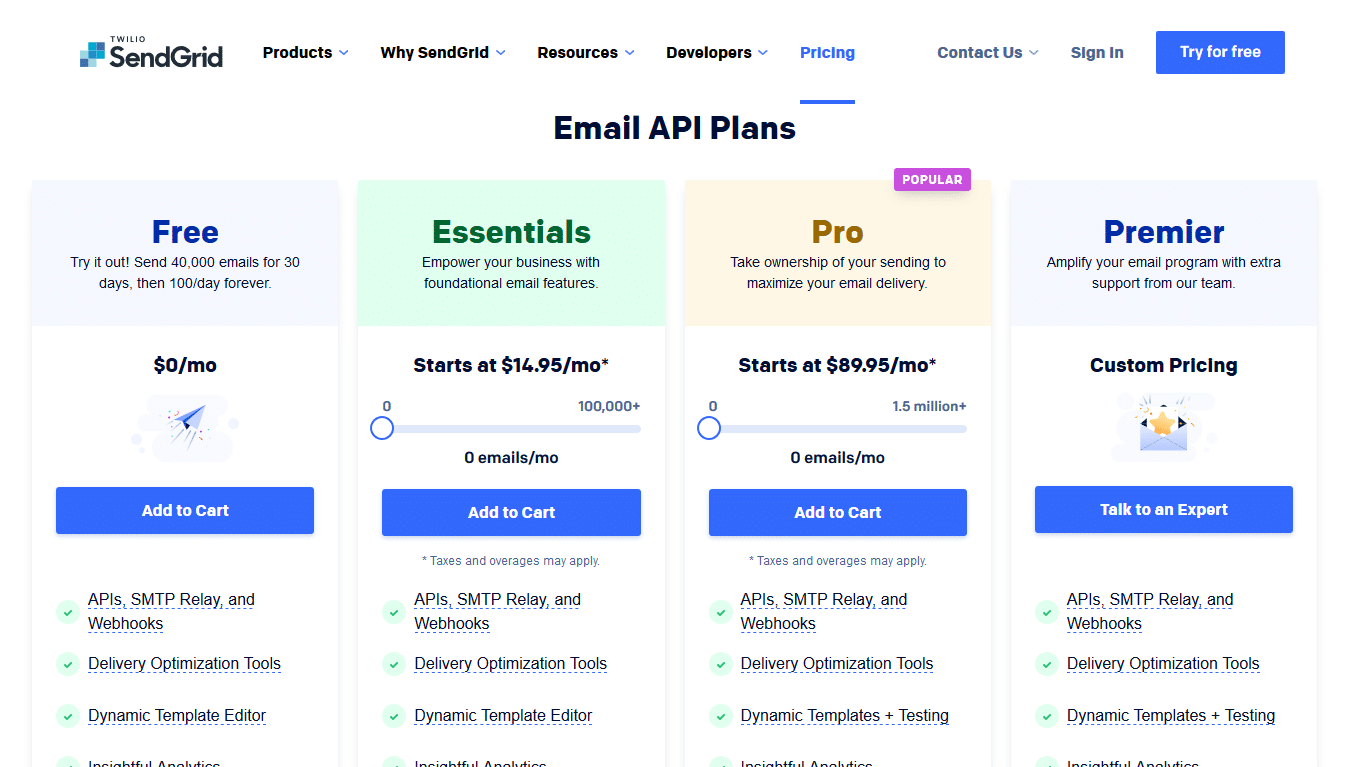 SendGrid Pricing varies for people based on their use. You can explore different plans and can choose the best plan suitable for you. If you are confused in choosing which plan will be best fit for your business, you can also opt for a free trial for a specified period of days.
Basically, there are two types of plans in SendGrid. They have different subscription plans differentiating a few services available in particular plans. They solely depend on your business needs. The two types of pricing plans are as below.
Email API plans
Email API Plans include many plans. Buyer can buy any plan according to his use and capacity.
Free Plan
In the Free plan, 100 emails per day can be sent. It is totally free of cost. Integration with third parties is done in a quick way.
Essentials Plan
Essential Plan starts with $14.95 per month. Around 1,00,000 plus mails can be sent per month using this plan as it authorizes your business with fundamental email elements.
Pro plan
Pro plan gives benefits like Email Validations, Single Sign On and many more. This plan starts with $89.95 per month. Here, you can send maximum emails even more than 1.5 million mails per month.
Premier Plan
Premier plan includes personalized pricing. Mostly all the features are included in this plan. Email programs get boosted by using this plan.
Marketing Campaigns Plans
Marketing Campaigns Plans includes three plans which are as under.
Free plan
Free plan can send upto 6000 emails per month. This plan does not require any charges. Moreover, it can save upto 2000 contacts in the list of contacts.
Basic Plan
Basic plan costs $15 per month through which we can send more than 3,00,000 mails per month. People can easily design and share marketing campaigns through this plan.
Advanced Plan
Advanced plan is a promoted plan which starts at $60 per month. Here, more than 1 million mails per month can be sent and it has the capability to store more than 2,00,000 contacts.
SendGrid Support
SendGrid customers have various ways of contacting the support team member. Customers can raise and submit a ticket using webform or can directly message to @SendGridSupport on Twitter. Support team is available 24/7 for ticket support.
SendGrid customers with Pro or higher plans can call if any support is needed. Phone calls can be done from Monday to Friday between 7:00 Am to 5:00 PM MST.
Twilio SendGrid customers can submit tickets through webform and they also have a special support of Chat. Chatting support is available 24/7 for paid customers.