Salesforce Service Cloud: Features, Pros & Best Alternatives
Introduction
Salesforce Service Cloud is a live chat software that facilitates communication with online site visitors. Just imagine how convenient it is to add a chat box on your sites, smoothing your communication processes with your visitors. Isn't this good for your business expansion?
It is a robust software that stands there to help you with live chat opportunities to bridge your organization and the second party that visits your site.
It will help you connect with your visitors on-site in zero time. This way, you can easily talk and explain everything about your product or business to them.
In addition, the business organization can easily increase its sales productivity by interacting with diverse people. This live chat software streamlines your connection with customers and helps you with every aspect to make your customers happy.
So, try this software if you need good live chat software with endless possibilities to increase your business activities.
What is Salesforce Service Cloud?
Salesforce is one type of Software as a Service (SaaS). This software was developed in 1999 by Marc Benioff, Dave Moellenhoff, Parker Harris, and Frank Dominguez.
It offers customer service software solutions to every user. It handles customer relations with proper communication through email, telephone, and chat. Whether you run a marketing company, IT firm, or related to commerce, it enables you to make your customers comfortable talking about several issues.
This software helps you to increase your business organizational activities most efficiently. It gives you faster solutions for everything you want in live chat software with the help of technology to solve your visitor's issues. As a result, your visitors can turn into happy customers, boosting your sales margin by focusing on customer demands.
What is the use of this Live Chat Software?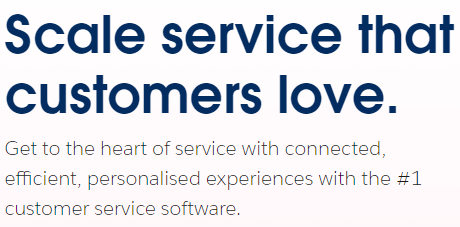 You can use the customer service cloud with its fantastic chatbot to talk with multiple visitors. It is the number one customer service software that provides excellent personalized experiences by gathering data to enhance human interactions.
It works efficiently to communicate with your customers so they can easily convert them into happy customers. You can interact with any channel and get actionable insights for customer interactions.
It also delivers scopes to manage and foster deeper connections using online services. This will ensure connecting with every customer on the channel they like the most. Similarly, you can perform all your interactions in one place and answer your customers without confusion.
This software service cloud offers several features to the users. They can use these features to help communicate with new visitors worldwide and convert them into customers.
The users can connect with their contacts, emails, and tasks and synchronize them with Salesforce for Outlook. Similarly, the software provides API integrating options for several uses.
In short, the software is an exclusive benefit to amplify your online presence by communicating with customers on the site.
Who can use Salesforce Service Cloud?
It is a kind of excellent live chat software that offers numerous user benefits, from communicating with visitors to discussing various aspects. On the plus side, it is available worldwide, supporting almost every language, like Finnish, French, Italian, Norwegian, Portuguese, Russian, Spanish, Danish, Swedish, Chinese, Thai, English, and many others.
Due to this, any size and country organization can use this software. It is also helpful for financial services, manufacturing, higher education, retail, and other industries.
Features
1#. Service Cloud Omni-Routing
You will get the most efficient routing support through Omni-Channel Routing. You can route numerous leads, points, and other works at the same place. Also, it routes according to your business needs and priorities. Similarly, you can gain every information about your employees.
#2. Computer Telephony Integrations
This feature helps to minimize the average managing time of your agent. In addition, you can increase customer satisfaction by calling them with computer-telephony integrations. In short, you can improve your agent's productivity and keep your customers satisfied.
3#. Live Agent
This live chat software helps you with a live agent supporting your customers. The agent provides personalized on-time help to the customers visiting your site. Just ensure to connect every live chat with the agent.
4#. Live Messaging
This functionality allows users to connect with customers through messaging apps using bots or agents. It is one of the most inexpensive and better options the user can use on the site.
5#. Snap-ins
It helps provide a more innovative service to the user for convenience. The users can get prompt information in a faster and most efficient manner. That means that this feature saves your precious time.
6#. Case Management
Salesforce Service Cloud provides case management features. It helps you resolve customer cases faster and quickly from anywhere worldwide. The feature even helps to separate different customer requests and demands and manage them wisely from the dashboard. That means everything will be done in a few clicks.
7#. Workflow & Approvals
It helps to save time by automating your internal procedures and processes. Similarly, it helps update your records, launch workflows, sends emails, and more.
8#. Customer Service
When a customer posts something on social media handles, you can monitor them. This way, responding to their messages becomes easy.
9#. Automation
In this world of automation, every software is incomplete without providing automation features. Therefore, this software provides automation features that save you time by automating repetitive, multi-step tasks and other customer issues.
For example – if a customer wants any solution to the previous issue, the software can automatically respond to them in no time.
10#. Account & Contact Management
It helps to reach every account and contact under a single roof. The software allows you to focus on your customer's issues when they reach out to you using this feature.
11#. Custom Reports & Dashboards
You can make any report on time with real-time data. Just ensure that you are tracking various cases and customer details thoroughly.
12#. Asset and Order Management
It is easy to trace every order, asset, support history, and other information with the help of this feature in one place.
Salesforce Service Cloud Pricing
It has different prices for sales, services, marketing, engagement, analytics, industries, etc. However, the following annual pricing you can consider for its service product, which is divided into four plans.
– Essential
It is available at $25 per user per month. It includes lead management, customer and sales details, insights, collaborative options, and other features for your convenience.
– Professionals
This plan is available at $75 per user per month. It includes accurately forecasting sales, managing customer and sales details, allowing you to sell from anywhere on any device, real-time insights, and more.
– Enterprise
It is available at $150 per user per month. It includes features like managing leads, and customer details, selling from anywhere, connecting sales info, customizing and automating processes, etc.
– Unlimited
It is available at $300 per user per month. It includes configuring prices, real-time sale insights, collaboration with your companies, cross-sell and upselling more efficiently, etc.
Despite all of these, you can start a free trial before you purchase any plans.
Pros
Best performance
Easy-to-use interface
Best reporting feature
Strong integrating options
Affordable prices
Free trial
Greater functionality compared to other CRMs
Increase sales productivity
Customizable fields
Customer database management
Generates leads
Excellent support options like email, phone support, chat, FAQs forums, etc.
Provides several training options
Available for Web, Android, iPhone, or iPad
Cons
Marketing automation may create issues.
Poor UI
The implementation process may take time.
More integrating options can be added.
Why choose Salesforce Service Cloud?
It is the most popular and highly-rated customer service software you can use on the website. It fully updates your business activities by allowing agents and customers to connect and solve miscellaneous issues.
This software allows you to facilitate the processes of different service teams in your organization so that they can work more efficiently. Further, any organization can use this effective customer service software to satisfy every customer and solve their troubles. This way, you can take your business activities to the next level and expand your firm in various regions.
Currently, thousands of business organizations and enterprises use this powerful service cloud to enhance their activities.
How to use this software? 
It is mainly used for five services: Sales, Services, Analytics, Community, and Marketing. Therefore, the process of use varies a little bit. We will see how to use this live chat software.
Visit the software's official site and log in to your Account.
Now, you can design your own Salesforce Console App.
Select your Display
According to your needs, you can now customize the Push Notifications.
Allow Console Access to use the console.
Finally, you are all set to carry out your operations related to knowledge communities, social media, etc.
Conclusion
Salesforce Service Cloud has become the best live chat software for business organizations by providing robust features and integrating options. You can easily interact with various customers under one roof using this handy live chat software. You can find real-time records that will help you get customer details with a few clicks only.
It offers you the automating options that help you provide answers to your customers on their repetitive queries. Using this software, you can even manage your sales, marketing, customer relations, and everything you want.
In short, you can rely on it to communicate with online visitors on the site and complete multiple tasks, increase leads, manage contacts, performance tracking, etc. So, if you want to accelerate your business growth, use it without thinking twice.
FAQs
Q) Why is the Salesforce Service Cloud the best communicating software?
Ans: – It is one of the best software to manage your online visitors and helps you with excellent features to deal with them. With this software, you can easily improve your communications with several people in zero time. Besides, it provides several integrating options to help your business growth journey.
Q) Which is the best feature of this live chat software?
Ans: – Case Management is the best feature you can use in Salesforce Service Cloud. It helps you check out the issues of various customers, helps you reach them faster, and continues your better business relations without any complications.
Q) Can I get another alternative for Salesforce Service Cloud?
Ans: – Yes! Zendesk is amongst the best alternatives, which is easy to use. It provides an excellent service to every user through live chat, reporting, analytics, community forums, sales CRM, etc. Plus, due to price affordability, most business persons use it for business growth.
Q) Is there any free version available?
Ans: – No! You need to wait for the free version of this customer service software. However, you can take a free trial to decide whether it fulfills your needs. Once your demands are fulfilled, you can take subscriptions.
Q) What needs to improve in Salesforce Service Cloud?
Ans: – This software needs to improve its record and to maintain things up to date. Likewise, the customizing process may take longer, which needs to improve as soon as possible.
Q) Can I use this software as Cloud for my eCommerce firm?
Ans: – Yes! You can use the Salesforce Commerce cloud-based option to use Salesforce for your eCommerce firm. It comes with the capacity for marketing, customer services, merchandising, and promotions, and the list is quite long.
Q) Can I use Salesforce Service Cloud on iPad?
Ans: – Yes! You can use it on iPads without any difficulties. The software comes with an iPad or iPhone version for your comfort.