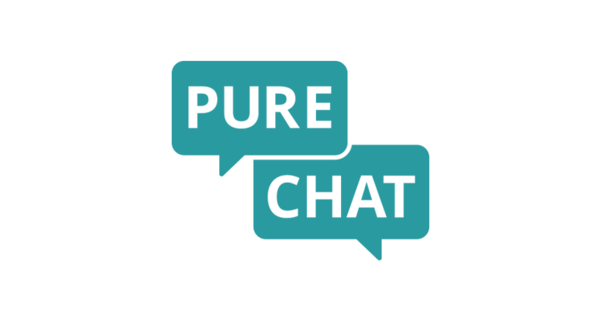 Pure Chat Features, Pros & Best Alternatives
Introduction
Pure Chat is the incredibly fastest live chat software helping organizations deal with their customers safely. With this, you can connect with your customers in no time and share the information throughout your journey.
Also, sharing information about the product, pricing, and other vital factors become more accessible. Similarly, loaded features like unlimited chats, customizable widgets, excellent support, etc., help you provide better customer satisfaction.
So, if you are looking for live chat software to help you with the various tasks of the organization, stop searching and completely read this review of "Pure Chat". I have used it and am still using it for several tasks. And I know you will surely love this.
What is Pure Chat?
First, this software was developed to help entrepreneurs and small teams communicate with their leads and buyers. It was launched a decade back in 2012 and became one of the most preferred ones, with over thirty-nine million chats.
When its popularity increased, Ruby – a registered company- took control in 2020. And the intent was decided to allow every complete customer service, from collecting leads to providing support for several ongoing issues.
Today, it is helping every business organization, including me, to provide excellent customer service. My experience is exceptional.
What is The Use Of Pure Chat?
I integrate it with several website management tools, which never disturb me. I have used it without many complications.
But, with the live chat functionality, Pure Chat can prove a helpful tool for small and middle-level organizations to start conversations with daily website visitors. You can connect it with WordPress, Squarespace, Shopify, etc.
Despite that, it allows you to merge with your visitors or online audiences visiting your site to generate leads by communications. Another best thing includes that the software offers KPI tracking for monitoring every performance.
"Pure Chat" Features
1#. Integrating Options
The live chat software looks incomplete without suitable integrating options. These options allow you to integrate with other applications to smoothen your workflows. Therefore, it is surprising to see direct integration opportunities. These are from Salesforce, Zoho, Google Analytics, Zappier, Infusionsoft, Hubspot, etc.
2#. Customizing
Another robust feature is Customizing! If you don't like the particular design or template, this feature helps you customize it and give that template or design a new look. Here, you can easily decide the looks of your widgets and chat box and customize them repeatedly until you get the absolute one. That means you can easily create a customized widget under this.
3#. Live Chat
This feature gets activated when someone starts messaging on your site. Thus, communication becomes seamless with website visitors. This software helps you communicate with your customers. That means when they start messaging, you can respond to them in no time, making it more convenient to live chat.
#4. Visitor Analytics
If you are desperate and want to know more about your visitors, you can do so with the help of visitor analytics. It will provide you with a complete report of people visiting your site.
#5. Contact History
Another complementary feature is Contact History. When you miss an important contact, you can find them under this, and calm yourself. Similarly, it will inform you about the connections you have communicated with earlier.
#6. Chat Notifications
These are mainly to notify you about the person messaging on your site. You will get a pop-up notification informing you that the customer wants to chat with you about their issues or is interested in getting more information.
7#. File Transfer
If you want to share something crucial, file transfer is there to help you. The file-sharing feature facilitates you to share images, gifts, Microsoft applications, PDF files, etc.
Despite that, you can get more features like live unlimited chat history transcripts, canned responses, and more here.
"Pure Chat" Pros
Complete end-to-end live chat software
Better support options
Affordable pricing
30-day free trial
Good customizing options
Available for Web, iOS, and Android
Mainly useful for business organizations
Efficient and effective
"Pure Chat" Cons
Sometimes the chat notifications appear late.
Internet trolling detectors and autocorrecting are missing.
Pure Chat Pricing
You are required to pay $49 per month for the Growth Plan. It allows four users, unlimited chats, advanced widget customization, and allows one website only.
A Pro Plan will charge you $99 per month. It allows 10 users, unlimited chats, integrations, an engagement hub, advanced widget customization, and allows you for unlimited websites.
Despite that, these prices are reduced to a specific limit in the case of annual paid options.
You can take a Growth Plan for $39 per month, including all the features like unlimited chats, all integrations, canned responses, file transfers, etc., and activate this on one website.
You must pay $79 per month, including every feature of the monthly plan. Allowed to use all the features mentioned under the Growth Plan, and you can also remove the Pure Chat Branding. Plus, you can activate it on unlimited websites.
Additionally, you can add extra users to any plan. However, the charges vary depending on the plans you choose. But the best thing is that the price only starts from $8 per month.
Why Choose Pure Chat?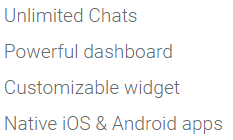 With a full packed box of features, this is a live chat software that commits to providing the best experience possible. Also, it ensures that the customers must be happy with their services by taking care of safety.
On the other hand, everything is on your mouse click, reducing the efforts of solving puzzles to get what you want. The easy setup, signup, and use process are seamless to chat with your clients even though you need to install codes on your site.
In addition to that, the software improves functionality by updating the features you want. You will get time-to-time updates that a company does to add new features according to time and improve your experiences.
It is also available in English, but the text can be translated into any language you use. Lastly, they do not leave you with an incomplete process. The support team is always there to help you with total efficiency, reduce your mental stress, and bring you out from issues.
Now, what do you need more? Don't you think that this is going to be lit? Well, tell me about your opinion in the comment section.
Who Can Use Pure Chat?
The software helps to start a conversation between you and your customers without third-party involvement. Thus, users of small- and middle-level organizations can start using it just after installation.
Similarly, freelancers, entrepreneurs, and solo startups can chat with website visitors and build confidence.
How To Use Pure Chat?
You can use this software for different uses just by adding it to your site. However, I have used it with WordPress. Thus, I am sharing the easiest steps to add this live chat software to WordPress according to my experience.
First, log in to your WordPress account
Visit Dashboard.
Now, go with the Plugins.
Search "Pure Chat" once you open the "Add New" section.
Finally, Activate it once you end up with the Install process.
Now, you must change your status "Available" to communicate. Or else your entire efforts will be of no use. Afterward, you are all set to chat with them on-site and on mobile.
Conclusion
So, here I finish the Pure Chat review!
It is live chat software that helps you provide information to your website visitors about the products, deals, and other related factors. The out-of-the-box features like live chat, customizing, integrating options, etc., help to make your journey more comfortable.
You can also turn them into happy customers if everything goes well. And the best thing is that this live chat software is available in the Global language – English. What else an organization needs to build a strong relationship with the website visitor? Nothing!
So, I think the software works well, and I don't find any significant cons despite the two I've mentioned. Overall, I have enjoyed the easy interface and chatting with my customers. You can also experience this.
FAQ's
Q) How does it prove an asset for you?
Ans: – It helps you communicate with your daily website visitors and discuss various aspects. It becomes active when someone leaves a message, and you can discuss their issues.
Q) Can I use Pure Chat on mobile?
Ans: – Yes! You can start using it on mobiles, phones, and tablets, just after installing the software. A mobile-optimized version is there for your help. Similarly, you can use it under iOS and Androids.
Q) Is Pure Chat safe?
Ans: – Yes! Undoubtedly, the trust of over 14,000 users from 150+ countries ensures that you are in safe hands. Similarly, your conversations are limited to you and your customers, avoiding third-party involvement.
Q) Can I get a free version?
Ans: – No! The free version is not available. But there's nothing to be sad about. The software allows a 30-day trial for you with a few important features.
Q) Can I make changes to missed chats?
Ans: – Yes! You can easily make changes to your missed chats. Just go to the Email Form and make the possible changes you want.
Q) Can I use it without logging in?
Ans: – No! You must log in to use this software. Also, note that the chat box will act as an email if you log out. This is applicable in the case of mobile applications too.
Q) How do I get a notification if the visitor starts messaging?
Ans: – The Chat Box will notify you if a website visitor leaves any message to continue the chat. However, adding a person or a member on your behalf becomes more convenient here.
Q) Can I cancel my Pure Chat subscription?
Ans: – Yes! Suppose you don't like the services or don't want to use them anymore. Subscription-refusing options are there to help you. Choose the Cancel option after logging in to your account.