Free Cam: Features, Pros & Best Alternatives
Introduction
Free Cam is a screen recording software that allows you to record videos from your screen.  With the Free Cam Software, you can easily take screen recordings of anything happening on your screen, edit the videos, and then export them to YouTube for publishing.
The software's audio/video editing tool can cut certain sections out of your videos, eliminate background noise, regulate the volume, as well as insert fade-in and fade-out effects.
Free Cam's Software also allows users to use the microphone to record voiceovers and the cursor to highlight presenters throughout the screen. The app is quite flexible as users can record the whole screen, a portion of it, or even a specific window.
You can basically use Free Cam to create any content you want, starting from video Lessons, to eLearning Presentations, and even recording Zoom Meetings. The options are endless. The recordings have a resolution of 720p, and you will have to save them before sharing them on your YouTube channel.
What is Free Cam?
It is a cost-free screen recording software that allows users to record videos and images on their computer screens. It also enables you to edit these videos by either getting rid of background noise, adjusting the volume, or/and inserting fade-in and fade-out effects in the videos.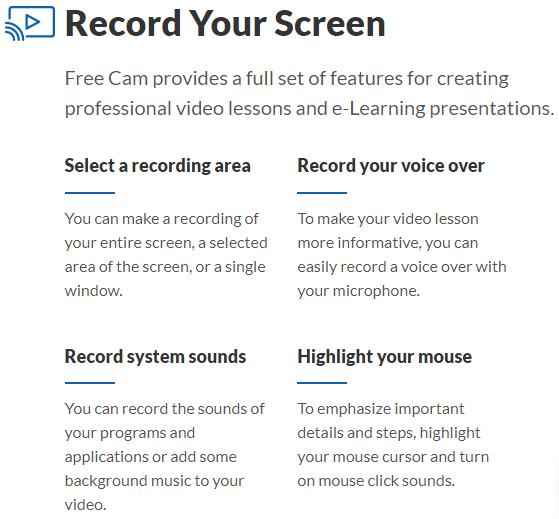 With the help of the app's editing tool, you can effectively trim your videos by cutting out entire parts and portions of the video until you manage to retain the exact content you want in the video.
Use this amazing platform to develop engaging video tutorials, screencasts, and any type of video content you desire.
Steps to Download, Install, and Setup Free Cam
Most screen recording software always has some restrictions in their free version. Free Cam, however, is one of the few that is an exception to the rule. Unlike many other screen recording tools, Free Cam does not have watermark or timeline limitations.
The app's free version has the most basic features, but if you want to access the more advanced recording and editing features it is advisable to upgrade to their Pro Membership plan. To start using Free Cam today, refer to the steps below: they will help you download and install the software without any glitches
Step 1: Open a tab on your browser and type in Free Cam Screen Recorder Download. Ensure to click on the platform's official website. It should direct you to the software installation prompt.
Step 2: The next step would be to input your email address. This detail allows you access to the free form download. You will notice that the page will directly share the download interface with your email.
Step 3: Open your email and click on the link shared to download the software. Once it has finished downloading click to open the downloaded file and then click on install. Once the installation process is done, you have successfully set up Free Cam on your computer, and are now free to start using the app's free version.
Features of Free Cam
Free Cam has some great features including:
It allows a customizable screen recording area: This means that you can capture and record video from any part of the screen you desire. It can be the entire screen or just a portion of it. You can also choose to screen record a particular window. The choice is yours.
It allows access to a microphone and system sound recording: This feature allows you to record audio content. You can record a voice-over and record your video simultaneously. You can also choose to record your voice separately, and later incorporate it into your video.
Free Cam offers mouse indication options: With the mouse feature, you can easily highlight specific portions of your video and even insert mouse sounds to bring attention to certain information within the video.
Avails audio editing options: You can easily adjust your video volume, eliminate background noise, and mute sounds, among other things
Gives users access to video editing options: With the video editing feature, users can trim their videos, remove noise from the video, and even insert shapes and images, among other things.
You can upload your finished video to YouTube with only a single click
Once you are done recording your video, you can either save it in HD or WMV format.
Pros of Free Cam
It has a user-friendly interface: It is easy to install and even easier to use
Comes with a free version, which is more than efficient for most users
It offers the ability to record both Mic and System Audio
Offers all the video editing features one may need
Cons of Free Cam
The application does not avail the option to adjust the computer audio volume during recording
Free Cam Prices
The Free Cam software is available both for free and at a fee. Users are free to use the free plan indefinitely, but you must realize that this subscription will not come with all the features that you can access with the Pro Plan.
Free Cam's Pro Plan is accessible at an annual fee of $227. Before committing to this subscription plan, you can access it for free for 14 days to decide whether or not it suits your needs.
How to use Free Cam?
Free Cam can be defined as "a free screen recording application that's designed for Windows. It lets you efficiently capture your entire screen or a portion of it while recording. Once you complete recording, editing, and saving your video, you can then share it on YouTube." The software can successfully record directly from your screen.
Free Cam comes with a highly popular interface, especially known for its user-friendliness. Users don't need to set up anything before starting to use the application. However, for the sake of first-time users, there are three basic steps you can follow. Once you have installed and completed the setup of your app, it is now time to:
Step 1: Choose a recording region on your screen: Always remember you can choose to record the entire screen, a particular portion of it, or an individual window. You can record anything that's on your screen including tip-offs of your applications, projects, or even videos that could be running on your screen. You can record any motion that's on your screen.
If you want to add sound to your video, you can still do that. You can also use the cursor feature to highlight noteworthy subtleties and any steps you'd like to pinpoint to your viewers. Incorporate some sound into your cursor clicks by turning on the mouse click sounds.
Step 2: Start recording your video and editing it: To initiate the screen recording process, click on the record button. Once you are done recording, you can start the editing process, which will allow you to remove any useless portions and commotion from your recording. You can also alter the volume of your video, add the blurring effect, trim the video, or/and remove sound from selected parts of the recording.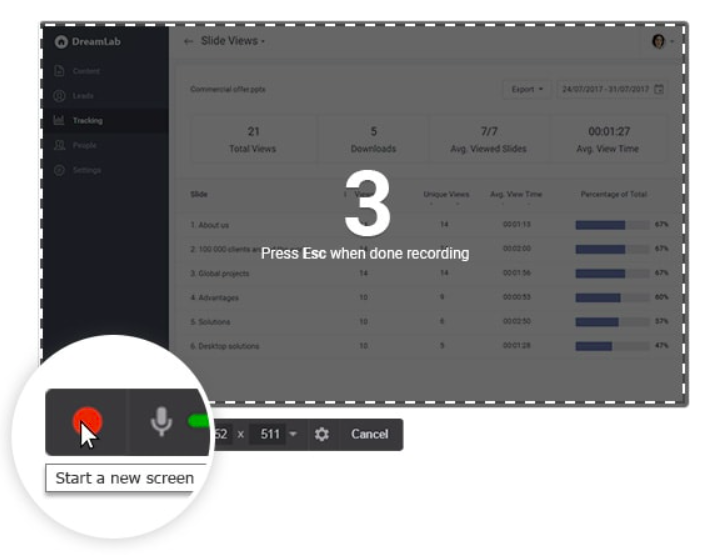 Step 3: Save your recording: This is the final step of your screen recording process, and all you have to do is save the final edited version of your video before sharing it on YouTube with a single click. You can always save your content in WMV format. Besides YouTube, you can transfer your videos to other social media platforms such as LinkedIn, Twitter, and Facebook.
Conclusion
Free Cam is an exceptional screen recording tool. Anyone will appreciate its lightweight since it will not take up too much of your PC's space. The tool also has a very user-friendly interface, and Windows users must appreciate the hassle-free manner through which it allows them to capture anything on their screen.
Free Cam has made screen recording a highly convenient exercise. With it, users can easily and effectively develop adept screen accounts in a very rapid manner. It is worth mentioning, however, that if you are a professional content creator who is also in need of top-notch screen recording services, you would likely gain more from looking at the features offered by Free Cam's competitors. Filmora could be a quality choice, as it is packed with more features and still provides a user-friendly interface.
Regardless, you still can't deny that Free Cam is a great option, especially because it gives you access to a free plan that barely has any limitations.
FAQs
Q. Is Free Cam a legit screen recording tool?
Ans. Yes. Free Cam is legit and highly trustworthy. It is also very safe to use.
Q. What limitations does Free Cam have for their Free plan?
Ans. Although the free plan doesn't come with all the features accessible to people subscribed to the pro plan, it does not have a recording time limitation. Users can freely record their content without having to worry about the watermark limitation either.
Q. How long are Free Cam video recordings?
Ans. As long as you wish them to be. Free Cam does not have a length limitation for their screen recordings.
Q. Do I need a license to use Free Cam?
Ans. No. Free cam does not require any license for users to access their features.
Q. Can users record audio when using Free Cam?
Ans. Yes. The software gives users access to advanced audio settings that allow them to record microphone as well as system sounds.
Q. Why Would You Choose a Free Cam?
Ans. There are quite many reasons: it is accessible, user-friendly, lightweight, and a great tool for screen recording.
Q. What are some of the alternatives to Free Cam?
Ans. There are quite a few alternatives to this software including Descript, Filmora, Animaker, Movavi, and ClickLearn, among others.