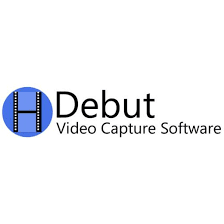 Debut Video Capture Software: Features & Top Alternatives
Introduction
Debut Video Capture Software is used For Video & Screen Capturing!
Having software working excellently for all your screens, live streaming, games, webcams, etc., is quite challenging. A few feel that it's a dream only.
But a few dreams have become a reality nowadays. You can record many video sessions with a single-screen video-capturing software called Debut Video Capture Software. Also, plenty of features make it the most desirable and preferable software for video recording.
What is Debut Video Capture Software?
This Video & Screen Capture Software was developed by NCH Software. This software is used for screencasting and video capturing. It lets you capture the entire screen or a portion you want on a desktop or Mac.
Once you start recording and recording a session, you can save it in the form of Avi, Flv, WMV, and video file formats.

After that, you can share the recordings with your team members and others via Email and File Transfer Protocol (FTP). This is what I like about this software. It does not need anything more to share recordings with anyone else.
Also, it has a smooth interface, including a toolbar, recording controls, a preview area, etc. And guess what? You don't need any knowledge to use this software.
Therefore, I recommend this to everyone related to capturing your computer screen and recording your screen video.
What is The Use Of Debut Video Capture Software?
Video capturing software, Debut, is not limited to desktop use only. You can use it with the Mac for a variety of purposes. With this software, live video recording is possible. Use it with a Webcam to record your webcam sessions with your team members.
Additionally, you won't have to pay a fee if you use this screen recorder for home use.
Furthermore, use this software for motion capturing on your desktop with audio. The option of Mute Audio is available to record a video without sound. Plus, different formats are available to save it.
So, if you wish to record webcam, gameplay, live videos, or desktop screens. Then just go with Debut Video Capture Software.
With its robust functionalities, you can capture the activities on your desktop screens in real time. I use this software for my live sessions and webcam recordings, which remarkably impacted me to love this software.
Useful Features
This software is very easy to use, and the techniques are seamless. Once you go through its training, you will surely get an idea about using this software with commendable features. See the following features involved in this software.
1#. Formats
Debut believes in giving you complete freedom for formats to save your recordings. Therefore, you will get video formats like Avi, Flv, Wmv, MP4, MOV, etc., to keep your recordings.
2#. Audio Recording
If you get capturing software to record your video with audio, this is no less than a big advantage. So, you can experience such benefits in the software. This software helps you to record your videos with audio.
3#. Recording Freedom
The best thing I like about this software is recording freedom. You can choose between the portion you want to record on the desktop or record the entire screen. Also, you can select a single window to record, which gives you complete freedom to record anything.
4#. Green Screen Tool
You often want to remove a specific background in the video that looks unnecessary or unsuitable. Am I correct? In this case, Debut will help you with its green screen tool that allows you to replace the background with solid color, video, or image.
5#. Text
There might be a possibility that you want to add a text, comment, or caption to your video or the image it captures. Text features in this software will allow you to do so.
6#. Logo & Watermark
When you want to add your logo or watermark in the videos, a few video capturing software doesn't allow that. But, in the case of Debut, you can add your watermark or logo to any type of recording you do.
7#. Adjust
The Debut will help you adjust the resolutions of videos. Therefore, you can record some HD-quality videos and regular quality videos at the same time. Similarly, you can adjust the size and frames of the videos that suit your video.
Despite that, it has a feature that will help you capture from the network IP camera, video input device, webcam, etc. The schedule recording will also help you record automatically on its time. It takes screenshots in PNG and JPG formats.
Therefore, I am not mentioning them and leaving it to you to explore them as soon as possible. On behalf of that, I want to tell you more about the pros and cons below.
Pros
Easy-to-use interface
The free version is available
You can take trials
Schedule your recordings
Easy sharing options
Better customer support
Striking features
Editing tools are available
Different formats for videos and images
Integrates with VideoPad
Cons
You have to pay for commercial use.
The editing tools are missing
Debut Video Capture Software Pricing
Currently, Debut has the following discounted price plans for everyone.
The Pro Edition plan is available for $29.99 only.
The Home Edition plan is available at $24.99 only.
The Pro Edition Quarterly Plan is available at $ 2.77 per month.
Despite that, you can use a free version (for home or lite use) of Debut Video Capture Software. Also, the non-commercial version doesn't need any charges to use.
How To Use Debut Video Capture Software?
As I mentioned, you don't need any knowledge to use this software. Just follow the below steps to use this video capture software properly. Once your Debut Video Capture Software Download process is done, you are all set to follow the steps.
Open the software and select the recording source, such as desktop, device, or network.
Now you have to select the screen for recording.
Click the red Icon to start recording, and click again when you are done to stop recording.
That's it, nothing you need more to record.
You can also take help from the Email, Help Desk, Forum, Chat, etc., for any issues appearing in the record. This is the reason I have mentioned the robust support from Debut.
Conclusion
That's done for now!
If you are searching for the best screen-capturing software for your daily tasks, try Debut Video Capture Software. With this software, you can record everything displayed on your computer screens. Also, it is suitable for webcam recording, live sessions, and gameplay.
So, what do you think? Isn't Debut Video Capture Software the best computer screen recorder? Like there are a few more facts about this software. Such as, it has an audio recorder, and you can easily use it for your gameplay.
Lastly, I will say, if you want a powerful screen recorder for your computer screens, webcam, or streaming video, you can try this one. It is suitable for mac users too.
FAQs
Q. Why Choose Debut Video Capture Software?
Ans. Debut Video Capture is a robust software for Mac and Windows recording. Therefore, when recording something on such systems, you can easily rely on Debut Video Capture Software. It has many best features and helps you with scheduled recordings. It is also available without any charges for home use.
Q. What system requirement does Debut Video Capture Software require?
Ans. It is the best choice to use in the Windows 10 system. Similarly, you can use it in Vista 7, 8, and 8.1. Also, the software is suitable for Mac OS 10, 10.5, and more. It can run smoothly on 64-bit Windows.
Q. How to schedule a recording session in Debut Video Capture Software?
Ans.
Go to the Recording
Set your Time and Date.
And leave the rest on the software. It will automatically start and end your recordings when you set them.
Q. How to add a Watermark in the Debut Video Capture Software?
Ans. Follow the below steps for adding watermarks:
First, choose the Watermark Effect.
Now, choose your Watermark from the Image File.
Decide a position and start recording.
It will start recording a video with the watermark image you will paste on the screen.
Q. How many languages does Debut Video Capture Software support?
Ans. This software supports English, German, French, Portuguese, Korean, Japanese, Spanish, and Italian.
Q. What types of users can use Debut Video Capture Software?
Ans. Mainly, you will see Freelancers, Non-Profit Organizations, Enterprises, Small and mid-size business organizations, and Government Organizations that can use this software.
Q. Are there any tutorials to learn about Debut Video Capture Software?
Ans. Yes! Debut offers online training and tutorials to learn more about the software. The other seamless steps are available to use this software.