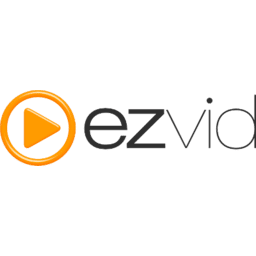 Ezvid: Features, Pros, Price, & Best Alternatives
Introduction
Ezvid is a full-featured video editor and screen recorder that can record and edit anything displayed on your computer screen.
It is used by millions of creators to produce some of the most entertaining and informative videos that you can find on websites like YouTube and Facebook, as well as other websites that host user-generated content.
The Ezvid screen recorder for Windows comes with a variety of cutting-edge features, such as the ability to draw on the screen, a face-cam, voice synthesis, voice recording, and control over the recording's speed.

You have the option of saving the edited version of your video or uploading it directly to social networking sites like YouTube.
This software makes video editing and screen recording simple, and it won't mar your recordings with unsightly watermarks even if you use it to edit videos.
Suppose your job entails text-to-speech conversion, screen recording, video recording, and voice recording. In that case, you won't need any other software because Ezvid already has them all built in.
It is a proprietary movie maker tool that focuses on providing a professional touch and has features that are on the cutting edge.
Real-time drawing, narration recording, control over playback speed, voice synthesis, and the ability to use a webcam while recording the screen are some of the outstanding features offered by the software.
This screen recording software stands out as the best recorder and video editing software because it does not restrict users in any way with regard to what they can record on the screen.
Features
Every piece of software on the market makes it a priority to market itself as the product that is the most effective, satisfying, and result-oriented.
The review of the Ezvid screen recorder helps you understand which of your preferences are catered to by this piece of software when it comes to recording the screen or creating videos.
System Requirements
Ezvid is a piece of free software that is gaining popularity among creators of all stripes. However, before you begin the Ezvid download, make sure that your computer satisfies the minimum system requirements listed in the following paragraph.
Supports Windows XP SP3, 7, 8, 8.1 and 10
Contains a processor with a minimum speed of 2.0 GHz.
RAM of at least 1 gigabyte
You have free space on your disk drive equal to or greater than 10 gigabytes.
Display resolution of 1024 by 768 pixels on a computer
DirectX 9.0 or later versions
It supports Windows Media Player
Why is Ezvid an incredible recorder for the screen?
You are able to record anything that appears on your screen at any given time using the Ezvid screen recorder. After you have clicked the "Record" button, the process of recording your screen will be both simple and speedy.
The gameplay recording feature works wonderfully with the screen capture function. Transparent capture is another worth noting feature of this video recording software. Although this feature affects your computer's performance.
Another feature that deserves mention is transparent capture, even though using it will negatively impact the performance of your computer. This software consumes a lot of resources too.
1. Support both audio and voice recordings
There are many instances in which the messages contained within videos are not clear to the audience that was intended to watch them.
The audio and voice recording tools offered by Ezvid work to eliminate this problem by allowing you to include either one of your creations or both of them.
Users can use these features with voice-overs or narrations using the microphone or system audio.
To reiterate, the majority of content creators have the option to decide and record quality audio separately or to fine-tune it while the screen is being recorded.
2. You can recording of gameplay
The recording of gameplay is the sole purpose of this specialized tool. This Windows software even provides instructions on how to record gameplay in the optimal mode for maximum quality.
Ezvid offers comprehensive instructions on how to play the game in accordance with the requirements that have been laid out. This screen recorder is very popular among gamers, who utilize it in order to record and capture their gameplay.
In contrast to the expensive software offered by its competitors on the market, it lives up to users' lofty expectations.
3. Facecam
You can record your video using the Facecam feature, which also gives you access to other functions like voice synthesis. Speech synthesis allows your computer to create an incredible narration for your video.
4. Video Editor
The built-in video editor that comes packaged with the Ezvid screen recorder is unmatched by anything else on the market.
This software gives you the ability to add effects to your videos, rearrange the screen captures, add or change the voice, make speed changes, crop, add text, add image slides, and a great deal more.
5. Creator of slideshows
The Ezvid software can be used for more than just the production and editing of videos. With this function, you can also generate slideshows using your photographs. When using Ezvid, creating slideshows is a quick and straightforward process.
6. Drawing done in real time
This is of the utmost importance in demos, as the creator often needs to call attention to specific parts of the video that are being highlighted. You will be able to demonstrate your abilities through the use of the drawing function, which provides you with excellent drawing features.
Users are given the ability to draw directly on the recording screen thanks to the fantastic screen drawing feature. The capability of the software to record a portion of the screen in order to create incredible screencasts and easily document your activities in the digital world also contributes to this.
7. Free musical selections
This function is absolutely necessary for those times when you want to add music to your videos, recordings, or slide shows. Ezvid saves you the trouble of scouring the internet or your own hard drive in search of free music that you can incorporate into your videos by providing it for you.
Ezvid's Pros and Cons
The Ezvid Screen Recorder is a wonderful free screen recorder as well as a video maker. However, this doesn't mean the software has no cons.
Pros
Remarkably easy to use, with a user interface that is unambiguous. You won't have any trouble navigating the software's interface and will be able to use it to its full potential.
Software includes a built-in editor at no additional cost to the user.
You shouldn't anticipate any watermarks appearing on your videos; just a clean video is what you should hope for.
You only need to type in the material that you want to have read aloud by the text-to-speech feature, and it will take care of the rest. If you are unable to record your own voice, you will find that this function is an excellent substitute.
On the recording screen, you have the ability to capture anything.
Cons
This software can only record for a maximum of forty-five minutes at a time.
It is not possible to hide the recording widget with this.
Users are unable to save their work on the computer using this software. It is only capable of uploading content directly to YouTube.
Recorded video does not support important editing features such as transition effects, zooming, or panning.
Ezvid Pricing
Free screen recording software that can be used to perform basic video editing functions is known as Ezvid. Because it only includes the most essential tools and functions, it places very little strain on your computer's resources.
Conclusion
Even for users who have never worked with video editing software before, it is simple to learn how to use this program.
Additionally, it possesses a robust functionality of modules for screen recording, which allows for real-time drawing and captures game screens (when the windowed mode is used).
The fact that the programmer has not released any updates for the program in a very long time, and the most recent version is from 2017, is by far the most significant disadvantage of the software.
Ezvid has the potential to be a serious competitor to other free video editors if a few basic options are added to it, such as export settings and free timeline editing, in addition to the existing speed of work.
FAQs
Q: What are the audience types of Ezvid? 
Ans. SMEs, startups, enterprises, and agencies.
Q: What are the basic requirements for Ezvid? 
Ans. Windows (XP Service Pack 3 or a later version), 1 GB RAM, and a 2.0 GHz CPU. Additionally, the manufacturer recommends that the hard disk have at least 10 gigabytes of free space for use in projects and recordings.
Q: When using Ezvid, how do you open up older projects? 
Ans. To access a list of completed projects, locate the folder icon that is located above the timeline and click on it. You will be able to edit, delete, or clone a project whenever you hover your mouse pointer over one of the projects on the list.
Q: How exactly does one go about managing projects in Ezvid? 
Ans. The name, description, and category of the current project can be entered into the corresponding fields in the upper left-hand corner of the screen. These details are going to be presented in the library section of the project.
Q: Is there a portable version of Ezvid that I can download? 
Ans. No, it is not possible to remember the paths to previously saved recordings and projects without first installing the software.
Q: Where do rendered files go? 
Ans. Navigate to My Documents > Ezvid > Projects on your computer. The order in which projects were created in Ezvid is considered when assigning a number to each one.
Q: Where can I find the files for the project? 
Ans. The Project folders can be found in the My Documents > Ezvid > Projects directory. The Media folder, which contains the files that will be added to the current project, can be found inside these folders.
Q: What kinds of mobile operating systems does Ezvid support? 
Ans. None as they are updating soon.