DashThis Review: Features, Pros, Cons, Price & Alternatives
What is DashThis?
DashThis is a marketing reporting application that allows marketers and agencies to create custom dashboards for SEO, SEM, email marketing, social media, analytics, and display advertising reports, and it integrates multiple data sources to ensure they keep track of their marketing efforts and digital strategies.
DashThis assists digital agencies in creating marketing reports and dashboards for their clients. Simplicity and customer experience sum it all up. This email marketing tool offers a variety of pre-built dashboard templates and preset widgets for commonly-used KPIs, and users can personalize dashboards with editable section heads, and they can also insert company logos and notes in the comment section.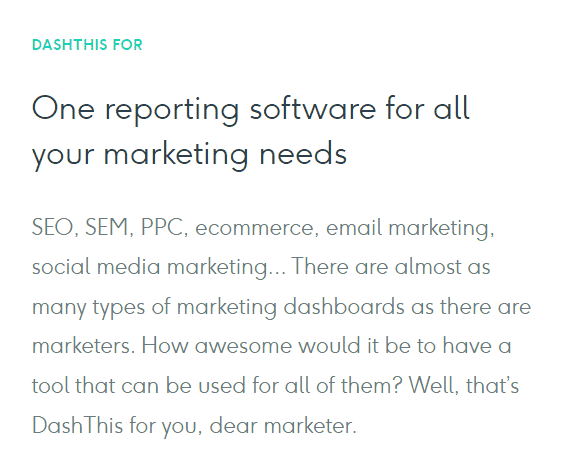 DashThis also offers personalized account management services, including an assigned Product Specialist for each account and White Label options, enabling users to provide their clients with brand-named reports.
DashThis is a cloud-based digital marketing reporting and dashboard tool for sales and marketing agencies and professionals that help them consolidate and organize marketing data from PPC, SEM, and SEO campaigns.
It allows users to use marketing data from several tools to create interactive dashboards that provide the information they need and easily generate powerful, detailed reports in just a few clicks.
It seamlessly integrates with several of the most popular analytics and reporting platforms, including Google Analytics, Campaign Monitor, Bing Ads, ClickMeter, and Ginzametric. DashThis is trusted by more than 5,900 marketers and agencies from all over the world. The platform makes it easy for users to access their data, create reports, and share them with their peers, clients, etc.
This tool is also used as an automated marketing reporting tool that was designed to help marketers save hours of work and quickly create reports. They aim to let us know who you are so that we can design our reporting solution to suit your requirements.
Features
1. Keeps All Your Marketing Platform in a One Place
Irrespective of what type of digital marketing report you want to create, It is connected to over 34 of the most commonly used tools for digital marketing out there.
More than 34 of the most popular marketing platforms can be connected directly to your system on DashThis, including Facebook, Google Ads, Google Analytics, Twitter, Ahrefs, Moz, Google My Business, Youtube, Instagram, etc.
You might think you'd need a different KPI for each integration, but think again! Any combination of integrations can be used to create any dashboard, and your dashboards will automatically update with fresh data.
2. Access To All Integrations & Sources is Unlimited
Irrespective of the plan you decide to choose, you get Unlimited data sources, and also access to all native integrations, amazing features, and unlimited users, all in one.
Unlimited client accounts by adding as many client accounts as necessary. And if your agency grows exponentially, DashThis grows along with you. You can purchase as many dashboards as you want, and the more dashboards you purchase, the less you'll pay per dashboard.
This tool can use unlimited data sources to create a dashboard that includes 3 different Facebook pages and 10 Google Analytics accounts. You can include as many data sources, pages, accounts, and integrations in each of your dashboards as you desire.
3. Save Time With Cloning And Template Options
By using DashThis, you'll never again have to write your reports from scratch. With a wide selection of pre-made report templates, custom templates, preset widgets, cloning tools, etc. which are included with every plan.
Save your well-organized, complete report as a template and use it for all your new customers! There's no minimum buy, and you can save as much as you wish.
It has pre-built report templates for those who need a report that has been pre-filled with some KPIs to start with. Use one of the DashThis predefined report templates; they contain all the most commonly used KPIs for each industry and marketing strategy that you use.
Have you put together the perfect dashboard but would like to replicate it for another client or situation? Allows you to clone reports very simple, and you can clone any report as many times as you like.
Pros
Easy to use with great reporting capabilities
Great service support
Intuitive and flexible to use
Decent visualization and user friendly
All in one reporting tool
Cons
Average User Interface
It is quite expensive
DashThis Pricing
DashThis has a 15 Day free trial with no credit card required and no free version available. It then has four (4) pricing plan which includes;
1. Individual:
$39 monthly (billed per month) or $33 monthly (billed per year) – for 3 dashboards
2. Professional:
$129 monthly (billed per month) or $109 monthly (billed per year) – for 10 dashboards
3. Business:
$249 monthly (billed per month) or $209 monthly (billed per year) – for 25 dashboards
4. Standard:
$399 monthly (billed per month) or $339 monthly (billed per year) – for 50 dashboards.