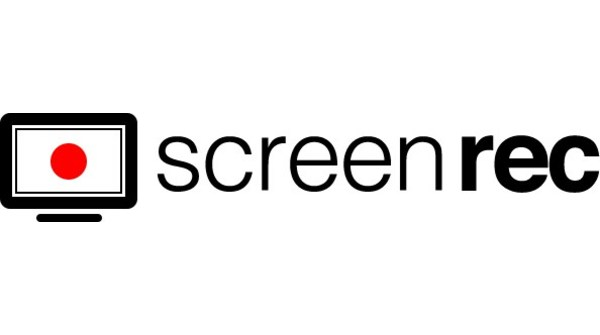 ScreenRec: Features & Best ScreenRec Alternatives
Introduction
Is ScreenRec a good choice?
This is a common question that appears in mind before choosing this software, like ScreenRec. However, depending on the users and their uses, you can choose this software for screen recording and video sharing.
For example – suppose you want to record something essential on screen and share that recorded video. You will surely go with the screen recorder, the best of both worlds.
Also, you will see if there's any essential feature lacking or not. However, in such situations, you can look for ScreenRec. It is the leading screen recorder you can choose for your tasks.
I personally started using this software a few years back and had an excellent working experience. However, my entire journey on ScreenRec impressed me the most with its user-friendly interface, which takes less than a day to understand.
Also, the robust features helped me a lot in my entire journey, which has become my favorite screen recording software. So, get down to knowing what ScreeRec is in the best possible manner.
What is ScreenRec?
ScreenRec is a powerful screen recorder from San Francisco, launched in 2019. Also, the ScreenRec free version has been found by StreamingVideoProvider.
ScreenRec is an excellent choice for screen recording. It is easy to take screenshots while recording and edit them with a particular screen area per your choice. So, press the recording button once you select the screen area and record what you want. Isn't that good for you? Well, it is actually!
I mean, you can easily crop the screen area, which is not needed or looks unnecessary and start recording. However, it's an expected benefit of every screen recording software. But you know what makes it stand out from the crowd? The exceptionally well sound recording!
Many people in sound recording face a common issue. Most screen recorders don't provide the feature to record the sound. However, ScreenRec fulfilled your demand here. Whatever you record on a computer screen, you can easily record it with the sound of speakers or a microphone attached to it.
For example, imagine you are playing an online game and want to record it to show your highest record to your gang. ScreenRec can quickly help you here with the sound effect. Also, you can do your voiceovers to share something you want. Thus, you can easily show off in front of your friends or gang. How impressive it is!
Furthermore, it comes with the AES encryption algorithm that does not allow unauthorized downloads of screenshots and screencasts. Also, you can easily find out who watched your screen recording and other details.
What is The Use Of ScreenRec?
In this blog section, it's time to tell you about the uses. Therefore, first, let me clarify one thing: it has a large active user base of 250K. Due to its easy use and powerful features, ScreenRec download is increasing rapidly.
ScreenRec is free software that records computer screens. Also, you can use it without the watermark. As a result, most people use it for desktop and webcam recording. And they can crop the unwanted portion in the screen recording.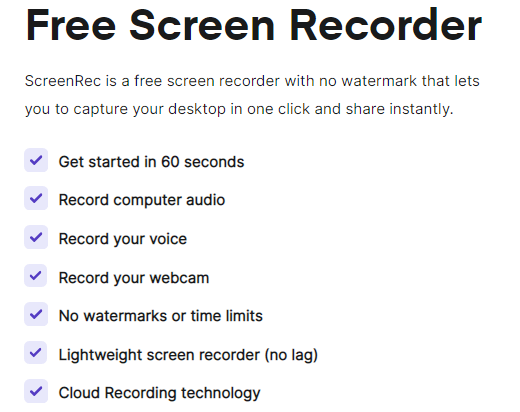 Further, developers can easily use this suitable software for their code reviews, reports, and other tasks. Using this screen recording software, you can show your designs or samples to your clients and co-workers.
Despite that, you can easily use it to record computer screen recordings, webcam recordings, and computer audio recordings, and the list is quite long. Also, users can take screenshots and record video messages for many explanations.
Therefore, it's an ideal choice to choose ScreenRec, and it will never disappoint you for sure. I am personally satisfied with its recording and screenshot quality too. So, what do you think about it? Will you use it, or is confusion still on in your mind?
Haha! However, it is not necessary to make a decision here. Let's go deep with features, and then you can decide for yourself.
ScreenRec Features
Whether you use ScreenRec for windows or mac, one thing is fixed – the robust features and functionalities. Whatever work you choose, you can easily record it with the help of ScreenRec. So, why waste time? Let's check the features so that you can make your decision.
1#. Ease of Use
Why are most people choosing this software? The answer is hidden in this feature. Using ScreenRec software is not hard to crack. From recording to sharing, the software works efficiently, and you will never face the music.
As a Windows user, you will see the easy-to-use interface that needs one click to start the recording process. Besides, the selection and addition of audio are just a cakewalk. Further, the robust content management system works excellently to rename and trace the files.
2#. 1-Click Screen Capture
What would you prefer, one-click start or stop the recording or multi-step start or stop? I know you have your answer and are screaming with a one-click option. And everyone wants to put less effort into recording.
Therefore, multi-steps to record can be a hectic option. On the other hand, one click will reduce this effort and make you comfortable to press one button to stop and start the recording for the screen, audio, webcam, and microphone.
3#. Annotated Screenshots
You may face this situation where you see or record something and want to add some annotated comments in the essential part.
However, many people can't enjoy this function in the different screen recorders. But, you can easily take advantage of such functionality in ScreenRec. Therefore, adding important highlights or comments becomes more convenient and beneficial for users and recorders.
4#. Sharing
You must be picky about the software when it depends on sharing or exporting. However, with ScreenRec, you get some easy steps to share your projects or something you want to share. Therefore, ScreenRec makes sharing your videos or recordings easy with a few steps.
Remember, you can only share the links of your projects with your clients, co-workers, and others to show them your work.
5#. Audio Capturing
Don't you think it is no less than a benefit when you get a screen recorder with audio capturing ability? Yes, you read it correctly! ScreenRec has a robust audio capturing ability that captures the audio from the speakers and microphone you attached to the computers.
6#. Content Management
ScreenRec offers the functionality to manage your content as efficiently as possible. Therefore, it comes with a content management function that allows you to make collections of your tagged files. So, it will help you more with many tasks.
7#.  Reporting or Analytics
It is one of the most curious things to do. You can find out the people who have seen your videos, how long they were watching, what portion they have skipped, and much more. As a result, users can easily rely on this tool to record something and share it with people and analyze them.
8#. Privacy
Security or privacy of the content or data is everyone's priority. Therefore, when it comes to ScreenRec, you can rely on privacy policies. It offers vital encryption for your content, and you can easily control the access.
Furthermore, there is a possibility that you can either share this with your selected people or group or share it with the world. And that's what makes it famous among users.
So, I am hoping that your confusion gets cleared now. If you still need more assistance with this software, I recommend going through the following pros and cons.
Pros
It is entirely free to use
Easy-to-use interface
Does not need immense knowledge to use
You can use it without any watermarks
One click to capture screenshots and video recorders
Instant sharing
Encrypted sharing
Compatible with Windows, Linux OS, and Mac OS.
Excellent customer support
Free to use
Cons
A few editing features are missing
Direct sharing on popular platforms is not possible
ScreenRec Price
The ScreenRec is entirely free for every user after registration. However, you can't imagine software helpful for graphic designers, UX professionals, front-end developers, managers, etc., will be available without cost.
Well, although it looks like a joke, it is the truth! You can't ignore the fact that features, such as cloud recording, ease of use, audio recording, etc., are available in a screen recorder without a single penny. And this is another reason for its popularity and growing number of users.
How To Use ScreenRec?
You can easily record your computer screen with ScreeRec. You need to know about the exact ways to keep it seamlessly. Therefore, I've mentioned the below steps to use ScreenRec.
Follow the below easy steps to set it up.
First, download or install it on your computer.
Press Alt + S to start capturing once you open ScreenRec.
You will get two options here: A Photo Camera & Video Camera. You can capture the screenshot using the Photo Camera and start recording by choosing the Video Camera icon. Further, you have to click on the Link icon to share links instantly.
Despite that, you know the best part? There is no need to follow other steps to preview your work. Only tapping on the Preview icon is enough to see the entire climax.
Conclusion
That's it!
You may have seen many screen recorders before. But, this time, ScreenRec is one of the best choices to record your computer screen with its robust functionalities and several uses.
Also, the sound recording is another level of satisfaction to have such excellent software to use. Therefore, I recommend that this software record everything and share them with an encrypted link.
This way, you can manage your privacy, and the data will be shared with the people you want. Isn't that the perfect choice? Well, share your opinion in the comment section, and I suggest you use it before you leave a comment. It does not charge you any fee.
FAQs
Q. Why choose ScreenRec?
Ans: – ScreenRec will help you record your computer screen and upload your recordings in the background. Also, help you copy the link of the project you want to share and lets you paste it in a few clicks. Further, it is suitable for Mac, Linux, and Windows 7, 8, and 10.
Q. Can I Record for Unlimited Time using ScreenRec?
Ans: – Yes! ScreenRec is a robust screen recording tool that helps to record everything you want on a computer screen. Therefore, you must register for a free account to record unlimitedly. Or else you will have to meet the record limit of five minutes.
Q. Is ScreenRec safe?
Ans: – Yes! ScreenRec is ultimately a safe platform that can be used for screen recording and video sharing. Also, you can use secure cloud storage that can use multiple options.
Q. Who can use ScreenRec?
Ans: – ScreenRec is often used to record a computer screen with audio coming from the microphone and speakers attached to it. Therefore, it is mainly used by small business owners, freelancers, and YouTubers for their different projects.
Q. Is ScreenRec providing Customer Support?
Ans: – Yes! ScreenRec won't let you down in the case of customer support. Therefore, whether you use ScreenRec for mac or desktop, it provides all possible customer support options say Email or Help Desk, Chat, and Phone Support, to solve your issues.
Q. Can I use ScreenRec for YouTube Videos?
Ans: – Yes! Today, YouTube videos are in trend, and you can be a YouTuber if you have the right tool to shoot and import audio. ScreenRec has everything you need to record a YouTube video, and you can use it for free.
Q. Can I use ScreenRec for Gaming?
Ans: – Absolutely, Yes! If you want to report your gaming videos, ScreenRec can be an excellent choice. You need to start the ScreenRec before you start playing. It will help you record your gameplay, and guess what? You can add your voiceovers too.