Pionex - Product Details, Features & Best Similar Apps
Cryptocurrency is a new online trading option currently. Cryptocurrency is a digital currency where transactions are certified and maintained by a decentralized system rather than the central banks. This is one of the many reasons cryptocurrency is so popular in the world today. This post focuses on Pionex, its features, price, fees, and many important details, as explained below. So, let's begin.
What is Pionex?
Pionex is a company that offers the world's first exchange that integrates trading bots. Pionex was begun in 2019, and since then, it has gained popularity in Asia, making it the fastest cryptocurrency trading option in the region. Its biggest markets are in Taiwan, South Korea, and Indonesia.
Platform has over 100,000 users and has over 5 billion in trade volume per month. The company is licensed by Money Services Business (MSB) which is an American licensing institution. It also has a Monetary Authority of Singapore that allows it to conduct trade in the region. These cryptocurrency app engines are powered by Binance and Huobi Global, which ensures that bots are in operation 24/7.
To ensure that Pionex remains in the market, it is backed by BitUniverse, together with other two finance Chinese companies ZhenFund and Gaorong Capital. One unique feature of Pionex is that it uses a Pionex Trading Bot that uses artificial intelligence and machine learning to execute the commands. This means that it operates automatically and under given guidelines to deliver exemplary services to its users. This trading bot also reduces human errors or delays that discourage users.
Pionex Trading Bot & Features
Pionex supports over 12 different bots, which serve different functions. Examples of such bots include Trailing Buy Bot, Trailing Sell Bot, Smart Trade Bot, Grid Trading Bot, Reverse Grid Bot, Margin Grid Bot, and many others. This platform is compatible with all major web browsers like Google Chrome, Safari, Firefox, and Explorer.
Coin ranking
Manual on how to buy/sell
Live chats
Trading view chats
Filters that you can use to customize time, mode, etc
Full trading order history
Favorites and watch list
For more Pionex features and bots, kindly visit their official website.
Pricing
Pionex being a supporter of Finance and Huobi Global means that its pricing rates are lower compared with other trading platforms. The price per trade is 0.05% paid only once. It offers market maker programs for users with 300, 000 USDT trading volume. These users still enjoy a 0% program fee while the charge remains at 0.05%.
Payments, Deposits, and Withdrawals
It only accepts deposits in the form of cryptocurrency, however, it supports other 40+ digital currencies as well, two main ones being Bitcoin and Ethereum. To avoid price fluctuations, the platform requires users to get rid of fiat currency (money accepted by the government as the legal tender) and instead, use Stablecoins for example.
This also protects you when the capital drops. If you are planning to transfer assets to your Pionex account, use Binance and Coinbase since they are governed by decentralized institutions. When withdrawing, the price changes depending on the amount you are withdrawing. If you want to withdraw huge amounts of money that are above the limit, provide a KYC form.
Pionex Mobile App
Pionex Mobile App offers a user-friendly browsing experience that any new member can quickly learn and navigate. This mobile app offers all bot features with two additional which are:
Simple Manual Trading that allows straightforward manual order placements.
A Comprehensive Interface that constantly provides reliable information to users regardless of where they choose to invest in.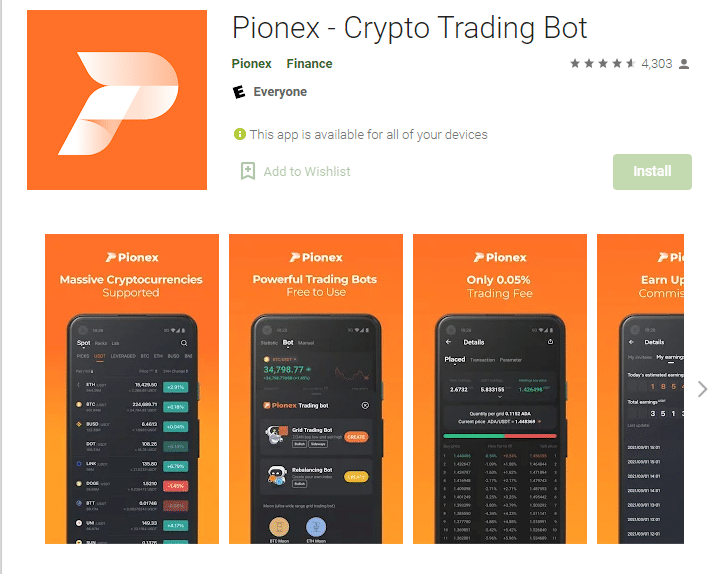 Pionex is the world's first cryptocurrency platform to integrate bots. It has served a wide market in Asia of about 6 million people. It's a high-security platform, having been powered by ZhenFund, Gaorong Capital, and Bit Universe. Therefore, we highly recommend Pionex because of its low fees, particularly for those in asian countries like taiwan and south korea.