ExMarkets: Features, Pros & Crypto Exchange Review
ExMarkets is a crypto exchange that is located in the British Virgin Islands and launched in 2018. The company behind ExMarkets Exchange is Chain Framework Ltd. The fact that the identity of the company owner is disclosed on the exchange's website does not guarantee the fact that the exchange is fair and honest. However, it is rather seen that the info is made available on the website.
ExMarkets Exchange (ExMarkets.com) is referred to as a new generation crypto exchange that provides thick order books and deep liquidity. In the exchange, the backend framework (coinstruction.com) aggregates data from several top external exchanges and runs order book clearance to display unbiased information and trade execution efficiency to ExMarkets users. This platform is proposing ERC20/777 utility tokens that match the listing pre-requisite and policy.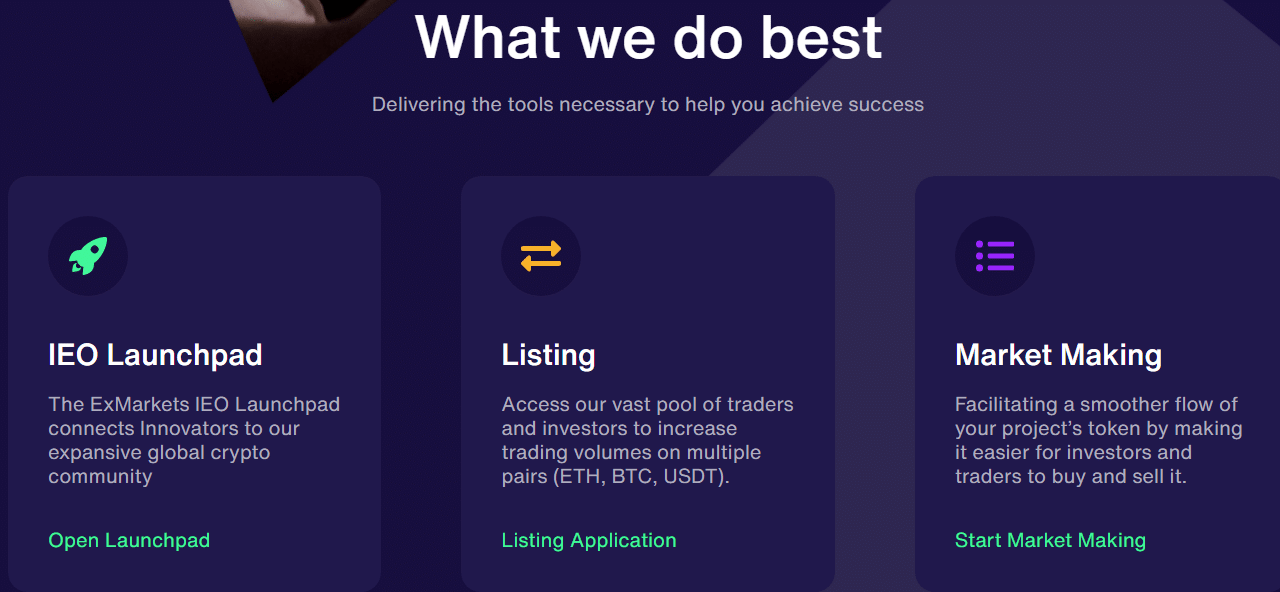 Deposit Methods
This trading platform offers wire transfer as a deposit method, but you can't deposit via credit card. This of course bad news to you if you would prefer to use your credit card for any reason. Also, wire transfers are only possible for EUR deposits. For those of you out there who need a platform where you can deposit fiat currency via credit card, or wire transfer another fiat currency than the EUR.
Is ExMarkets Safe?
In the current situation where there is notorious volatility of the cryptocurrency exchanges and there is also a large percentage of crypto scams in the industry, it all seems too risky a venture to deal with an offshore exchange like ExMarkets.
More so, there is also plenty of negative user feedback about ExMarkets Exchange in particular as some alleged users of the exchange state that it is running an elaborate "selective" crypto scam by locking certain accounts and stealing the funds of targeted users without reason. We cannot particularly say for sure whether ExMarkets is safe or not, but you should be alert and do basic due diligence on any company you are giving money to.
ExMarkets App
ExMarkets Exchange has official Android and Apple Apps. Apps give the fastest and easiest way to exchange various cryptocurrencies. The App comes with unique features like the ability to see Perpetual, Monthly, Quarterly, and more detailed trades, Order Book, and Recent Trades. You can see Gainers and Losers, access to Launchpad, etc.
ExMarkets Trading Fees
This exchange doesn't treat takers (persons taking orders off the order book), and makers (persons placing the orders that the first group of persons takes off the order book) differently. Instead, they charge something that we call a "flat fee". This means that they charge both takers and makers 0.12%. 0.12% is a competitive trading fee. The global industry average is arguably around 0.25%, and ExMarkets's fees are accordingly a fair bit lower than the global industry average.
ExMarkets Withdrawal Fees
There are a few exchanges out there that have competitive trading fees but then disappoint you when you are withdrawing crypto by charging excessive withdrawal fees. Luckily for investors interested in trading at ExMarkets, this is not an issue here.
According to ExMarkets, this exchange only charges the network fees when you withdraw crypto assets. This is very competitive as the global industry average for exchanges charging fixed withdrawal fees is 0.00053 BTC for BTC-withdrawals.