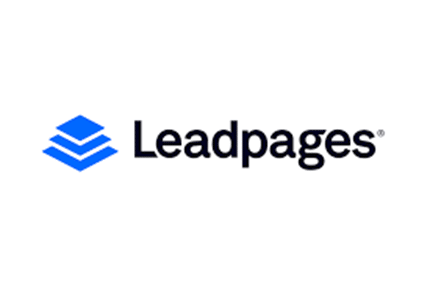 Leadpages Review: Features Advantages & Pricing
The main question on everyone's lips is what is Leadpages? Well, Leadpages is an email marketing tool that helps entrepreneurs generate traffic and publish marketing content.
3 US entrepreneurs started this international company in 2012 and have grown stupendously ever since. Currently, over 40,000 businesspeople have opted to count on Leadpages to generate leads for them.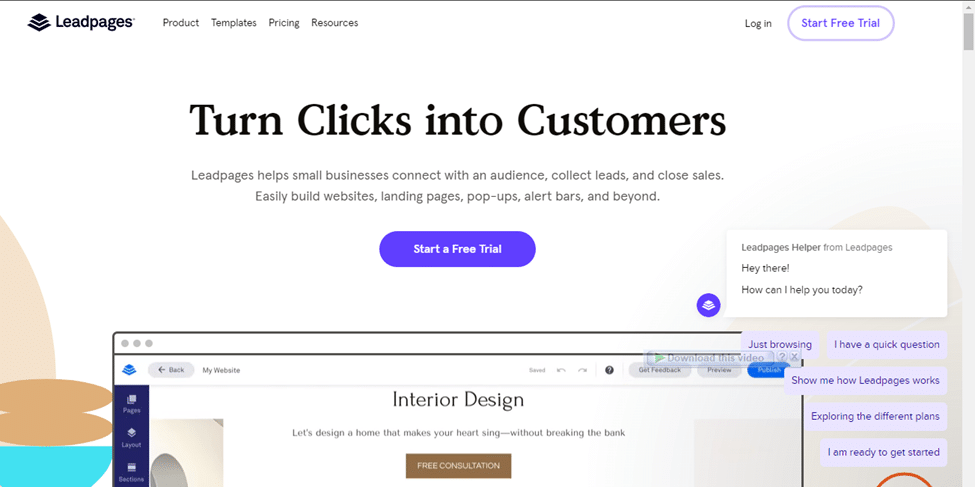 Key Features
Leadpages provides multiple helpful features for its users. Some of the notable ones include:
1. Buy A Domain Name
Leadpages permits customers to purchase a perfect domain name for their websites. Fortunately for Pro Annual subscribers, the providers offer them one free domain.
2. Keywords Suggestions
Leadpages simplifies work for SEO content creators by offering suggestions on searchable keywords. Consequently, it improves a webpage's visibility to search engines like Google. More often than not, the higher the web page ranking, the better the visibility
3. HTML Input
Web developers and administrators can edit HTML codes to customize web pages. Additionally, the platform is integrated with the most recent website builders.
4. eCommerce Capabilities
Studies show that over 65% of people opt to buy their items online. Thankfully, Leadpages provide unique features: that can help marketers convert web pages to online stores.
5. Website Hosting
Website designers can host their web pages on Leadpages. What's more, the platform equally sells website domains to willing clients.
Leadpages Features & Pricing
Leadpages pricing system allows customers to either subscribe to a monthly or a yearly subscription. Additionally, the platform offers 3 major subscription plans to its users. These are:
1. Pro Subscription Option
Pro subscription option will cost you at least $74 every month or $300 annually. You'll have to link your credit or debit card for automated billing. The good news is that you're always free to pause the subscription if you so choose.
Pro comes with unique features such as:
  Limitless alert bars and pop-ups
  Split testing
  Website optimization
  Limitless conversions
  Can work effectively without WordPress
  Includes a modern website builder
2. Standard subscription option
Customers must part with $37 every month to renew their Leadpages Standard subscription. Alternatively, you may opt to pay $144 for an annual subscription. Usually, the subscription starts once the free trial expires (14 days after signing up).
Standard subscription has unique features like:
  HTML export
  Third-party payment processor integration
  One free domain
  Quick and responsive support
  Limitless pop-up creation, alert bars
  Limitless landing pages
3. Advanced Annual Subscription
Advanced annual is a yearly subscription that comes with advanced features. You'll have to submit a request to enjoy this subscription.
a)   Chat support
b)   Email support
c)   Five Pro mini-accounts
d)   Link more domains
Leadpages Free Trial
Leadpages gives new users a free 14-day trial. All you'll have to do is visit www.leadpages.com and click on the 'Start Free Trial option'.The system will immediately prompt you to sign up to enjoy the free trial.
Kindly fill out the below details to get started:
  Email Address
  First Name
  Last Name
  Password
FAQs
Q. Is Leadpages subscription renewal automatic?
Ans. Yes, it is! Customers will have to provide their credit card information for subscription purposes. All customers are entitled to a free trial: after which the automatic subscription begins.
Q. Can Leadpages help me optimize my web page to make it mobile responsive?
Ans. Yes, it can! Marketers can rely on this digital platform to fully optimize their web page. Consequently, your page will look perfect on any device: mobile phone or tablet.
Q. Will I get any discount if I sign up with Leadpages?
Ans. Leadpages cares for its customers hence they offer discounts periodically. More often than not, the discounts may vary slightly depending on the monthly plan.
Q. Can I cancel my subscription before it expires?
Ans. Yes, you can! Clients have the liberty to pause or cancel a subscription. Remember that the system renews your subscription automatically as long as you have sufficient balance. All you'll have to do is to click the 'cancel subscription' option.