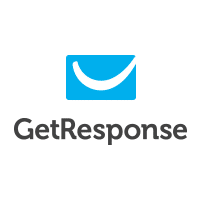 GetResponse Review: Features, Pros, Price & Alternatives
What is GetResponse?
Email marketing is a great way to increase brand awareness and even promote conversions. However, you need the right marketing tool in order to achieve your desired results.
GetResponse is one of the best email marketing tools, and it is perfect for all your marketing needs. It is easy to use, has the best features, and has highly competitive prices, all of which contribute to its popularity.
The GetResponse software supports smart automation features that make it super easy to set up campaigns. Besides, it also provides a step-by-step guide to help you throughout your campaigning process. GetResponse also avails you with a wide pool of templates for all your emailing, landing pages, forms, and funnels needs.
Besides being easy to use, the software is also easily integrated with other software as well as for analytics. GetResponse also offers affordability with its highly competitive prices that allow you to scale as your business keeps growing and developing.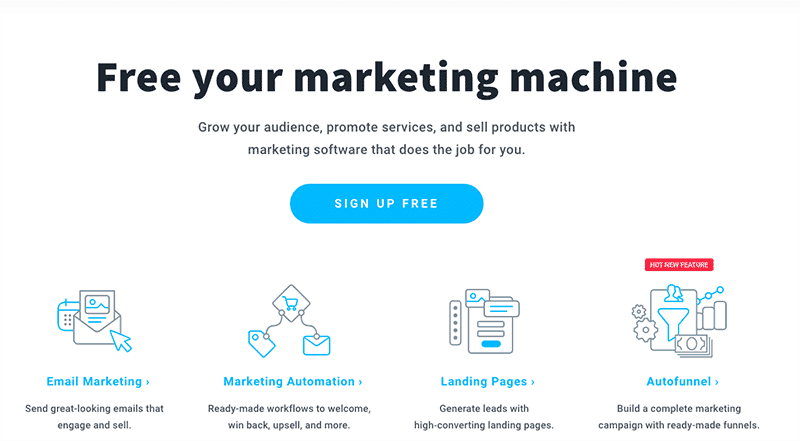 GetResponse Review
This review is done based on many factors like features, price, pros, and cons. Check out all these factors in-depth:
Features
GetResponse runs a really tight ship, especially with its email marketing and automation features. Keep reading to get a glimpse of the platform's most valuable features:
1. Drag and Drop Email Editor
This feature allows you to highlight and drag blocks of text directly to the canvas, where you can easily edit them by changing text or adding videos, pictures, or even products. Developing marketing emails and creating newsletters has never been easier.
2. Email Templates
You have access to over 120 email templates that you can use as they best suit your needs. If you are into designing your own you can totally do that from scratch. You can still use the templates provided, save them for future use, or use HTML to design your own.
3. Funnel Builder
This feature enables you to develop comprehensive sign-up and sales funnels, which is an excellent way to grow your sales and nurture your email list.
4. Email Automation
Complete email automation that allows you to develop creative campaigns, auto-responders, and triggered emails. Their lead score ensures that all your hottest deals are singled out.
5. A/B Testing
Before running any campaign, it is important to test it. With GetResponse's A/B testing you can easily spot all your winning campaigns and automatically use them in the marketing process.
6. Landing Pages
GetResponse has an efficient landing page editor that allows you to add images, videos, and forms to your landing page. Also, you won't need an external host for your pages as GetResponse will host them for you.
7. Customer Support
GetResponse's support team is quite active and responsive. Besides, you can access a wide knowledge base, constant chat and email support, and a full-fledged help center for all your needs.
8. Integrations
You can easily synchronize your GetResponse account with the eCommerce or CRM platforms of your choice. Use GetResponse's API or Zapier to customize your synchronizations.
GetResponse Pricing
You have access to six plans, each with a different price.
Free Plan: This is a free membership plan that allows you to use the GetResponse limited version open-endedly provided your email list does not exceed the 500 records mark.
Basic: This plan goes for $19 per month, and allows you a limit of 1000 subscribers. You can send unlimited emails to each of your 1000 subscribers each month.
Plus: For a monthly fee of $59 per month, this plan allows you a limit of up to 1000 subscribers.
Professional: The monthly fee is $119, and a limit of up to 1000 subscribers
Max: Customized price
Max2: Customized price
The subscription price increases with the number of subscribers. You can expect to pay monthly fees of up to $539, $599, or $699 on GetResponse's Basic, Plus, and Professional respectively, for a list with up to 100,000 subscribers.
The Max and Max2 plans are more suitable for enterprises, and they offer more advanced features. The pricing varies depending on the list size as well as individual requirements for individual enterprises. Before customers start using either membership, they must contact GetResponse to program a demo, disclose individual needs, and negotiate the price.
How to Use GetResponse Effectively?
GetResponse allows you to conduct all your activities with utmost smoothness. Their email marketing features as well as webinar, landing page builder, and website builder are all designed to make your job easier.
– Use GetResponse to create your initial email
The moment you have your free account up and running, you instantly gain access to over 120 GetResponse email templates. With these, you can easily initiate the email designing process.
The templates serve different purposes, and as such grouped into 7 categories. Some of these categories include educational, promotional, and welcoming emails for your customers.
To use templates, save the ones you like and GetResponse will store them in your "My Templates" tab and you can definitely use them later. The email builder is the best feature as it helps you customize your emails on your desired templates.
When using the GetResponse email editor, you will enjoy the ease with which you can handle your editing and customizing process. It provides you with all the editing options right when you need them. It is developed in a highly intuitive manner to show you the features you need right on time.
– Drag and Drop Options for your Email Editing
Access the layout section to develop how your email will appear. You have to know the number of columns you will work with, the basic colors, and other factors that contribute to the look of your email. With the help of the platform's drag-and-drop content blocks, you can add images, videos, text, buttons, whitespace, margins, custom HTML, and social sharing links to your email.
Use your email editor to save headers, footers, blocks and sections, and combinations of text and images. As such, it becomes easier to access them in the future when you need to use them.
– How to successfully set up your email
You can easily create your entire email on one page. All you need to do is set up your subject lines, your email, and a list of recipient email addresses. The best part is that once you send your email, you can track to view how the client engages with your email. This should help you decide what campaigns to run to effectively drive sales and revenue. It's a great way to cut down on your marketing costs.
Email Automation
With the platform's autoresponders, you can have your emails sent as auto-responders. This setting allows you to regulate your email delivery process. This means that you will send emails automatically based on your set time and date.
Marketing Automation
Your automation navigation bar grants you access to automation templates, abandoned carts, web event tracking, tags, scoring, and even automation segmentation. These elements function to ensure an excellent automation workflow.
You also have access to welcome messages for new customers and new contacts, online courses, webinars and events, affiliate marketing, sales promotions, engagement and retention, and post-purchase interactions, among other elements.
Funnel Builder
The funnel builder is excellent for your marketing campaigns. It helps you with SMSs, emails, forms, and landing pages, among other campaigning tools. When you open the funnel builder you can either create your email list, generate leads, sell your products, or promote your webinar.
The initial step would be to choose your lead magnet from the templates offered, and then move ahead to create your funnel. Follow the step-by-step guide that GetResponse provides. The basic steps to follow are choosing a template, adjusting it to your desired design and look, and finally publishing the page.
Once you have that up, develop your thank you page and support it with a promotion email. With this email, you can start promoting your newly developed funnel. Use Facebook Ads for all your campaigns and marketing needs.
Pros
GetResponse gives users access to a completely free membership plan that can be used without any limitations
Provided the Basic Membership Plan perfectly suits your needs, the platform is much more affordable compared to its competitors. In most cases, you will realize that GetResponse offers similar features if not more than those of its competitors
GetResponse offers extremely generous discounts to customers making annual or 2-year payments. Their offers are incomparable, making it a better option than competitors.
GetResponse spares zero resources to ensure that you receive the best and most sophisticated marketing automation tools.
GetResponse's webinar exudes excellent functionality that surpasses that of related products
Their customer support is in different languages, which makes it quite convenient for people from all around the globe
Unlike most sites available today, GetResponse won't ask for your credit card details during sign up
Cons
The drag-and-drop feature for landing page creation could use a little refurbishing
The ability to use Facebook Pixel when developing a landing page with GetResponse is awesome, but it's majorly inconvenient not being able to do so in a GDPR compliant manner
Only Max2 users have phone support
GetResponse's webinar has awesome and highly convenient features, but its recording limits could use some refurbishment.
The website builder on the platform could use some major improvements to come close to what similar products on the market are offering.
Conclusion
It is extremely tough to find an efficient email marketing tool. GetResponse is awesome! Besides being easy to use, it is among the greatest email marketing tools ever designed. It is also quite popular, so before choosing it for your campaigns, you can easily check through the numerous reviews online just to be sure.