Bandicam Review: Features, Pros & Best Alternatives
Introduction
Bandicam is a complete screen recorder for your needs!
You are looking for the best screen video recorder with a complete package of features and benefits. Am I correct? And that's why I recommend the Bandicam screen recorder to fulfill your screens.
First, let me tell you that it was designed to record the games and activities on your windows screens. However, the best thing is that you can easily use it to record seminars, webinars, online classes, and much more.
As a result, it has a special place in the working life of video creators and online program recorders. So, without wasting your time, let me introduce you to a complete package of screen video recorders – Bandicam.
What is Bandicam?
Bandicam is no less than a wonder for many users, which can help many people with screen recording and game recording. Therefore, most businesses, professionals, and users who make short videos can use this excellent software. This is a weekly and daily basis software tool that records everything from work to games.
It is suitable for Windows, and you can capture high-quality software videos of what is present on the entire screen. In addition to that, this software comes with the ability to record a game that uses graphic technologies such as "OpenGL/DirectX."
Furthermore, it is not limited to work and games only. You can record your academic lectures, walkthroughs, and tutorial videos; the list is quite long. As a result, it has different recording modes, starting from game to video, screen, and device recording. Isn't that good for you? Of course, it is! After all, you have a recorder to watch such things whenever you want.
Now, do you know what makes Bandicam so unique? Your video quality will remain the same, like high-quality, even if you compress it. Shocked? Well, that's an unbelievable truth!
The software uses a unique codec called "Nvidia's H.264 codec" that does not let your video quality change and keeps it as is.
Besides that, it is also helpful for different uses for filmmakers, freelance video editors, YouTubers, and many others. And it is admired for its features like an easy-to-understand interface, screen capturing, device recording, and whatnot.
What is The Use Of Bandicam?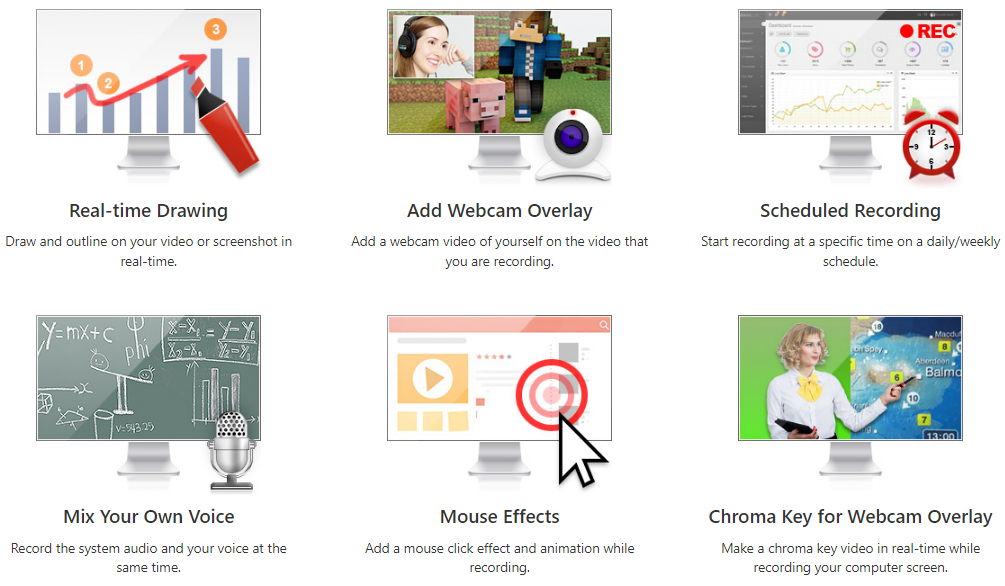 Most people need a video screen recorder that records webinars, seminars, gameplays, videos, tutorials, PC activities, and more. Therefore, it is a perfect video or screen recording software tool for many video creators.
Furthermore, I feel that the developers of Bandicam were competent. That's why they made this software so easy and comfortable to record some AVI, Mp4 video files, etc. The best part is that it helps you minimize the CPU's use, which saves your Hard Disk storage.
Lastly, Bandicam offers unlimited over 24 hours, which means you can record anything without worrying about a clip size. I think that's what makes it preferable for every video creator. And today, the paid version is also available, which allows you to record 4k resolution videos. Now, what remains to avoid this? I guess nothing!
Bandicam Features
Video creation is now in trend! Therefore, many professional video creators and amateurs use Bandicam for different uses. Therefore, Bandicam is not only limited to providing recording functionality. Bandicam has a lot to offer when it comes to Bandicam features. And trust me, you will enjoy it.
1#. Easy Interface
I feel that a beginner can choose a video screen recorder with an easy-to-use interface, which will make his journey enjoyable and encourage him to create something new. I think, therefore, Bandicam provides an easy interface, including recording areas and many other sections to help you.
2#. Real-time Drawing 
I enjoyed this feature a lot! With this real-time drawing feature, you can make drawings and sketches on your screen recording. If you think a specific phrase is essential, you can highlight it. Isn't that the best option to get the attention of the audience? Well, it is absolutely a great option.
3#. Auto Capture
What do most people want from a screen or game recorder? To capture the pictures automatically instead of manually capturing them, correct?
Just Imagine! Suppose you are playing a game and just a step away from winning, or you are recording a session, and a critical note is coming, that you want to consider. At this time, what would you prefer, an automatic capture or manual capture? I will go with the automatic one!
Bandicam is the perfect choice to experience such a spectacular feature and keep yourself relaxed. It can capture screenshots after a specific time limit you will get to set. That means you don't need to get up from the chair and grab a screenshot manually.
4#. Webcam Overlay
Most are still shocked about how a software tool can provide you with a webcam overlay. But, when it comes to Bandicam, all becomes possible.
Despite being a recorder for webcam footage, Bandicam allows you to overlay the webcam footage. Don't you think it can be a benefit to make your presentations? Bandicam allows you to create presentations without any other tool or app. Further, editing videos as per your requirements and needs is possible.
5#. Schedule Recording 
Bandicam helps many users with their different types of tasks. Out of them, schedule recording is the most helpful feature for most users. With these features' help, Bandicam allows users to record at a specific time daily and weekly. You can record your webinars, seminars, online classes, and more.
6#. Sharing
Bandicam comes with a sharing feature that helps to publish and share videos on Vimeo and YouTube. You need to go through a few short clicks, and that's done. Your video will upload on these platforms. The cherry on top of the cake is that you can upload on other platforms too. Do you want to know how?
Well, that's a common trick! You have to save the videos on your laptops and PCs and upload them on the platforms you like the most.
7#. Screen Recording
It is the most important part for any screen recorder to record a complete screen, and most are failed! But, in the case of Bandicam, you will not disappoint. Bandicam makes it more suitable for everyone to record a complete screen, and you can also choose a particular area to record.
8#. Device Recording 
Bandicam allows users to record on devices such as iPhones, Playstations 3 & 4, Android, Apple TV, Xbox 360, and many others. If you are doing something important related to your work, class, games, etc., you can easily record them on these devices.
9#. Screenshots 
With this fantastic Bandicam video screen recorder, you will get two functions for taking screenshots. Either you can capture a screenshot manually or set it to automated. This automatic screenshot can be taken second after second. Don't you feel this can give you a minute report? Yes, that's possible!
Pros
Bandicam is a complete package.
Great for gaming, audio, and video quality
Easy-to-use interface
Easy to record
Robust video editing features
Unlimited recording of over 24 hours
It is suitable for Windows
The paid version supports 4k quality recording
It has a free version
YouTube and Vimeo upload functionality
Drawing on recorded videos
Cons
The free version records for 10 minutes only
Sometimes it makes your PC slower
Bandicam price could be more affordable
Bandicam Price
Let me clarify one thing here! Bandicam offers a lifetime license buying plan, which means you will not get monthly or annual plans. Bandicam plans and prices are stated as per the following.
A person can buy a 1-PC License plan for $39.95.
Bandicam also offers a 2-PC license at only $59.96.
You can upgrade your license to $27.79 per PC.
However, you will get a lifetime guarantee of Bandicam once you purchase it. That means your money is not going into a dustbin whether you buy it for 1-PC or two. It is a great deal to get a lifetime guarantee and exclusive use. However, don't forget to use a free trial, which allows you to record for 10 minutes.
How To Use A Bandicam?
Bandicam is mostly used to record lectures, tutorials, gameplays, PowerPoint, Skype videos, and much more. However, you must go through some steps, which are stated below. Follow these steps and start your recording journey with Bandicam.
First, install Bandicam and activate it.
Go to "Options" and choose "Rectangle on a Screen" mode.
Tap on the REC given on the above right side.
This will start your recording. But, if you want to record an entire screen of Windows, follow the next steps.
Go to "Options" and choose "Fullscreen" mode.
Tap on the REC options given on the above right side.
These steps will record a fullscreen video. After that, some options are given to edit, play, upload, and delete in the Bandicam. To access these options, you need to visit Home and Videos.
Conclusion
That's it!
Previously, recording a computer screen for your favorite programs was just an imagination. But not now!
Modern technologies have evolved and made it easy for all of us today. Therefore, choosing the best video screen recorder with audio is not like a hard nut to crack.
However, choosing a complete video recorder package with rich features is a bit challenging. Therefore, let me introduce you to Bandicam, an all-rounder.
It helps with screen recording, game recording, webinars, zoom meetings, tutorials, and whatnot. As a result, it has become the choice of many video creators.
FAQs
Q. Why Bandicam is Best for You? 
Ans:- Bandicam is a complete package for video screen recording and publishing on different platforms. Therefore, it is best for people who always want to record something they like on a PC screen, games, and many more.
Q. How to record a video after turning off the monitor with Bandicam? 
Ans:- Most video screen recorders automatically turn off after you turn off the monitor. But, in the case of Bandicam, this problem won't be there. You can still record a video even after you turn off the monitor. You must connect your computer with an HDMI dummy plug and make your virtual monitor record. This way, you can easily record what's on your monitor screen.
Q. Which language does Bandicam support? 
Ans:- English, Korean, Chinese, German, and Japanese.
Q. Who developed the Bandicam Video Screen Recorder? 
Ans:- Bandicam is a robust screen recording software tool originally developed by Bandisoft in 2008. After that Bandicam Company re-developed the video screen recorder to take screenshots and video screen changes, including three modes.
Q. How to remove the unwanted video parts from Bandicam without disturbing the original video quality? 
Ans:- It is the most common problem faced by many video creators recording long videos. However, they can remove the unwanted parts of the videos. Bandicam Video Cutter is the best option that removes all your unwanted parts and provides you with your desired videos without disturbing the quality of the original videos.
Q. How to remove previous video files from Bandicam automatically? 
Ans:- It is possible to record 24 hours and 36 days using Bandicam. However, these recordings can make your hard disk storage full. Therefore, you may want to automatically delete some unused, old, or unwanted video files. Bandicam allows you to delete them automatically using window commands such as "Task Scheduler" & "ForFiles."
Q. How to record with two monitors using Bandicam? 
Ans:- There is nothing like climbing a mountain; you just need to go with a couple of clicks.
First, "choose the recording area."
Freely go to the Windows Desktop and tap on a vacant area.
Now, turn off the Bandicam and follow the instructions.
That's it! Your recordings during windows start right after that.