54 Best
BigONE

Crypto Exchanges Alternatives
BigONE is a crypto exchange that is referred to as a global digital currency market information hub with 5 years of experience in digital currency market information management, and mining high-quality digital assets.
The BigONE is a crypto exchange platform that provides services in around 69 countries. This crypto app supports Bitcoin, Ethereum, Ripple, EOS, QTUM, USDT, Bitcoin Cash, Litecoin, ZEC, Tron, etc.
It is an advanced financial visualization platform with live quotes, crypto price charts, and expert trading ideas that provide a variety of technical analysis tools that can help users use digital currencies to analyze the trend of the encrypted market in real-time.
The BigONE App is available on the Apple Store and Play Store and periodically evaluates the coins and items to be included in the exchange.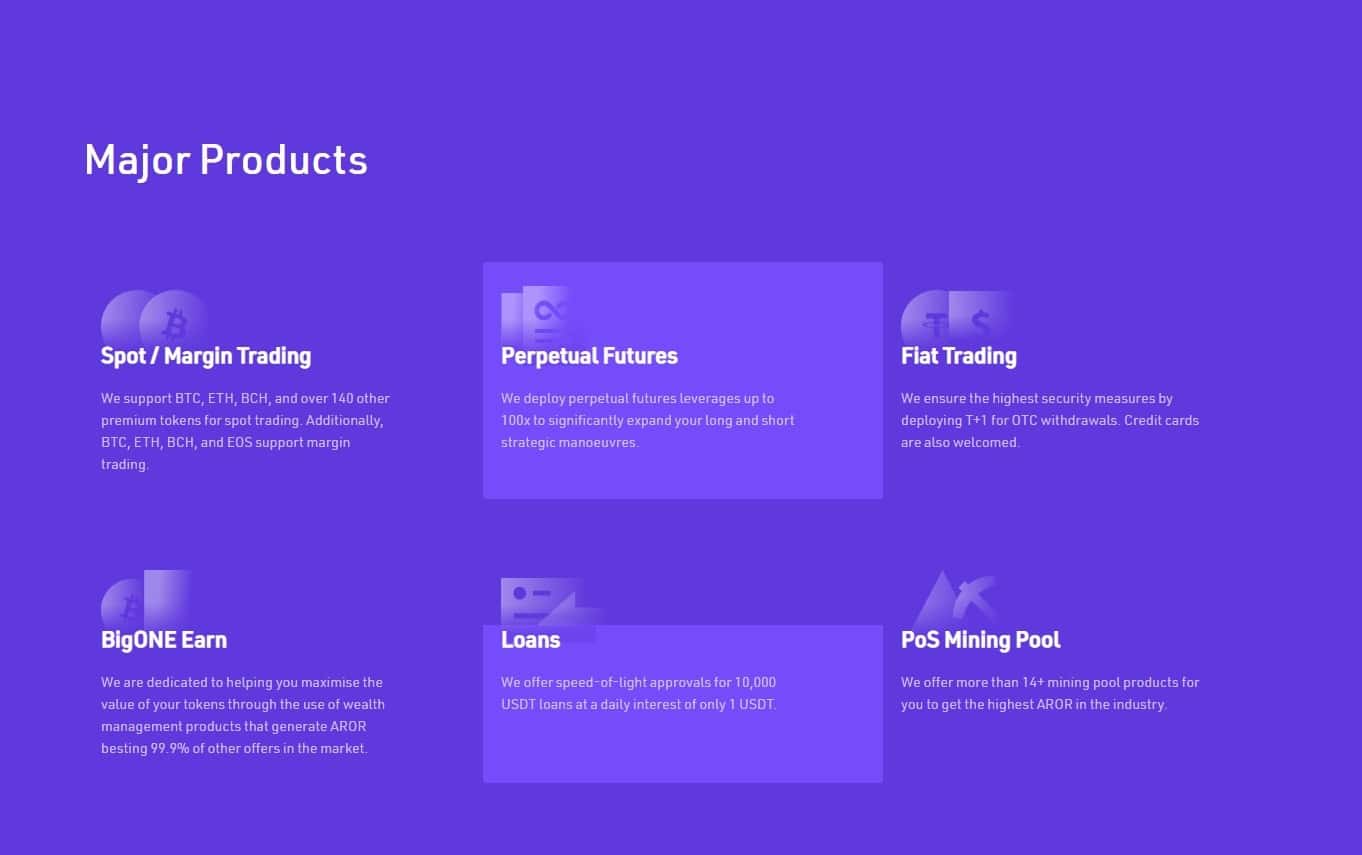 Features
Support various cryptocurrency
Real-time market
Allows Professional market map
Provides 24/7 multilingual customer service
Pros
Support multiple cryptocurrencies & BigONE tokens for trading
Competitive 0.2% trading fee.
Easy trading interface.
Support 13+ fiat currencies like $ and €
6 investment options such as loans and staking
TradingView web terminal and mobile trading application
The site and application host over 13 languages
A demo account is available to all users
No minimum deposit and one of the lowest commissions
A profitable referral program that allows you to reduce commissions
Offers Leverages of up to х3 for ETFs, х10 for margins, and х100 perpetual contracts.
Cons
No margin trade for experienced traders.
It is a quite new trading platform.
The complex commission system is based on points, and not on trading volume or other factors
The site operates officially and transparently, but there is no information about the active license
Call center not available
BigONE Fees
BigONE Exchange charges investors based on the trading activity which is carried out to fund their overall operations and generate profits.
This exchange platform charges minimal commissions and Commissions and fees are generally levied on withdrawals/deposits in the Cryptocurrency market.
Trading Fees
The trading charge is in the percentage of the trade order's value as takers and producers (makers) are separated in many trades.
Note that takers are those who "take" an existing order from the order book
It is a fact that BigONE imposes a flat trading fee, which means that both takers and creators who are new to this platform usually pay a fee of 0.20 percent. These fees are in line with industry rates for centralized exchanges across the world and BigONE splits its contract traders into takers and makers.
More so, Takers pay a fee of 0.06 percent while makers get a break on their trading expenses and only pay a fee of 0.02 percent. These fees are charged according to the crypto industry averages.
Withdrawal Fees
BTC withdrawal on the website is charged a fee of 0.0005BTC which is compared to the normal industry average. BigONE's withdrawal fee is lower than the industry average which is generally calculated at 0.0006BTC.