8 Best
Norton Secure VPN

VPN Software Alternatives
What is it?
There are many VPN providers, but there are some that are better than others. Other VPNs have their strongholds. Norton Secure VPN is one of the excellent VPN you can consider. If you want to cover your online activities, Norton Secure VPN takes care of online security.
Interestingly, the VPN service provider has 1000s servers in various locations.
The Norton Secure VPN safeguards your privacy online by securing your personal details such as passwords, bank cards, and more.
This VPN can be safely used on various gadgets such as PCs, mobile phones, and MAC. And the VPN can secure up to 10 devices.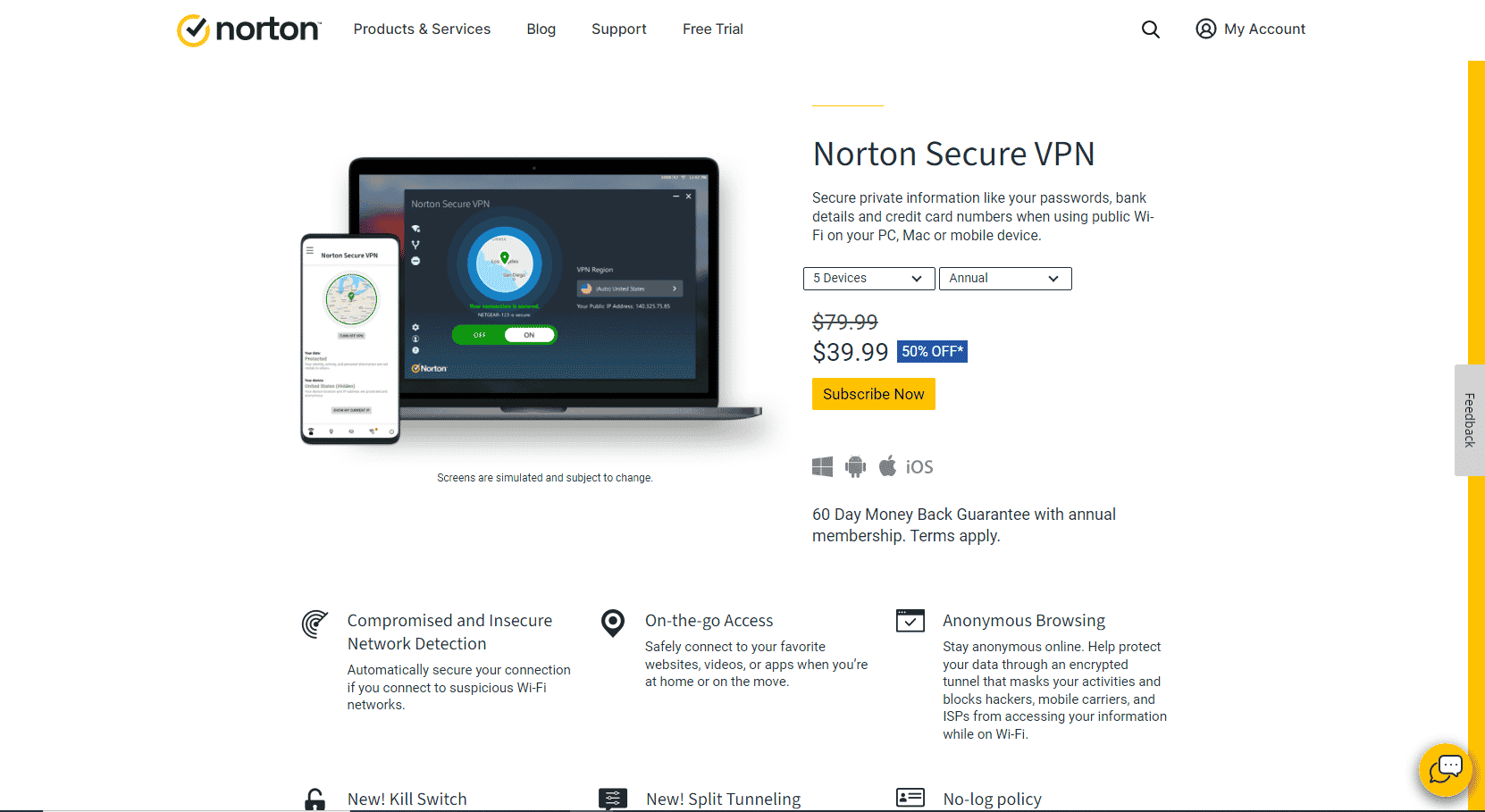 What does VPN do?
A virtual private network (VPN) is for securing your activities' privacy online, and Norton Secure VPN does not fall short of that. Actually, it does more than that in comparison to other VPN service providers.
As you browse online, you are likely to be exposed to phishing, cyber theft, and more. Norton makes sure that you browse anonymously. And most importantly, there is a no-log policy. This means that what information you punch online is not collected.
If you happen to connect to a suspicious network or Wi-Fi, Norton acts swiftly to secure your connection. With the Kill Switch, your privacy is ensured. This feature disconnects your browsing device if the VPN connection is lost.
Interestingly, you can enjoy browsing online without being bothered by unwanted popping Ads. Its ad-tracking blocker feature keeps annoying ads at bay.
Norton has great infrastructure in many locations to secure its users scattered worldwide. Its users are spoiled with more than 1000 servers dotted in 30 countries. Noteworthy is the presence of Norton servers in Africa, particularly in South Africa. Most VPN service providers ignore Africa.
Pricing
All these services come with a price tag. Interestingly, you have the freedom of choosing a subscription that you can afford. Additionally, you can choose the number of devices that you want to secure. And you also have a choice of either being a monthly or annual subscriber.
You can pay as little as $4.99 per month or $39.99 per year for one device. Interestingly, with $39.99 you can pay a yearly plan for 5 devices. For 10 devices, you can fork out $59.99 per year or $9.99 per month. Note that pricing can be discounted, and it can be changed anytime.
Features
Some of the features that make Norton Secure VPN stands out are as follows;
Unlimited bandwidth

No-log policy

Kill switch

Anonymous browsing

Has more than 1000 servers in 30 countries

Bank-grade encryption

Ad-tracking blocker
Pros
Easy to use

Hides device location

Affordable pricing

Secures personal information from cybercrime

Hides IP address

Connects multiple devices

It is compatible with Android, Mac, iOS, Windows

There is a 60-day money-back guarantee
Cons
Speed is not smooth

DNS leaks risk the users' location privacy

Does not support torrents

Not user-friendly with streaming services
Take away
Norton is one of the best VPN service providers that are affordable. The Norton Secure VPN can be deployed on up to 10 devices, and it works perfectly with Android, Mac, iOS, and Windows. Is Norton VPN safe? Yes, Norton VPN is 100% safe with this VPN, you can hide your IP address, secure your personal details, block ads, watch banned movie content, and much more.
However, the speed is not that 100% smooth. And if you are into streaming or torrenting, this VPN does not support that.