10 Best
Wordtune

Paraphrasing Software Alternatives
Wordtune is a powerful AI writing companion that helps you understand what you're trying to say and gives you suggestions on how to write clearer, more compelling, and authentic articles whether you're using it to write personal emails, create documents for your clients or exchange instant messages with your colleagues.
With Wordtune, writing is no longer a tedious or lonely task as it helps you express yourself better. It also has an editor where you can use the tool, which is quite similar to Grammarly and Powered by advanced AI technology that has a deep understanding of context and semantics. Wordtune App goes far beyond the grammar and writing assistants and offers completely new capabilities.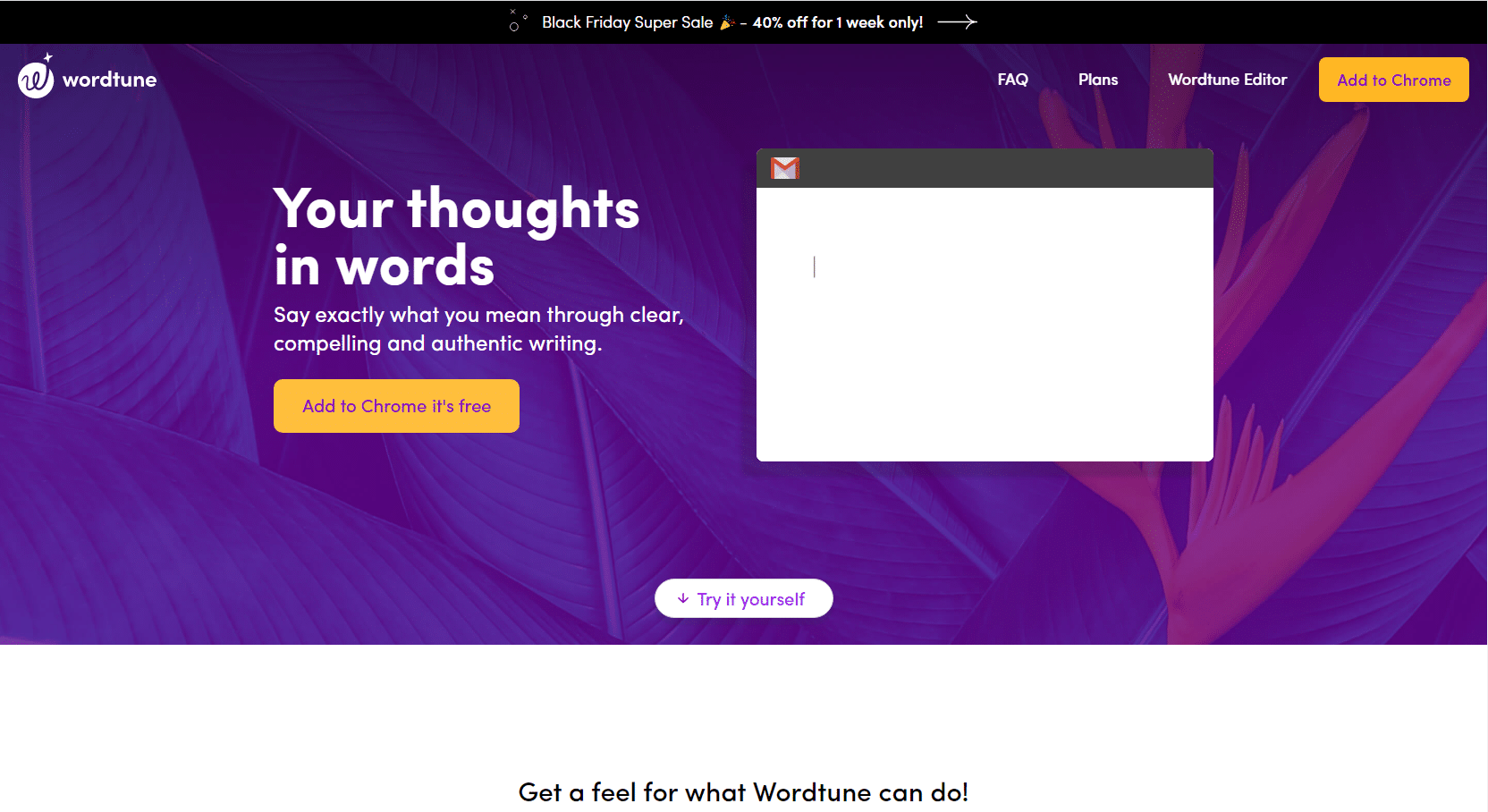 Wordtune is a Paraphrasing Tool that has a multi-platform extension that works where you write which includes; Gmail, Google Docs, Facebook, Whatsapp Web, Outlook, etc. In addition, it offers you an inbuilt editor, which is a central place that works across browsers, that is accessible without having to use the extension
Features:
Apart from having a browser extension, Wordtune App also has an editor which you can use quite similar to Grammarly.
It makes the sentence more informal or casual, and less serious.
It makes the text sound more corporate or formal, professional, and great for writing to your boss.
Shorten your sentences to fit as much as possible in the least amount of words.
Helpful when you want to express a thought in the most complete and lengthy way without making it ambiguous and fluffed.
Suggests better words and variations of the same sentence.
Pros:
Write a better and clearer message and deliver it the way you want
Make brilliant vocabulary choices
Spend less time editing and perfecting your text
Write with confidence
Sound more fluent
Expand your English vocabulary
Cons:
The disadvantages are based on the user's preference
Pricing:
It offers a 7-day free trial and a free version
Premium plan cost $9.99 per month
A premium plan for teams cost $119.88 per month
For other pricing plans, contact the website
Wordtune is a writing companion tool that helps you say exactly what you mean. It is powered by advanced AI to generate real-time ways to turn your ideas into compelling, engaging, and authentic writing and rephrase your sentences. It retains the meaning of your sentence while improving tone, word choice, and flow. You can also check out other Paraphrasing Tool Alternatives if you do not feel comfortable with this software.