Hey Guys, We are back with another blog. Here we are going to discuss How To Hide Likes On Instagram Posts? So, Let's get started.
What is
'Like'
on Instagram?
Perhaps you genuinely don't know what this new feature is. Well, this is a special icon that implies that you appreciate or adore an Instagram photo or post. You will only need to click the 'Like' button again if you decide to retract that reaction. The icon's highlight color will change from red back to the default color (white).
Why Do We Need To Hide Likes & View Counts From Our Instagram Posts?
Social media has piled too much uncalled-for pressure on humanity, especially the youth. Most teens peg their worthiness on the number of likes and views they get on social media giant platforms such as Twitter and Instagram. Unfortunately, this lifestyle has adverse effects on one's mental health, especially for users with weak personalities.
Because of this concern, Instagram decided to introduce the 'Hide Likes and View Count' feature in 2019. All Instagram users need to know steps on how to hide likes on Instagram as soon as possible for their overall well-being.
How To Hide Likes On Instagram Posts?
I don't mind making your day by divulging that you can hide likes on your Instagram feed. I have a few proven steps for you on "How To Hide Several Likes On Instagram", follow them carefully.
Log in to your

Instagram

account

Click the profile icon from your Instagram menu
Tap the 'Settings' Option
Navigate to the '

Privacy and Security

' Section

Scroll down to

Posts

and enable

Hide Like and View Counts

The good news is that this step is reversible. You can toggle the option as you please any time you please.
Hide Likes & View Count While Creating New Post
Did you know that you can hide Instagram likes when posting on Instagram? I heartily feel the need to discuss the steps on how to hide likes on Instagram before posting on this social platform.
Click on the

"+"

icon, select an image or video of your choice

Apply the appropriate crop setting then click Next

Give your image or video eye-catching filters, click Next

Add a caption, then click on the

"Advanced settings"

option

Enable the

 ''Hide Like and View Counts''

option from the drop-down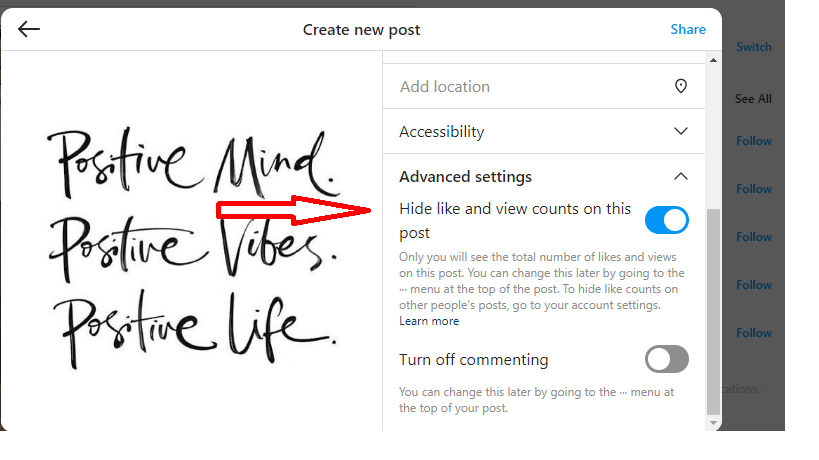 Hide Likes From Already Posted Instagram Posts
I have some gladdening news for you; it is possible to hide the likes of already posted Instagram posts. Which specific steps must I follow? 
Go to your Instagram profile

Select on your post which you want to hide likes

Tap 3-dots (

)on the top right corner of the Instagram post

Choose 

'Hide like count

'
How To Hide Likes On Instagram Posts? (On Other People's IG Accounts)
Astoundingly, Meta recently added a brand-new feature on Instagram which allows you to hide likes on other people's accounts. That means you can hide his information if you do not find it relevant to you.
The following are easy steps on how to conceal likes on another Instagram user's account.
Visit

Instagram

and go to your profile page and click it.

Select the

'Settings''

option

Choose the

'Privacy and Security'

option 

Scroll down to Posts and toggle the

''Hide Like and View Counts''

option.

How To Check Likes On Any Instagram Post (Even If They're Hidden)
These days, one can check out the total number of likes on an Instagram post even if they are hidden. Here is how to check Instagram likes on your post
Login to

Instagram

& choose an Instagram post

(whose like counts are hidden)

Click the 3-dots at the top-right of the Instagram post

Tap on the

Copy link

Visit any browser of your choices such as Chrome or Mozilla Firefox

Paste the Instagram URL link on the search bar

You will see the exact post including the total number of likes and view counts.
Does Hiding Likes Affect Our Instagram Performance?
Yes, it does in some way! Although Instagram can still capture your data as always, your Instagram feed is dealt a blow. To give a good example, the Instagram algorithm does not give your Instagram feed that much priority.
Apart from that, this feature unfavorably affects the performance of your Instagram posts. It is even more dreadful if you aspire to represent a successful company, as they will not have a reason to consider you.
Always recall that brands consider potential influencers based on their social media popularity. Therefore, if you hide the number of likes, brands can't determine how suitable you are.
Lastly, we can act as if hiding likes limits interactivity on Twitter. Imagine if you disabled both commenting and likes. How will your followers react to your Instagram posts?
Above we have discussed How To Hide Likes On Instagram Posts? now let's learn why you need to turn off commenting.
Why Do We Need To Turn Off Commenting On Our IG Posts?
It is increasingly becoming ineluctable to turn off comments on Instagram posts. Why is that so? Well, here are the top reasons to consider this new feature.
1. To prevent annoying alerts
Instagram notifies you immediately if anybody comments on any of your Instagram. Imagine if you are a well-known public figure with millions of followers. You will probably receive a notification after every few seconds.
Thankfully, Instagram introduced a turn-off comments feature. No user can reply to any of your Instagram posts. Therefore, you will not receive any comment notification.
2. To build self-confidence
The same way it feels good to get a positive comment is the same way it hurts to get an offensive one. Therefore, you should consider turning off comments once in a while to shut down other people's opinions about you.
3. To protect your mental health
Social media guarantees anonymity especially because it is easy to own a fake account. Sadly, this reality has made it easier for compensatory narcissists to disrespect social media users.
Have you ever posted a photo or quote with the best of intentions and someone insulted you? Chances are that it disturbed you for some time! I suppose that informed Meta's decision to introduce this new feature.
4. To save time
I won't lie, it is tough to ignore comments made on any of your posts. The temptation to view all comments and respond to them can be too overwhelming. Unfortunately, one response may trigger an online chat, thus consuming too much of your time.
Turning off commenting helps to shut down this possibility for good. Anyone that wants to contact you should send you a chat request via your inbox.
5. To pass a message
People tend to dilute information in the comment section. It is so common to see people trash a given comment for no specific reason. Turning off comments help people to internalize the message. Hence the information becomes much more impactful!
My Opinion
Finally, it is so depressing to know that most people, in this day and age, seek validation from social media. Astonishingly, most teens' sense of confidence depends on the number of likes and views on social media. It is not stupefying at all that teen suicides are on the rise these days. It's high time more people learned how to hide likes on Instagram, to remedy this. Don't peg your happiness on strangers online. Be free! Be self-confident!
How To Disable Commenting From Our Instagram Posts?
In 2022, you can turn off comments on any Instagram post in a split second. This way, nobody, including your followers, can comment on your post as soon as you enable this Instagram option.
Log in to your

Instagram

Account

Click

icons from your Instagram post

Choose

the 'Turn off commenting

' option
Is It Possible To Turn On Commenting After Disabling Them?
Yes! You only need to follow specific steps to re-enable commenting on your Instagram post. Read this:
Visit

Instagram

and key in your credentials to log-in

Click three-dot on the top-right part of your Instagram post

Tap the 

''Turn on commenting

'' option
Above we have discussed How To Hide Likes On Instagram Posts? now let's see the faqs.
FAQs
1. Does Instagram notify an Instagram user who likes their post?
Yes, it does! Instagram notifies a user whenever someone likes their posts. However, the platform won't notify you if someone is unlike the post. What usually happens is that this social media platform immediately withdraws the ''like'' notification.
If you're keen enough, you will notice that your total Instagram likes will begin to dwindle. Therefore, even though you won't get a direct notification, it is possible to know if anyone retracts their Instagram likes.
2. What does an Instagram auto like mean?
Automatic Instagram likes refers to a service that occurs if you opt for the likes to post automatically. Instagram servers will promote your post enabling you to get more likes.
3. What is an Instagram view count?
An Instagram view count is a tally of the total number of Instagram users that have viewed your Instagram video. However, the Instagram algorithm only considers the view if a user watches the video for at least 3 seconds. An Instagram user can choose to hide or display the view count to their followers.
4. When and why did Instagram introduce the 'hide likes' feature?
Instagram first introduced the 'Hide Like Counts' option in April 2019. Meta introduced this feature in response to users' concerns about the adverse effect of social media platforms on their mental health.
Tens of social media teen users have fallen victim to bullying by other users on social media. Meta opted to add new features such as the 'Hide Likes Count' to reduce this excessive peer pressure.
An Instagram user can know how many people liked their post but the information is hidden from the public.
5. Mental health experts keep asserting that hiding likes on Instagram are beneficial. How's that so?
I won't lie, it always feels so good to get a like on Instagram. However, I don't think you should peg your general hope and self-esteem on the total number of likes you get. Health experts warn that obsessing too much on likes and views can predispose you to depression.
On account of that, it is ingenious to hide views and likes from time to time. Do not let naysayers lie to you that it's narcissistic to do so. Every human being has an individual responsibility to safeguard their mental health no matter what.
6. I would rather turn off notifications than hide likes and views on Instagram. What are the key steps to follow to do so?
Please tap your 'Profile' icon and click the 'Menu' icon. After that, you should click 'Settings' to reveal the 'Notifications' and follow some simple steps to manage notifications as you wish.
7. Is it true that some social media users buy likes?
Yes, they do! Again and again, some social media influencers buy likes using third-party apps. Some sell likes for as low as $5-$10.The exact amount depends on the total number of likes you wish to purchase.
8. Is it smart to take a break from Instagram?
Yes, it is! All social media platforms gradually put some social pressure on people. You may not know this; some people fake a certain way of life just to win over social media users. In more painful cases, others run into huge debts as they attempt to feign a certain lifestyle.
Taking note of that, you need to take periodic breaks from social media. Your view of life will change for the better!
Hope you like this blog "How To Hide Likes On Instagram Posts?" If you like it, Please share it with your friends.