The world is getting digitized, which needs more security to save data and provide service at your best. Which one is the Best Web Hosting Solution Between Bluehost vs GoDaddy? Which web hosting platform is more reliable and keeps all your requirements in hand?  How many internet users can access effortlessly on your website?
There are many experienced web hosting sites that provide the best service to their users according to their requirements. Bluehost and GoDaddy have commonly heard names that provide a set of web services to new users as well as their existing users. They are good competitors, so we can say Bluehost vs GoDaddy.
A study by Think with Google found that when your page loading speed increases from 1 second to 3 seconds, the bounce rate increases by 32%, which means a loss of 7% to 11% in conversation.
It's alarming, right? So it's necessary to select a proper domain hosting site to run your site smoothly. Now let's see which one is better for you according to their features, tools, services, and many more.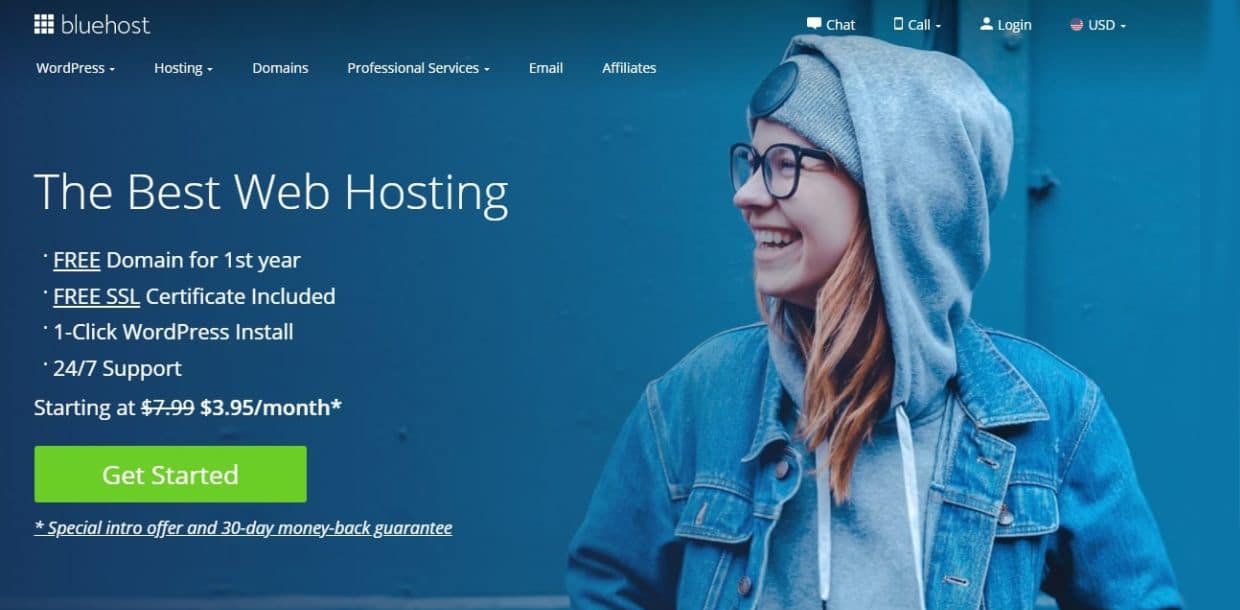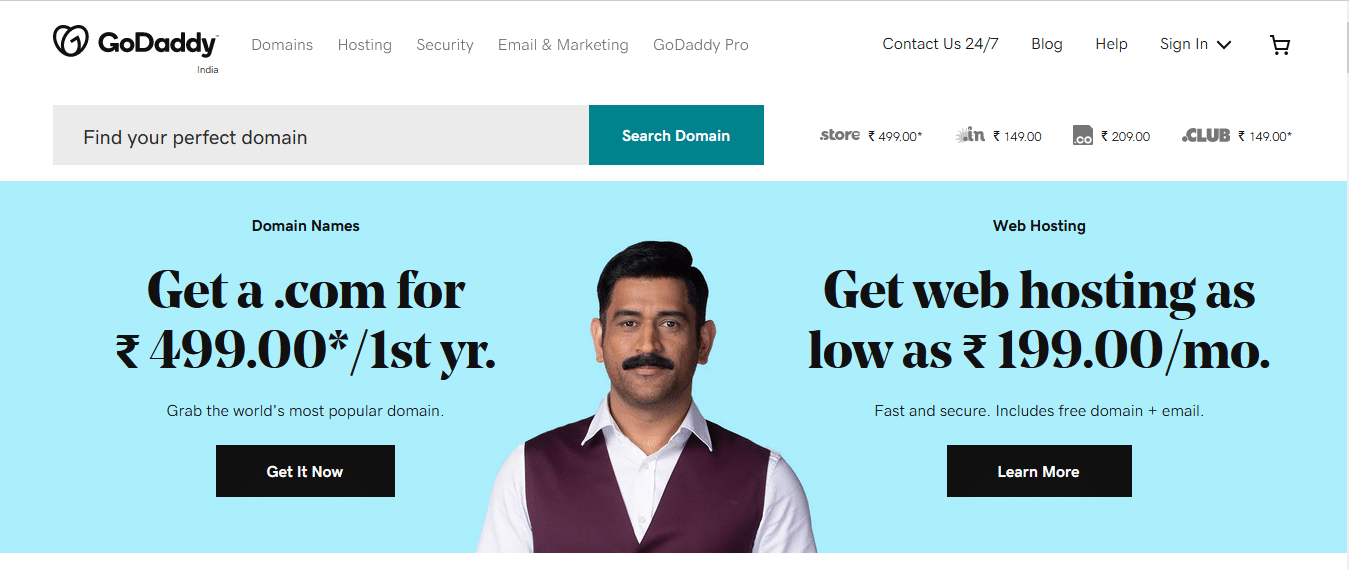 Bluehost

vs

GoDaddy

:

Key

Features

Comparison
| | | |
| --- | --- | --- |
| | Bluehost | GoDaddy |
| Free Domain | Yes | Yes |
| Control Panel | cPanel | cPanel |
| Free Backups | Yes | No |
| Disk Space | 100 GB | Unlimited |
| Uptime | 99.98% | 99.97% |
We will further discuss the following things:
| | | |
| --- | --- | --- |
|   | Bluehost | GoDaddy |
| Website Builder | No | Yes |
| Databases | Unlimited | Limited |
| WordPress Hosting | Yes | Yes |
| Website Migration | $149.99 | Free |
| Money-Back Guarantee | 30 days | 30 days for annual plans, 48 hours for monthly plans |
Domain
Registration
It's a common game played by companies to provide discounts all the time. Don't get stunned by that, compare the price as per your requirements and then take a wise decision.
Free domain is available in both Bluehost and GoDaddy on all yearly plans.
Bluehost's domain registration costs $11.98 for the 1st year and $17.98 each year as per renewal. Specific hosting packages are included for free, but domain privacy protection typically costs $11.88 per year.
Whereas, GoDaddy is the web's leading domain registrar with more than 78 million domain names. GoDaddy's domain registration costs $2.99 for the first year and $17.99 each year as per renewal.
Website
Builder
To help novice users with the best features of web hosting, Bluehost provides the best help as per need. A user can easily use the drag-and-drop functions of Weebly and WordPress without any tech-savvy knowledge.
One can also use it for free to create a simple website of up to six pages. But if you want some progressive features, like password protection for your web pages or custom themes, you can upgrade to a paid plan of around $8.99 per month.
Whereas, GoDaddy doesn't offer any freebie version of its website building tool. Its website builder (formerly known as GoCentral) starts at $1/ month for a personal plan, which is comparatively economical.
It mainly focuses on simplicity and user-friendliness, allowing users to utilize pre-made templates and drag-and-drop interfaces. SEO and E-commerce tools are offered on upgraded plans.
Databases
Unlimited access to MySQL features is available in all the hosting plans by Bluehost.
Whereas, Godaddy provides limited access to MySQL for its shared hosting plans.
Even GoDaddy offers limited email accounts as compared to Bluehost.
WordPress
Hosting
Bluehost and GoDaddy offer specialized hosting options for WordPress. It's worth noting that WordPress has officially recommended Bluehost since 2005.
Benefits

offered

by

Bluehost

on

choosing

the

WordPress

package

:
One snap installation

Easy site management by strengthening cPanel

3 different specific hosting plans for WordPress

24/7 tech support by WordPress experts via email, phone, or live chat

Painless scalability to larger hosting packages
Meanwhile, GoDaddy offers "managed" WordPress hosting, things related to installation, daily backups, and updates all are taken care of by the company on your behalf. Although GoDaddy doesn't offer one snap installation for WordPress, it does offer template sites and a drag-and-drop feature. Add on, all the plans include a domain name, email, and 24/7 tech support.
Both options are appealing, but if you want to be more hands-off, GoDaddy would be a good choice. But, if you want to work by yourself with the unavoidable benefits, then Bluehost would be a thoughtful choice.
Website
Migration
If you already have a hosting provider, and you are willing to switch to Bluehost or GoDaddy, then you'll want to make sure you don't end up with a technical headache that could've been avoided. Let us make it easy for you, both provide migration with fewer efforts, but of course, both have their terms. Let's see which suits best to your needs.
Bluehost provides a crackerjack website migration service, which migrates up to 5 websites and 20 email accounts. With all the tedious work related to migration done by the company, you don't even have to lift your finger after paying a one-time fee of $149.99.
Godaddy offers free migration, as they don't provide hands-off service for it. Non-WordPress websites have to be migrated manually, which involves downloading your website's files from your old hosting provider and then uploading them all to GoDaddy.
It's a little smoother with WordPress websites – these can be migrated in the "My Products" section of an existing GoDaddy account, where you need to choose your aimed hosting plan and provide information about the site you'd like to migrate.
Money
Back
Guarantee
Bluehost grants a 30-day money-back guarantee only on hosting plans, other products and services such as domain name, and administration costs are add-ons.
GoDaddy's money-back guarantee is not the same as most companies. It offers a 30-day money-back guarantee only on the annual hosting plans. For monthly plans, it's limited to 48 hours. The actual refund is the same as Bluehost as GoDaddy won't cover the domain name and another service of the plan. So, it is advisable to read the terms and conditions carefully.
Bluehost

vs

GoDaddy

:

Ease

of

Use

Comparison

The intricate technicalities of hosting a website may become frustrating at times, as everyone is not able to give that much time and is not tech-savvy. Auspiciously both of the web hosting sites provide an intuitive and user-friendly standard cPanel.
Bluehost's
cPanel
Simple and classical interface

Backend is polished and organized for clarity
GoDaddy's
cPanel
Sleek and simple

Difficult to operate multiple websites
Bluehost

vs

GoDaddy

:

Speed

and

Uptime

Comparison
Bluehost

vs

GoDaddy

:

Speed

Comparison

As we already talked about, how important is the loading time of any website, and how does it affect the visitors and bounce rate?
Bluehost

:
Takes less time during a surge in site traffic
2.4 secs load time with small site traffic
Servers run on AMD power centers
GoDaddy

:
Takes time compare to Bluehost during a surge in site traffic
2.6 secs load time with small site traffic
Servers run on Intel Core i7 processors
Bluehost

vs

GoDaddy

:

Uptime

Comparison

The most important feature of any website is to be available all the time with all the features.

Bluehost offers a 99.9% uptime guarantee, but you cannot receive information about possible credits if the company doesn't comply. In case you cancel your hosting plans with Bluehost they return your money for the remaining period without charging any extra fees.

GoDaddy too offers 99.9% uptime for all websites using its service. Greatly, you can receive credit toward your plan if the company doesn't uphold its guarantee. 5% credit you receive from the monthly plan but not as a refund, it can only be used to buy other products from GoDaddy.
Bluehost

vs

GoDaddy

:

Security

Comparison
Bluehost
Free SSL Certificate
CodeGuard Backup Tool for higher-tier plans
Paid SiteLock Premium against malware
Charged security against WHOIS
GoDaddy
Paid SSL certificate with other securities and back-ups
Bluehost

vs

GoDaddy

:

Customer

Support

Good technical support is beneficial in hosting. One doesn't often need it, but when you need it, it should be in your corner.

Both offer email, live chat, phone support, and a ticketing system. They maintain a comprehensive knowledge center where you can learn more about a plethora of web hosting-related topics and other things.
Bluehost's
knowledge
base
center
FAQ, email, WordPress, domains, account, and control panel.
GoDaddy's
knowledge
base
center
Domain-related, hosting, and servers, online marketing, partner programs, productivity, and websites.
Bluehost

vs

GoDaddy

:

Pros

/

Cons
Bluehost

Pros

/

Cons

:
Pros

:
Fast and reliable
Freebie domain name for 1st year
Free SSL certificate
Free CDN (Content Delivery Network)
Unlimited web traffic and storage space
Unlimited MySQL databases
Unmetered bandwidth
Excellent customer support
30-day money-back guarantee for all plans
Cons

:
No monthly pricing options
No free website migration
High renewal rates
GoDaddy

Likes

/

Dislikes

:
Likes

:
Free domain name for 1st year
Unlimited bandwidth
Unlimited disk space
99.9% uptime guarantee
Excellent customer tech support
Dislikes

:
Lots of upsells
Absence of critical features in basic plans (e.g., SSL certificate, backups, security)
Costly renewal rates
Confusing money-back guarantee
Bluehost

vs

GoDaddy

:

Pricing

Undoubtedly, pricing is one of the significant factors for web hosting.
| | | |
| --- | --- | --- |
|   | Bluehost | GoDaddy |
| Shared Hosting | $1.95 – $13.95/ month | $2.99 – $12.99/ month |
| WordPress Hosting | $3.95 – $6.95/ month | $4.99 – $24.99/ month |
| VPS Hosting | $19.99 – $59.99/ month | $19.99 – $74.99/ month |
| Dedicated Hosting | $79.99 – $119.99/ month | $89.99 – 179.99/ month |
The
Bottom
Line
Bluehost and GoDaddy are deep-rooted and reliable web hosting platforms that going with either won't disappoint you. With whom to go highly depends on your specific needs and budget.
You would be having basic knowledge about these two, hope we might have added to your information.