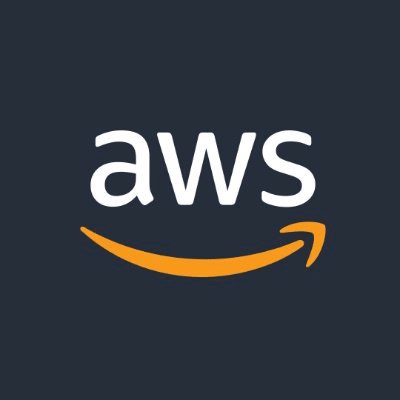 Amazon SES Review: Features, Pros, Cons & Best Alternatives
Introduction
Nowadays, Amazon is one of the best shopping sites known for its quality, on-time delivery, and effective products. But, do you know about Amazon SES?
Amazon is developing its email services, and one of the best services of this platform is Amazon SES (Simple Email Service). You won't believe it, but this is one of the best email services you can use for your business.
I used this one and sent over 47,000 emails to clients using this fantastic platform. But you can send more, up to 62,000! Do you want to know how?
Read this review guide and get the complete information on AWS SES below.
What is Amazon SES?
Amazon provides the less expensive, scalable, and flexible email service Amazon SES, also called AWS SES. Mainly it is beneficial for transactional communication like sales outreach, newsletters, email marketing, order receipts, and much more. I have also done email automation at high volumes and that too at an affordable cost. So, you can try them too!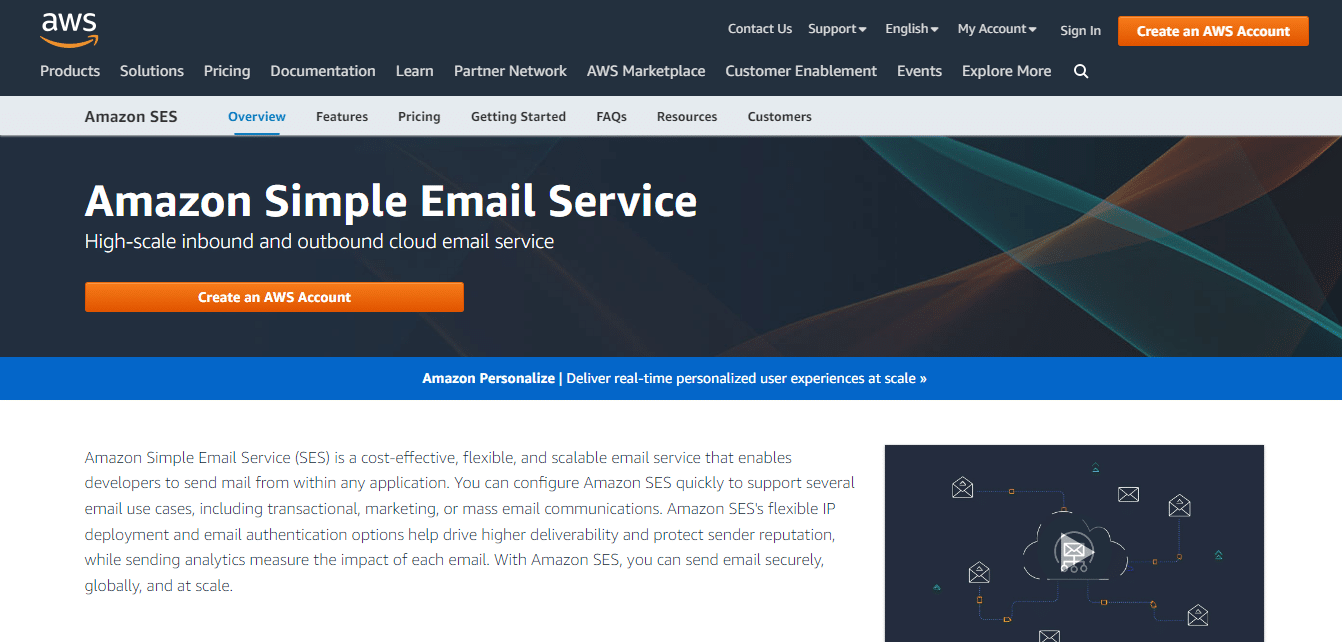 Features
When I first used it, I got surprised after knowing its features for a robust email system. Also, it helps to reduce the challenges occurring in creating large-sized email solutions. So, let's check out its features from the following.
-> Easy to deliver
Every business owner will want their emails to reach their clients and be safe from threats. Besides, you can block malware and viruses from being sent by using this function. Also, it notifies the sender if emails have gone to spam folders and help with content strategy development.
-> Available with flexible configuration options
You can choose to send emails with different methods, including AWS SES console, Amazon SES API, and the Simple Mail Transfer Protocol.
-> Easy to integrate with other platforms
With this function, you can integrate with several platforms, and the process becomes easy if you want to host with AWS. Jira, Exim, Postfix, Thunderbird, etc., are amongst the best integration platforms.
-> Complete control of emails
You can get complete control over which emails you send and what is better to do with them after sending them.
-> Dashboard
A great dashboard of this function tracks the bounce activities and helps you notify the issues affecting the email deliveries. With that, you can take quick action on your sender's reputation.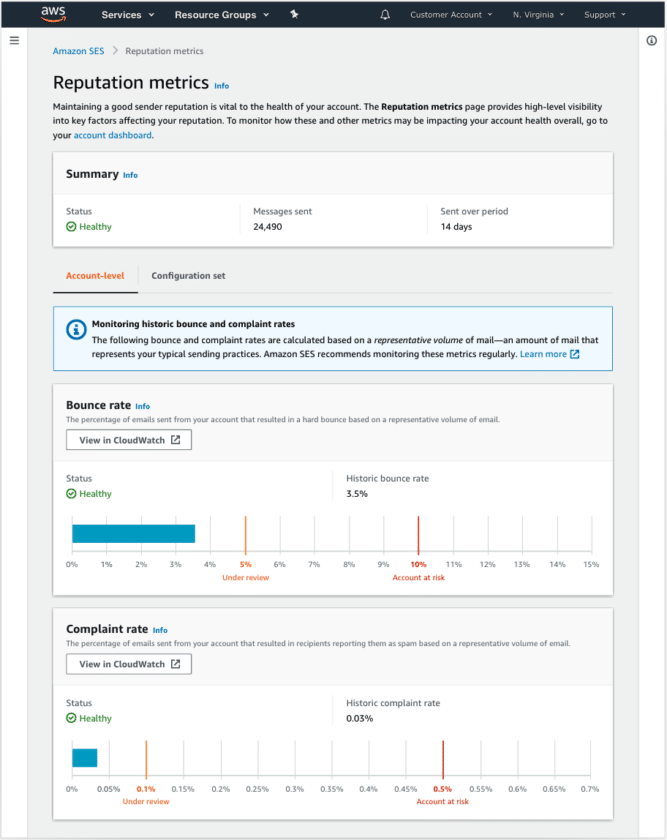 IP Addresses
Amazon uses the IP addresses shared with existing AWS SES customers by default. But, these IP addresses are entirely secured, well established, and managed perfectly for high email deliverability. And the best part of this is you don't need to pay the extra amounts.
However, you can get the chance to use your IP address at an extra cost which is mentioned in the pricing section below.
Amazon SES Pricing
Do you know what attracts me to connect with the "Amazon Simple Email Service?" The affordable and comfortable prices. These are based on the following.
Number of emails you send to clients
Number of emails you receive from the clients
Additional services.
Depending on your needs, you can also use their pricing calculator for customizable quotations.
Sending Email Pricing
If you are integrating with an application running on Amazon EC2, you can send 62,000 emails monthly without any cost. But, the email client does not allow you to send the emails free of charge.
In addition to this, you can send 1,000 emails for $0.10 only, which is cheaper than Mailchimp. Also, you have to pay an extra charge of $0.12 for every GB attachment.
Receiving Emails Pricing
You can receive the first 1,000 emails free of cost. However, they charge $0.10 for every 1,000 emails you get.
Extra Services
You can add the following services to your package.
IP address – There is an advantage of taking an IP address on lease at $24.95 monthly for each IP address.
Own IP address – This means you can use your IP address to send an email with Amazon SES, which costs nearly $24.95 monthly for every IP address.
Dashboard – They offer a Deliverability Dashboard costing $1,250 monthly, including five domain reputation monitoring with 25 predictive email placement tests.
Pros and Cons Of AWS SES
You all know that everything on the globe has its benefits and drawbacks. Therefore, AWS SES is a better platform for its incredible work; it does not fit in a few situations. You can imagine that after knowing the pros and cons.
Pros
Using AWS SES has become affordable. Creating an email account does not require any cost. You only have to pay for the emails you send, which is more cost-effective than any competitor.
This platform is thoroughly safe and well-monitored to protect you and your clients. In addition to this, you can get protected from suspicious accounts.
Most will agree that Amazon is one of the best platforms for flexibility and a cloud space offered to developers. It indicates that many products are designed within the Amazon mainframe. Also, you can get updates quickly because it is encouraged with present and upcoming trends.
When it all comes to your and your client's security, Amazon becomes energetic and takes care. They will cover your email content, and if the email looks like spam, it will be marked as spam. It will help you adopt messages for delivery; they also monitor the complaint rates and bounce to ensure that they are not allowing spam allotments.
Cons
AWS SES's initial configuration is a bit tricky. For me, it was a challenging task to complete the initial configurations. Sometimes, you may need a developer to set up initial configurations as compared to other "plug-and-play" email services.
Although Amazon SES is a robust email system, it is not specifically natural. The affordable prices make it easier to get financial access. Thus, the lack of complete rehearsal and template lack makes it complicated for non-web developers to set it up.
If you depend on A/B testing, you will be disappointed by using this email service. It does not provide any A/B testing facilities to the clients or users like other mass email service providers.
The primary email marketing feature list management is absent in the list of features of AWS SES. But, I am impressed by the tool "Up" fulfilling the email marketing feature on top of the Email Marketing features. As a result, the list management issue can be solved easily.
This software is only accessible via a website.
What is the Usage Of This Email Marketing Tool?
You can use AWS SES for many purposes. I used this platform mainly for three categories: Transactional emails, Marketing emails, and Bulk email communication.
-> Transactional Emails
It will help you send immediate transactional emails from your application to customers, like password reset and purchase confirmations.
-> Marketing Emails
It works as a marketing email service to inform your audiences about new products or services, offers, and more with email templates and content.
-> Bulk Email Communication
You can send emails in large quantities, including notifications, announcements, large communities, etc.
How To Use Amazon SES?
There are a few steps you have to follow to use Amazon, and these are stated below.
Step 1: SMTP Credential
You can use AWS SES by creating SMTP credentials.
Visit the AWS management console and login into the account.
Go further with the "SES Email Sending Service Option."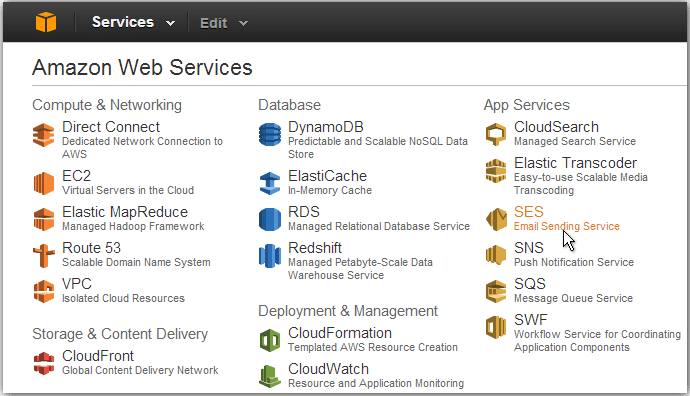 Tap on the "SMTP Settings" options.
Choose the "Create My SMTP Credentials" option.

After that, do not forget to copy the credentials because the password is shown once only.
Step 2: Verification
Verify your email address by following the below steps.
Do log in on Amazon SES.
Go further with the "Verify a New Email Address" link.
It will provide you with a dialogue box. You have to use the same email address you want to use in AWS SES to send emails. And go further by clicking one more time "Verify This Email Address."

Now you have to click on the verification link sent by an AWS SES asking for your permission. But, Remember, this verification link is valid only for 24 hours.
After that, you can check the email address status by converting it into "Verified."
Once you complete these steps, you are all set to send the emails from Amazon SES.
Step: 3 Amazon SES Restriction Request
To protect users from fraud, Amazon does not provide unlimited usage of Amazon SES to new users. You have to remove these restrictions. Therefore, you have to submit a request to remove the limits on AWS SES to an extreme access level in the Amazon Support Center.
Step 4: Arrange The Applications To Use Amazon SES
Now, the last step is to arrange your application to Amazon SES. I can't provide you with the guidelines on step-by-step procedures. However, you have to find the correct SMTP server and arrange the application with its information and credentials. You have two choices to do this. Either you can choose to go with the application configuration files or type the information required by the user's interface.
FAQs
1. How To Test Amazon SES Easily?
If you want to test the abilities of AWS SES, you should go further with the Amazon SES sandbox. You can send emails to verified customers or clients using this AWS SES. In addition to this, you have to take care of the email limit volume to send an email every day and every second.
2. How To Start Sending Large Email Volumes Right Away?
When you are all set and want to send emails to unverified clients, you must submit an Amazon SES Sending Limit Increase appeal to the AWS Support Center.
Conclusion
It's done for now!
I have come a long way to tell you about Amazon SES in this review. It is one of the best, less expensive, and most flexible email services one can use. Mainly it is used for transactional emails and marketing emails, etc. Therefore, most people use this platform for their comfort.
However, a few people are unaware of the email system, and I have written this for them. It includes the meaning, features, pros and cons, pricing, and all you should know about Amazon SES.
In the end, I hope you will like this blog, and if you want to ask me a question, you can drop it in the comment box below. I will try to answer them as soon as possible.